Women in the Auto World: Daniela Schmidt
The fire beneath the ice: Testing at Alpina
04/05/2013
Assistant director in charge of sales and marketing at Alpina, Daniela Schmidt is also busy testing the company's latest products on the track. To her boss, Mr. Bovensiepen, she represents the next generation of female executives in the auto industry.
I met Schmidt at the Alpina stand while covering the 2013 Geneva Motor Show. She was there to introduce the fabulous new BMW Alpina XD3 Biturbo, with a video showing her as the resident vehicle tester. It's extremely rare for women to be given such an assignment, so naturally I wanted to learn more about her.
"When I was younger, I did some go-kart racing. Obviously, I wasn't going to stop there," she said. "I already had quite a bit of experience when I started driving actual race cars."
Heck, at just 17 years old -- one year away from being able to drive legally on German roads -- Schmidt was a force to be reckoned with on the track, and she loved the pushing and shoving, too.
Nowadays, the GT championship's overall top 10 is dominated by big GT3 cars relegating her somewhere between 13th and 15th place, however, the girl often manages to take home class trophies with an underpowered 2.5L engine.
"I keep fighting, alright. Behind the wheel, no one can tell that I'm a woman, except for my arch nemeses who posts the same lap times as I do from one weekend to the next," Schmidt confessed.
"When they find out they were beaten by a woman, I'm in trouble!"
She told me that with a good laugh (there might not be a more playful race car driver than Schmidt), although I suspect the little spark in her eyes comes from a hot-tempered and feisty spirit.
Schmidt now prefers endurance races, which require intelligence and planning. She has participated in the 24 Hours of Nürburgring on multiple occasions, hitting the legendary Nordschleife ("North Loop") that captivates racing aficionados all over the world.
This purpose-built road course is 20.8-km long, and features many elevation changes, blind corners, and so-called "carousels" -- all taken at an average speed of 196.87 km/h (Porsche 956 Group C). With a tarmac that recreates actual road grip conditions, the track is also used as a proving ground by a number of automakers.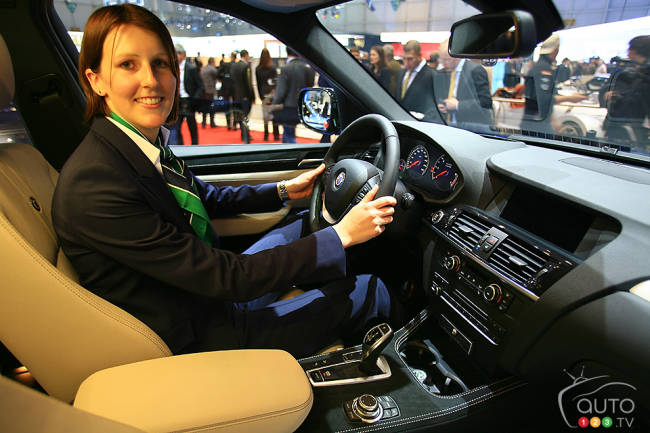 "I see more and more women driving race cars."
Schmidt is encouraged by the growing presence of female drivers on race tracks across Europe, although there's usually no more than one per event. While the vast majority can be found at the back of the starting grid, Schmidt is often right in the middle of the pack.
"I'm not some sort of extra," Schmidt exclaimed. "Unfortunately, I don't race as much as I'd like to for lack of time and money. However, I'm privileged enough to test Alpina models in their development stage, such as the XD3 Biturbo, which I recently got to drive in the snow!"
Schmidt's formidable skill set makes her a precious source of feedback for Alpina engineers as they fine-tune the cars. Here's hoping she'll soon hit the jackpot and finally have a competitive machine to win a race on some of her favourite tracks.