Women in the Auto World: Andrea Mayer
A hardcore woman and driver
03/26/2013
I met Andréa Mayer in 1998 during the Paris-Dakar Rally. I was serving as navigator for Jean-Louis Schlesser, and every day I watched this blue-eyed dynamo of a woman -- with long, blond hair sticking out of her helmet and flying into the wind -- as she tried to either avoid or get out of loose sand on her motorcycle. She was BMW's official team rider for the event.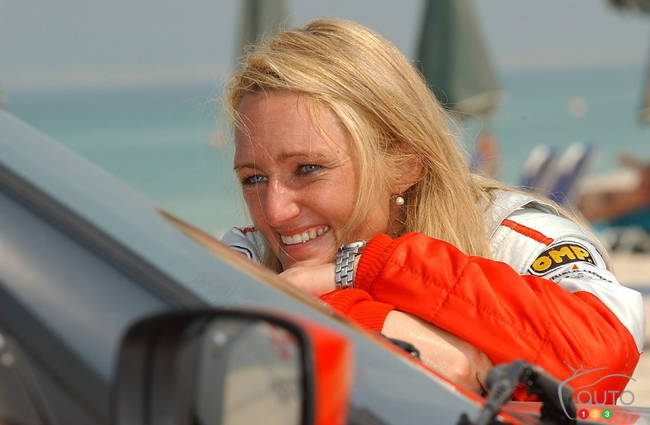 The girl has both an iron fist and a soft-spoken demeanour that make her oh-so charming. No wonder Stéphane Peterhansel (a.k.a., "Mr. Dakar," with 11 victories on two and four wheels) fell under her spell.
"At 18, I bought a Yamaha XT500 to explore the Tunisian desert, and then I spent six months in Western Africa. That's when I caught the motorsport bug!" Mayer says.
Tumultuous school years led Andréa to take correspondence courses in journalism: "My goal was to earn my bread while I prepared a big motorcycle trip around the world. I lacked some technical skills, so in 1989 I took part in motorcycle races on a Suzuki, and the results were encouraging."
Two years later, at an age when normal women work on their wedding plans, Andréa entered her very first motorcycle rally in Italy. Driven by a need for adventure and competition, she persevered and acquired formidable experience, not to mention some serious racing attitude.
Off to the bank she went: "Hi! I'd like a €10,000 loan to compete in the Dakar," Andréa remembers. It was a huge gamble, but it paid off as she topped the women's standings at the 1996 Paris-Dakar Rally (Africa).
"You wouldn't believe how physically challenging this event is for riders. I made it via will and determination," she confesses.
Approached by BMW in 1997 to test a prototype, Andréa wasted no time impressing the big wigs and signing a contract for the next Dakar. They thought a blond female riding a BMW in the middle of the desert would make for a striking image, PR-wise.
"I followed up Dakar with rallies in Tunisia and Dubaï. I was thrilled: Official BMW Team Rider!" she recalls. "Then, in 2002, I started racing for KTM. Shortly after, Mitsubishi gave me an opportunity to drive their Pajero. A car? It had never crossed my mind!"
Her first time behind the wheel, Andréa finished 16th overall and 3rd in the diesel class at the Baja Italia. She also raced in Tunisia and Morocco. Mitsubishi offered her a tryout in its official rally car, which belonged to Stéphane Peterhansel: "Can you imagine? This guy had never bothered to look at me, let alone talk to me. But here I was driving his car!"
Unfortunately, Andréa tried too hard and ended up rolling over three times in a single crash. The factory Pajero was a complete wreck! Yet, she soldiered on with a backup car, got back into her team's good graces, and stole the heart of Peterhansel. "I finished 5th at the Paris-Dakar Rally by playing good Samaritan for Peterhansel, Biaison, and Matsuoka. It was fantastic! Stéphane and I got closer, and it all started from there," she explains.
Limited budgets impeded Andréa's progression, but she never gave up: "In 2006, I had time to learn how to fly a plane, which is something I had dreamed of for so long. Sven Quandt [BMW Rally raids] called me in 2011 because he needed a replacement to drive a backup truck at the Dakar in South America." Transporting the big vehicle from Germany to Morocco takes five days. Once Andréa became familiar with it, she crossed the Moroccan border all alone, much to the astonishment of the border agents.
Last year, Andréa drove her truck across South America, which was no easy task: "You just can't go wherever you want -- especially when you enter the sand dunes -- let alone at night. It's great for hitting jumps, but this thing is heavy! We had to replace a clutch and a transmission, and tow everybody. MAN would like to hire me as a race truck driver. We'll see..."
Of course, Andréa won't stop there: Yamaha also contacted her with an opportunity to ride a WRF450 race bike in six rounds of World Cup racing, starting with the Baja Italia... after a few days of romantic heli-skiing with her significant other. Does she ever take a break?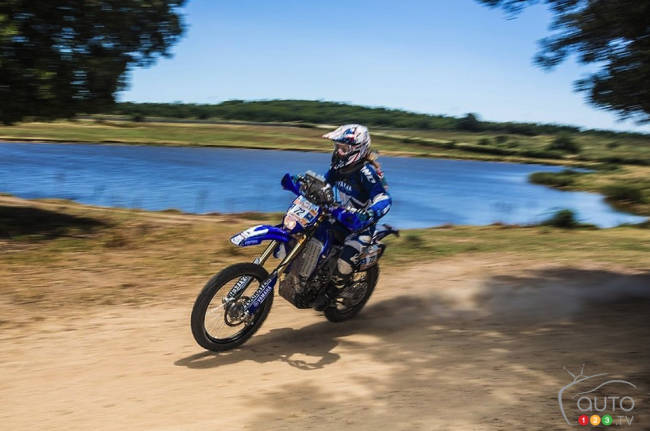 Racing