What a scratch
You have to face it. Your car was nicked in a way that can't be ignored.
Painting the damaged portion of the vehicle in a body shop is an expensive option. Other alternatives - cheaper and faster - do exist. The result is acceptable, but in no way comparable to a complete paint job. You won't bring your car back to pristine condition, but the scratch will be less visible and it won't rust as fast as bare metal.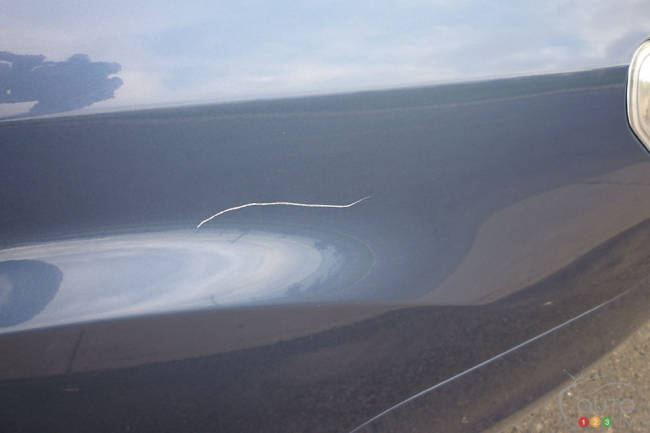 In a store near you
I have found in a popular retail store, in the automobile paint section, some Duplicolor paint "pencils". They actually are small paint "cans" (about 15 ml), with a ball-point tip that can be removed to reveal a nail polish-type brush.
Color names and brands are written on the label. Although there is a vast choice, you won't find everything. If your car is less than three years old, your color probably won't be on the shelf.
I also got a pencil of translucent sealant. It's a varnish with nanoparticles' and anti-rust agents' that will cover the bare metal. It doesn't hide the scratch, but prevents it from rusting.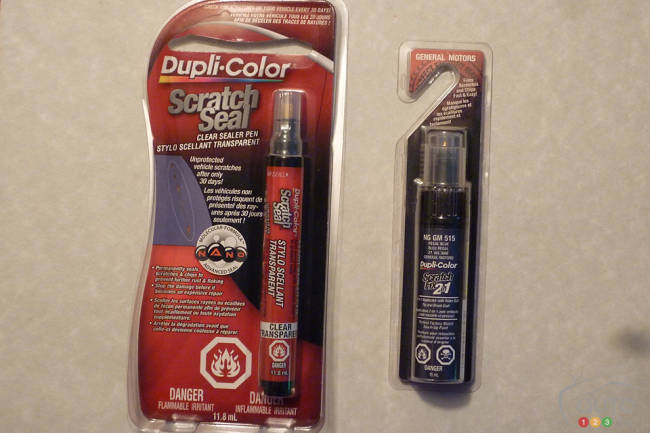 Applying
Test your pencil on a flat, non-absorbent surface before trying it out on the car. A plastic pot lid will do the trick - don't use paper or cardboard. That way, if you don't like the color, you won't find yourself stuck with a horrible stain on your car. To get rid of the scratch, use nail polish remover first. This is a little trick to avoid buying whole can of paint thinner.
Now, you have to clean the surface you'll be working on. Go over with a cloth. If you have rubbing alcohol, apply some with a pad. Once it's dried out, apply your first coat of pencil paint, only on the damaged surface - don't go over beyond it will show. Wait 30 minutes for it to dry, and apply a second coat. Afterwards, put as many coats on as you feel necessary.
This whole operation must be performed at temperatures between 5 and 25 degrees, and with less than 70% of humidity in the air. Forget about trying this out in the hot summer sun or under a cool fall rain.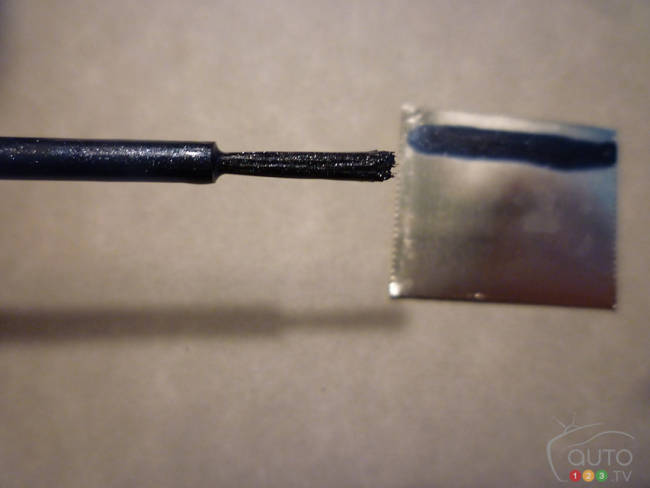 For example
My car of the week fell prey to a hooligan who thought his key would leave a nice touch on my fender. He did it with passion, too, since I could see right down to the white base coat. In need of a solution, I decided to try the Duplicolor pencils.
Unfortunately, the most recent color available for that brand was a 2009 black. So I set about matching the color myself.
I did find some blue dye from an American brand. Tests revealed a similar base hue but it had far more and larger metal flakes compared to the car. I still risked it and tested it on one half of the scratch and used the sealant pencil on the other half.
The ball-point makes it hard to lay down a coat - because of the rough surface of the scratch. After a few (unsuccessful) tries, I switched to the brush. Despite all the metal flakes, it managed to visually lessen the scratch.
Good news for the sealant I saved for the second half of the job. The product worked wonders. It brought back the luster of the scratched surface and diminished the damage. The sealant is not made, however, to bring the original color back. Its purpose is rust prevention.
To wrap it up, I would say it's an easy and quick fix, which does a reasonable - not magical - job. For less than $15, it's definitely worth a try.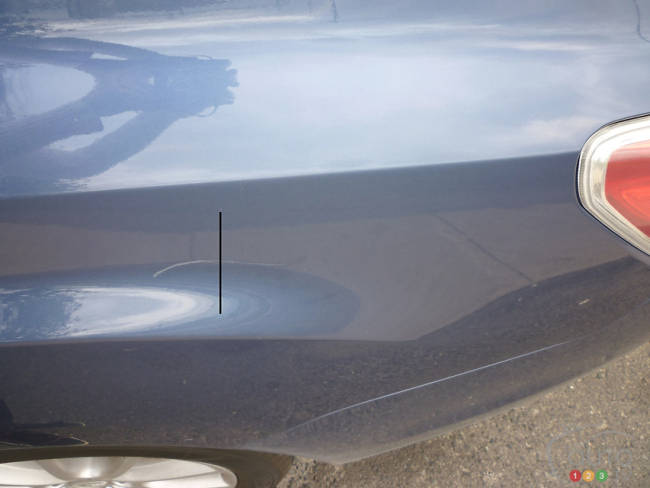 Maintenance