Trail Tours: Get Dirty, Have Fun, Learn Lots
The George of the Jungle cartoon theme song is on repeat in my head: "George, George, George of the Jungle, strong as he can be. Watch out for that tree!"
I'm tempted to insert my name in place of George. And yes, I do need to watch out for that tree.
Literally.
Why?
Because atop the Honda CRF230F dirt bike I'm riding in an incredibly tight space. It almost seems like an oxymoron since I'm inside the Ganaraska Forest in Ontario -- 11,000 acres of forest with a network of trials that can be ridden year round.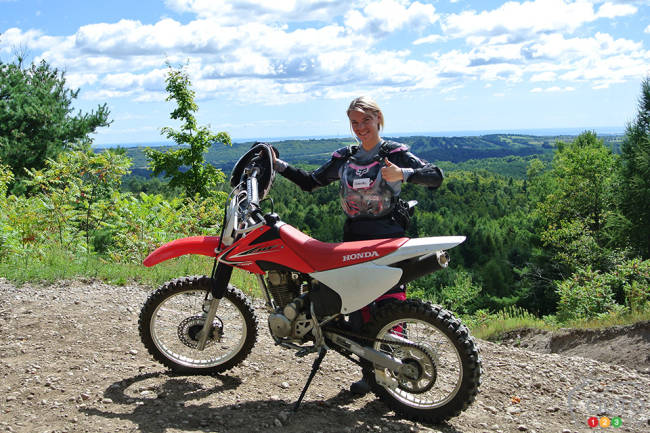 On the single-track trails, where I spend a good chunk of my days, sometimes the handlebars barely make it between the trees.
It's my job to make sure I am paying attention to where I need to go without target fixating, otherwise I'm going straight into the local flora! That would not be fun. But what is fun is a couple of days with Trail Tours.
Nestled in the heart of the west Ganaraska Forest, Trail Tours is a company that puts beginners, novices, intermediate, and advanced riders through training (if you'd like) and through the forest for hours of endless excitement.
Having been on the CRF230F a few times before, I'm familiar with my equipment. (Note: if you want a smaller or bigger bike, they have those too.)
What I'm not familiar with is single-track. At times, it's a little unnerving because I don't have a lot of wiggle room. If I tense up and my arms go stiff, I'll lose my ability to steer in the direction I want to go; though I'm reassured through my instructor that I'll be just fine. And if I needed to, take as much time as I saw fit.
It's similar to learning anything new: it takes some time to get your feet wet, but when you're in, you're really in.
After working through some of the anxieties on Day 1, Day 2 was filled with fast-paced riding on the wider trails, with more technical riding on the emaciated trails.
Loose rocks, sand, gravel, compact dirt, tree stumps, other motorists, and horses (yes, horses!) are all terrain changes/hazards you can find on the 300+ kilometres of trails.
Learning to relax and breathe through it is one way of coping. Another is to fully accept that the handlebars -- when traversing through the sand -- are going to wiggle as awkwardly and as scarily as a grandparent dancing to Gangnam Style.
Regardless of skill level -- heck, if you've never been on a bike before, that's fine too! -- a day with Trail Tours will have you smiling from ear to ear.
At the end of the day, you'll feel tired because you've used muscles you never thought you had.
Furthermore, you'll feel incredible because you probably accomplished something you didn't think you could do. And if you fall, you literally brush off the dust, get back up and keep going. Then smile and tell cool stories afterwards!