Track virgin no more
You would think, after all these years behind the wheel, that I would have taken a set of said wheels onto a track somewhere. Unfortunately, such has not been the case. I've been a passenger many a time on a track, or as a driver but with an instructor, but never piloted the car by myself, solo. Well, that all changed recently.
During our Comparo 2.0 drive (which you'll definitely want to check out) we decided to test out our group of cars on a track, to really see what they were all about. Finally, my chance had come to pop my track cherry.
I was nervous, anxious, excited, unsure, and confident all at once. (Thank the gods Matt was there to show me the ropes...)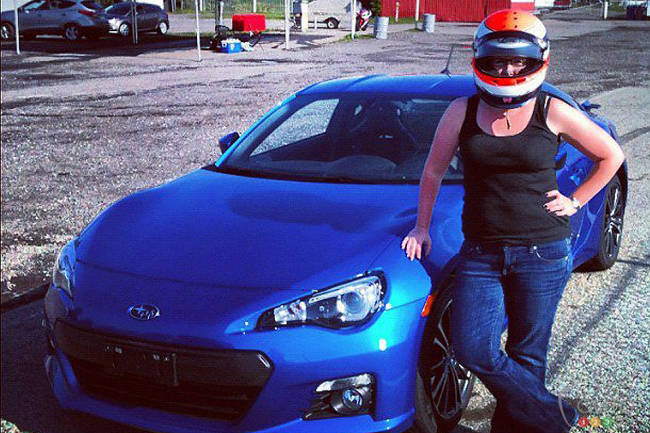 After a quick rundown of the track and how I could get myself into trouble, it was time to helmet up and get behind the wheel for a few recon laps. Popping that helmet on I knew things would be different after this -- that I would be different.
Piloting the Volkswagen GTI, Subaru BRZ, Scion FR-S, Hyundai Genesis Coupe 2.0T R-Spec and Mazda MX-5 SV around a local track was everything I thought it would be and more. As a first-time tracker, I was unsure my first few laps around. However, after my lines were established and my confidence rose, I imagined myself as the female, Canadian version of The Stig (it's my fantasy, leave me alone).
And I know I'm not the only one who has enjoyed losing my track virginity. So many of today's cars are sold with the promise of sporty, track-like drives; something owners will never experience on public roads. It's not until they don helmets, get into that perfect driving position, open the throttle on a straightaway, heel-toe before perfectly engaging a corner, clinch the apex and power out that they are truly driving their cars.
When I drove the fabled 2013 Nissan GT-R a few weeks ago, I knew I was only experiencing about 40% of what the car had to offer. Bring the GT-R on a track, and not only will your mind be officially blown, but you will know what it truly means to own a GT-R.
I highly recommend any and all drivers head to a track at least once in their lives. If you like to drive, you'll like to drive on a track. It's exhilarating, scary, thrilling and downright fun. Not only do you learn about the car you are driving, but you learn a lot about yourself as a driver; your limitations, mainly.
Tracking is an extremely humbling experience, in my opinion. You can talk a big game in the pits, but out there on the asphalt, it's a whole new world. You'll forget all your big talk the moment you realize you've entered a corner too quickly and you have nowhere to bail. Recognizing your own limitations is key when you're driving a car on the track. Forget to realize those and you'll be seeing a wall.
Would I do it again? Damn straight I would. This particular track day had me in RWD vehicles (save for the GTI), so my driving was adjusted accordingly, however, the tracking "lessons" learned were all the same. And I'm uber glad I've learned them and can apply them to my next track experience.
Supremely less embarrassing and much more thrilling than any other "first time" I've had, I'm happy to announce I am no longer a track virgin.
This blog from Miranda Lightstone was originally published on Auto123.com.