Top 5: Baby Seats for 2015
New year, new baby?
02/24/2015
Having a baby is intimidating enough (trust me, I know). From the crib to the highchair to the bottles to the blankets and diapers, there are so many products and things you can buy for your baby; how do you know which ones are best?
While I'm a mother myself, I still don't fancy myself an expert. I'm always learning and discovering new things and brands and products. Some work, some don't. Where I chose to be extra careful and did a great deal of research, however, was when it came time to purchase a baby seat for my vehicle.
Baby seats, aka bucket seats, are usually part of a stroller ensemble. They come with a large handle and the baby (usually 0-6 months of age) stays in the seat as you transfer it in and out of the car.
So, how do you choose a baby seat that's safe and reliable, as well as convenient, not too heavy, fits in your car, and is comfortable for your newborn bundle of joy? Again, we here at Auto-Venus.com are not baby seat experts; however, a few of us are mothers, and we are avid blog and review-site readers. Looking to sites such as TopTenReviews.com, Mommyhood101.com, BestReviews.com, and CarSeatBlog.com, we gathered the top 5 best baby seats as per real-life reviews and safety ratings.
All of these seats meet standard safety requirements in Canada at the time of this writing.
Note: Before purchasing a baby seat, make sure it fits in your car. Ask to install the store's floor model in your vehicle before you buy the seat. Dropping a few hundred dollars (and sometimes more) on a seat that doesn't fit in your vehicle properly is not recommended. What's more, a poorly fitting seat is dangerous for your baby. Also, verify that your baby seat is installed correctly by visiting your local police department to ensure it is securely and properly latched.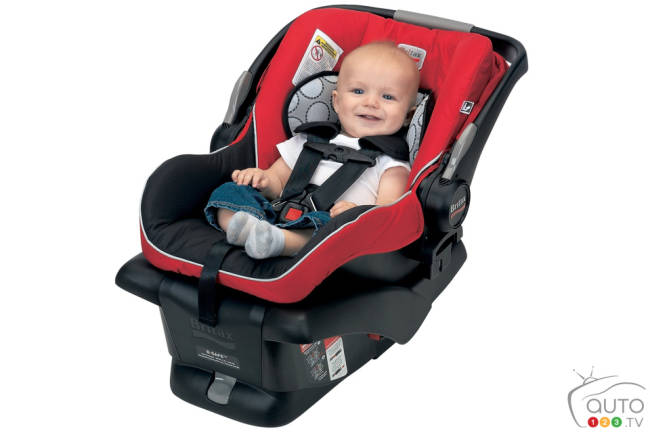 No. 5
Maxi-Cosi Prezi
I know firsthand as a new mom that while you want the very best and safest products for your child, you also want to enjoy using them every day and enjoy your purchase. That's where design comes into play, and the Maxi-Cosi Prezi has that in spades. While compatible with most strollers, the Maxi-Cosi Prezi is not the most practical in terms of how long it will last with your child. Built to keep children between the weights of 4-30lbs, this seat is on the smaller side. The height restriction is 29". However, it is also one of the lighter seats on the market at just 9lbs. There are numerous side-impact and collision bar reinforcements made to the Maxi-Cosi Prezi that make it both a stylish and safe choice.
No. 4
Graco SnugRide 40 Click Connect
Perhaps one of the coolest features on this versatile baby seat from Graco is the leg-room extension feature. Don't confuse this particular SnugRide with the six others offered by Graco, as it is the only one with such a feature. Another great trick up the Graco SnugRide 40 Click Connect's sleeve is the eight available seating positions, two buckle positions, and 15 height positions. Made for babies weighing between 4-40lbs and measuring up to 35" tall, this particular baby seat is built for the long haul. However, you should note that it does not work with Graco Classic Connect strollers.
No. 3
Peg Perego Viaggio 4-35
Perhaps Peg Perego's biggest selling point is that their products are not made in China, but rather in Italy. For anyone looking for a bit more quality, these baby seats deliver. The Viaggio 4-35 is ideal for premmies and smaller newborns since it is rated for babies weighing between 4-35lbs. Of note, this particular seat also features an anti-rebound bar on the base that offers extra protection in both front and rear collisions.
No. 2
Britax B-Safe
Personally, I like to refer to Britax baby seats as the Bentleys of the car seat world. Generally they are quite large and loaded with safety and comfort features. The Britax B-Safe is no different; in fact it's large enough not to fit in some smaller cars so please ensure it does fit in your vehicle before you purchase it! It is also necessary to buy a separate click & go adapter in order to connect the seat to a non-Britax stroller. At the moment, this is the best-selling baby seat out there (which doesn't necessarily mean it's the best, just that many have bought it), and comes highly recommended by health departments in terms of safety. Made for children weighing between 4-35lbs and measuring up to 32" tall, the Britax B-Safe also features easy-to-read level indicators, push-on lower anchors (which I adore!), and the handle can be locked when in transit.
No. 1
Chicco KeyFit 30
Throughout all of my scouring over mommy blogs and review sites for the best baby seats on the market for 2015, this one came out on everyone's list either at the top or very close to it. Despite having difficult-to-adjust harnesses and a smaller canopy, the Chicco KeyFit 30 scores highly in terms of safety, comfort, and ease of use. Built for babies 4-30lbs and no taller than 30", the KeyFit 30 features three harness slots, an adjustable base, and a newborn insert (for babies weighing between 4-11lbs). Compatible with most Chicco strollers, this baby seat is lighter than the Britax which is the main reason why it takes the top spot here.
Family