Top 10: Waterless Car Cleaning Products
A clean car is a loved car. We don't know about you, but we always feel like our clean car is a little faster, a little better to drive, and we feel great behind the wheel. A full, bumper-to-bumper cleaning often isn't feasible with a hectic schedule. Breaking out the hose, wash bucket, rags, etc., is a tiring and long process and one we're not always able to do.
Car care companies are waking up to this and offering host of products to help you make your ride spotless in mere minutes, sans water and sans the mess and hours often needed to detail a car.
Of course, nothing is as good as a full detailing job; however, in a pinch these top 10 waterless car cleaning products will surely do the job and make your car look spectacular.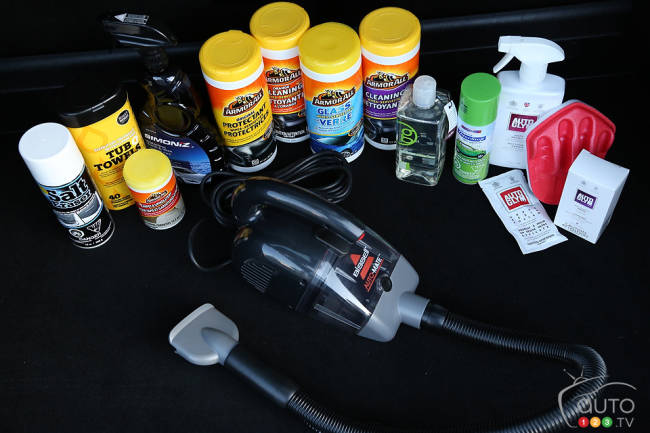 AutoGlym Bird Dropping Wipes
Ugh, bird poop; it's the worst. Truly, it's horrible for the paint on your vehicle. If you notice bird poop on your car it's more than just gross, it's harmful. Left on long enough (especially in the blazing sun) the acid in bird droppings can do some serious damage to your surface paint. So, removal is imperative. Forget digging for Kleenex, keep a stash of AutoGlym's Bird Dropping Wipes in your glovebox and scoop the poop while protecting and shining up your paint at the same time.
Price: $6.99 for a box of 10 wipes
AutoGlym Perfect Palm Applicator + AutoGlym Super Resin Polish
This time, let's talk about the Perfect Palm Applicator and Super Resin Polish. With very little effort, you can shine your car into a whole never level of pretty thanks to this easy-to-use applicator and polish combo. While most waxes and polishes require some serious elbow grease, this is a walk in the park, and the results are hard to ignore.
Price: $19.99
Bissel AutoCare Hand Vacuum
Cleaning the inside of your vehicle is as important as the outside. Just because you're the only one who sees it, doesn't mean it can remain a pig sty. So, get to work with the Bissel Auto-Mate, a handy little vacuum that's both powerful and perfectly sized to fit in your vehicle's smallest spaces. Packed with a HEPA Media filter for everything from dander to ragweed, this little number will rid your vehicle of all those nasty things your carpets catch.
Price: $49.99
ArmorAll Auto Care Pack
Here's something you can, and should, keep in your trunk at all times because you never know when you might want or need to clean something up. This four-pack includes multi-purpose, glass cleaning, protectant, and cleaning wipes for all kinds of interior clean-ups. Not only do these wipes smell great, but they're easy to use and offer up a fast cleaning solution no matter where you are.
Price: $19.99
Salt Eraser
Winter does a number on our vehicles, not just on the outside but on the inside too. Don't worry, you don't have to shampoo your carpets, not with a product like this one. Salt Eraser requires no water and will remove stubborn salt stains from your car's carpets. You can even use this product on your carpets at home if you so desire.
Price: $9.99
Emzone OdorStop Ventilation System Treatment
Car care is about more than wiping down surfaces and vacuuming carpets, it's also about breathing in clean, fresh air. How do you get clean fresh air? Not just by opening the windows while you drive, but by actually removing odors from your ventilation and HVAC system. This one-time-use product works by circulating through your car's ventilation system; simply turn your car on (and your ventilation system), open the can, place it in a cup holder, close all doors and windows, and let the can empty (takes approximately 10-15 minutes). Voila: clean air.
Price: $8.99
GoClean Waterless Car Wash
Anywhere, anytime and without any water, the GoClean Waterless Car Wash is a great way to not only conserve water but also get your car sparkly clean in no time at all. A wash, wax and polish in one, GoClean Waterless is super easy to use too. Just spray it on and wipe clean with a microfiber towel. And you can make sure those microfiber towels are clean too with the GoClean Waterless Microfibre Cleaner.
Price: $14.99 (bottle good for approx. 10 complete washes)
Tub O' Towels
Like the ArmorAll products, these tough-on-grime wipes are great to keep in the car at all times. Multi-purpose, we recommend using the Tub O' Towels for your toughest wipe jobs: rims, bumpers, doorsills. These aren't designed to shine anything up, but they are designed to clean dirt and guck - plus, they're gentle on hands containing Vitamin E and aloe; what more could you ask for?
Price: $9.99 (tub of 40 towels)
ArmorAll Carpet & Upholstery Wipes
Not part of the previous four-pack, we recommend keeping this little tub of wipes in your car at all times too for those on-the-spot spot removing moments. After seeing this product's ability to lift stains left by children on the backseat fabric of a car, it's safe to say we highly recommend these upholstery wipes. No water necessary and no residue left on the fabric, these ArmorAll wipes are a must-have if you have pets or children in the car often -- or you like a coffee or two when you're behind the wheel.
Simoniz Waterless Wash & Wax
Easy on, easy off is the name of the game here. Used with high-quality microfiber towels, the Simoniz Waterless Wash & Wax is a great way to get your car looking like new again, even in the middle of a road trip. Just spray on, wipe off. It's as easy at that, and your car will look like a million bucks when you're done.
Price: $9.99
Thanks to Canadian Tire for demonstrating how each product worked.
Maintenance