Tonic Lifestyle Apparel Review
Casual Classiness
12/05/2012
While I'm not a huge purveyor of wearing "workout/yoga" clothing as everyday attire, I have actually found myself putting on the pieces I own from Tonic Lifestyle Apparel more often than expected.
Why? Because certain pieces don't look like they only belong in a gym, and are perfect for travelling, driving and just being.
Countless times I've worn my items for driving/track programs because they are just so comfortable and have a sporty, but upscale-casual look to them. Specifically, the red racer-back tank top layered with a grey, cowl neck T-shirt. The colours really pop with one another.
Then there's the black capri leggings that match almost everything in my wardrobe and hug my legs oh-so cozily.
And if I got a little cool, a black wrap with a really cool textured print fit seamlessly into the equation.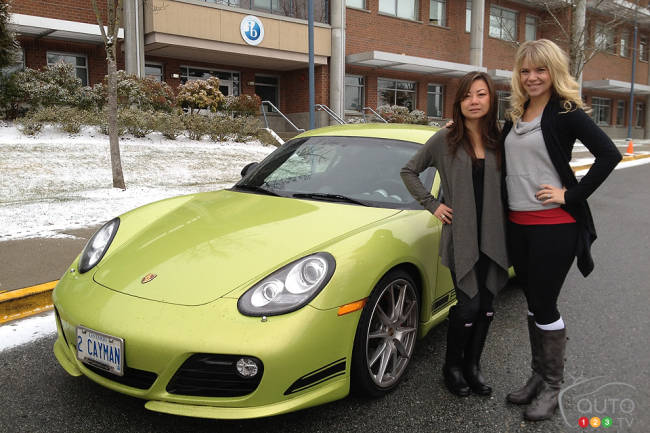 Breathe Deeply
The best part about all of the pieces is that they're very breathable. With my crazy travel schedule it often means I'm making a mad dash through an airport to catch a connecting flight. Of the last six flights I've been on, I've had to sprint for the gate on four of those occasions. Needless to say, I get a little warm.
And since I'm naturally a very cold person -- temperature-wise! -- I tend to need a lot of layers. Combine that with a sudden spike in body heat, and it is not a good mix. Since the various materials used by Tonic are specifically designed for an "active" lifestyle, they help me breathe a little better in my own skin.
To the Rescue
I'm glad I had the Toinc garb on one very chilly winter's day: Taking the Porsche Cayman R out in sub-zero temperatures is not my idea of fun. Then again, it kind of is! Getting in and out of the vehicle wasn't that easy because the car itself is very low to the ground, and they were outfitted with carbon fibre seats to reduce weight.
However, I had the flexibility I needed (and acquired through yoga) thanks to the lycra-infused fabrics. Not only did they help keep me a little warmed on the cold day, they also gave me a good range of motion not all types of pants and shirts do.
Chocolate for the Body
Aside from the materials feeling very delectable against my body, they transition well into their natural habitat: the yoga studio or gym.
They're also a treat for people like Lisa Chen, a racecar driver who is no stranger to taking a car out in the blazing heat, complete with a fire retardant suit on. She wears the gear under her suit to mitigate overheating.
Canadian-Made and Comfortable
I love that Tonic clothing is made in Canada. Supporting local industries is something I'm passionate about. It creates jobs and fuels our economy, however, I won't go into any more political reasons!
The designs also are homegrown, so they can really capture the essence of active Canadians with funky designs and fabulous colours.
Whether I'm driving a cool new car, on a plane heading to an automotive event or just living my life, my Tonic gear fits in, and me, perfectly.
Lifestyle