TomTom Navigation app for iPhone (version 1.10)
Turn your iPhone into a friendly GPS
06/27/2012
Remember those good old paper maps that were a nightmare to fold and forced us to pull over every time we wanted to get directions? Thank God for modern navigation systems! Now we have access to a single map for the entire continent on a smaller and much more user-friendly electronic device.
The shift to smartphones
The increasingly popular smartphones are making portable navigation systems less attractive. After all, why would you need to buy another gadget when your phone already includes similar applications such as Google Maps?
GPS manufacturer TomTom knows it and recently launched the TomTom Canada & Alaska app for the iPhone.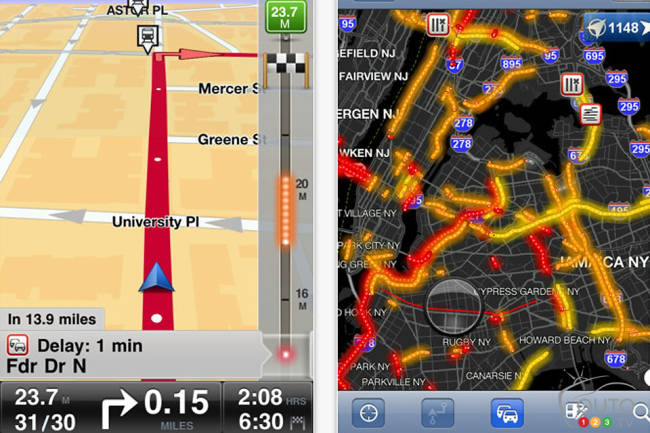 Bye bye, GPS!
I've been using a TomTom GPS for the past four years, whether I go on business trips or family vacations, and honestly, I couldn't live without it. With all the surprises on the road nowadays (traffic jams, roadwork, detours, etc.), a navigation system can help you reach your destination on time and without any stress.
Having said that, TomTom's iPhone app really impressed me. In fact, I no longer carry my GPS when I leave the house, and my cell phone has become an even better friend!
Perfect combo
This app combines the best of both worlds - iPhone and GPS. The former has one of the most advanced and accurate touch screens on the market, and touch screen quality is one of the most important aspects of a navigation system since we use it while driving. We have to be able to make quick and easy modifications, which is precisely what the iPhone allows.
Interface and features
The TomTom Canada & Alaska app (version 1.10) offers a clean and user-friendly interface that intuitively meets a driver's needs. Much like a standard GPS, you can add bookmarks, display points of interest (gas stations, restaurants, hotels, etc.), and calculate alternative routes. What's more, the app provides seamless integration with your iPhone contacts, so you can quickly select their address as your destination.
Cost
The TomTom Canada & Alaska app is available at $49.99 through the App Store, along with the TomTom HD Traffic plug-in ($2.99/month or $19.99/year), which offers real-time traffic alerts and the best possible alternative routes. However, unlike a regular GPS, you won't have a special mount to safely use the device while driving... unless you've already bought one for your iPhone.
Like I said, though, I was really impressed with this new app. Just as comprehensive and easy to use as a GPS, it works as two excellent tools for the price of one. Don't forget to bring a charging cord because the app significantly drains the battery. It's the future of navigation... now.
Gadget