How To: Maintain End Links
It's pretty subtle. It comes and it goes, sometimes when I turn a street corner at more than 10 km/h. I can't put my finger on it. I feel a certain disconnection with the wheels - but not really the tires. Like I said, I can't explain it, but I sure can feel it. There's no thumping, no grinding. Just a strange impression that Dali took over my steering.
What can I possibly tell the guy at the repair shop? The tires are properly inflated, the wheel bearings are in good shape, and there's no squeaking noise from the shocks or ball joints. And when I look under the car, I can't find any sign of a broken or missing part.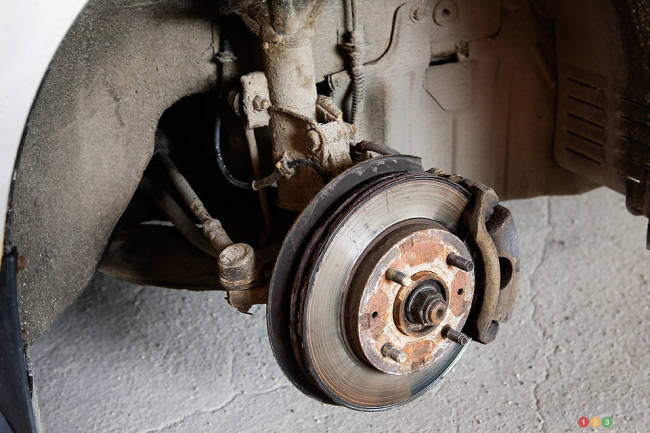 Then comes the answer: stabilizer bar end links. A pair of small steel rods along with several rubber pieces so tiny I can hold them all in a single hand. They are the link between the stabilizer bar and suspension. Despite their size, they play a big role. And while subtle, the difference in driving dynamics is easy to feel.
The first time I replaced this component, it cost me a whopping $50 from my Honda dealer. Yet it's almost as lightweight as the bill itself! The lengthy inspection by the technician proved to be four times more expensive. Damn it! I wish I had found the culprit first!
Here's a tip: You can change a stabilizer bar end link yourself. All you need is a wrench - and strong biceps should rust be part of the mix. Jack the car at the appropriate corner, remove the wheel and place it under the car, right by your side. It will save you in the unfortunate event that the jack stand fails.
Next, remove the faulty end link (unless it's already missing) and slide in the new one. Some anti-seize lubricant will help you. Tighten the nut back, reinstall the wheel, and voilà! Sounds easy, doesn't it? Well, it is. You may have to use a bit of force in order to align the parts. Just don't lose your cool!
A word on anti-seize. Any self-respecting grease monkey or even amateur mechanics should keep a can at home - and use it. Simply draw a line along the bolt threads before tightening the nut. No need to put lubricant around the entire bolt; the rotary action will take care of it. Anti-seize is a non-dripping grease that prevents rust from locking the bolt. You'll be thankful a couple of years later when you have to dismantle an assembly.
Maintenance
Safety