The Importance of Trunk Space
When I write my road tests, I always make it a point to mention the cargo capacity of the vehicle I'm driving. Trunk space used to be key for me when my son was still using a stroller. I needed to know I could fit my monstrous 4moms Origami stroller comfortably in the rear. However, now that he's grown out of his luxurious transporter, my trunk space concerns are limited to groceries and kitty litter boxes.
With a single child, a cat, and no real affinity for camping or other big-gear outdoor activities, the need for a massive trunk is lost on me. However, the need for legroom in the rear and a decently sized cockpit is key.
The way I see it; if manufacturers focused on overall passenger space more than trunk space, then we'd all be happier. With more headroom and legroom, even if the trunk is small, you've got more interior space you can use for cargo anyways. I know I'm apt to put things in the back and/or front seat before I open the trunk on most occasions.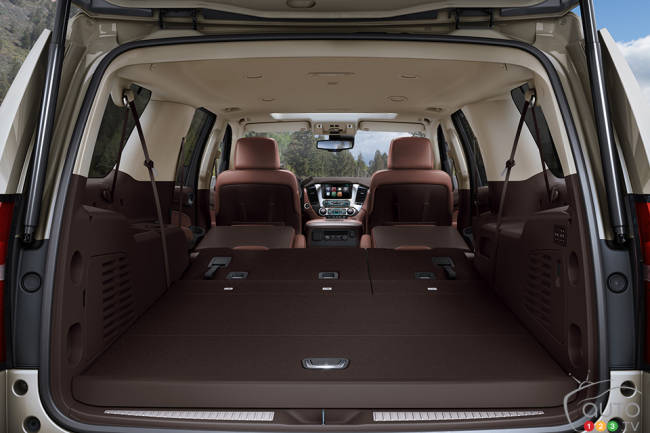 A vehicle with a small trunk (think Ford Fusion Energi where the battery eats up so much of the trunk it's all but useless) gets lambasted for being useless due to its small storage abilities. However, the backseat of the Fusion Energi is quite large, as is the front seat, so really is it that bad? I'm guilty of bashing its lack of rear-end space, and regret the comment now.
We want it all. I get that. I'm no different. Why settle? Why have something that doesn't offer it all? But I'm also of the mindset that sometimes a little compromise can go a long way. If you're looking for a great drive and handling, you may have to sacrifice that sacred trunk space and deal with putting your crap in the backseat most of the time.
If you can deal with that, you're golden and could possibly drive the car of your dreams.
I think from now on I'm going to stop bitching about a vehicle's lack of trunk space if that really doesn't play into the vehicle's personality. For example, if the new 2015 GMC Yukon had no trunk space, that would be an issue; however, the lack of space in the 2014 Scion FR-S or MINI Cooper S is much less relevant to the vehicle. It's an added bonus if a vehicle of that nature has trunk space in my opinion, not the reason you'd buy (or not) said particular car.