How To: Change Coolant
Coolant is one of those car fluids that needs to be changed periodically to prevent acid buildup from eating through the cooling system. Fortunately, the process is very easy. All you need is a drain pan to collect the used coolant, and a new gallon.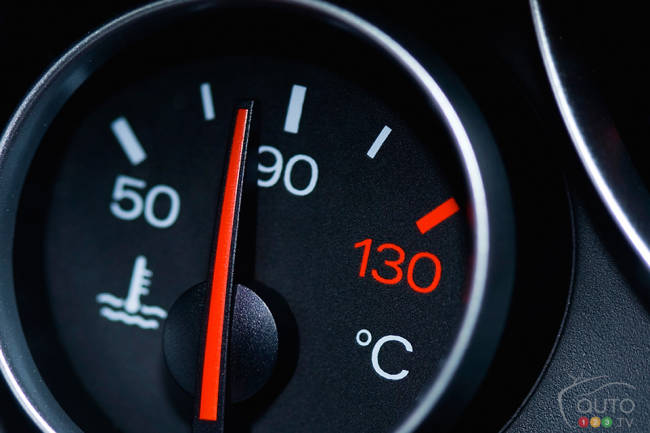 Careful, hot!
Wait until your car has completely cooled down before touching the radiator cap, otherwise you risk burning yourself with hot coolant. Not sure about the temperature? Use a rag and twist the cap a quarter of a turn. If pressure remains, you'll hear it slowly come out.
Four easy steps
Open the drain valve on the radiator. The coolant will start to flow from the radiator into the drain pan you placed underneath. Meanwhile, you can take a closer look at the underside of the engine. Is there a thin layer of oil on the surface? If so, the cylinder head gasket may soon require some servicing.
Once the old coolant has been completely drained, close the valve. Then, pour fresh coolant into the radiator.
You think it's full? Keep the radiator cap removed and start the engine. Do NOT step on the throttle. Let the car warm up (with the heater off) while you go back to check on the radiator. If necessary, add more coolant to make sure it's filled to the brim. When the liquid starts to boil, you're done.
Available near you
When buying coolant, look for a label that says ''pre-mix.'' Another possibility is to get a bottle of pure antifreeze which you'll later blend with water (preferably distilled) to create a 50/50 mix. You can go with a 60/40 (antifreeze /water) mix if you drive in colder climates, or a 40/60 mix when temperatures are hot.
Also, remember that antifreeze usually contains ethylene glycol, a highly toxic form of alcohol. Ingestion can lead to inebriation-like symptoms at first, followed by a coma, kidney damage and heart problems. Keep it out of your children's reach and never allow animals to play around potential spills.
Maintenance