Sweetie Girl Racing
Empowering women through car control
01/30/2012
CAYUGA, On. - For Anna He, president of Sweetie Girl Racing, the track is a level playing field.
Typically, the automotive world has been considered "uncharted territory" by most women - and track days such as this that I, and about a dozen other women are here to participate in, are generally male-dominated events.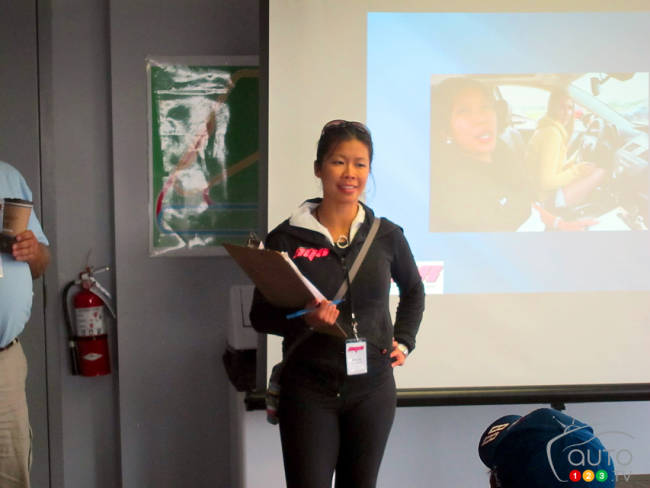 SGR is aiming to change all that. Launched at the Darknights Nationals sports compact car show in 1999, Sweetie Girl Racingis an all-female show and race team - the first of its kind here in Canada. When Anna took it over in 2003, it "sparked a passion" when she realized it could be an "organization that empowers women through car care clinics and driving programs".
Looking around the crowded classroom, it's apparent that gender has no significance in this driving program - the attendance is equally split between males and females.
Many of them are young - new drivers looking to learn skills that will prepare them for a lifetime of safe driving. Others, mostly male, are clearly eager to toss their modified coupes and hatchbacks around the racetrack.
Anna He promises an "adrenaline-filled day"- one that begins with an in-class session led by head instructor Gerry Low, a veteran with over 35 years experience.
Introducing such basics as seating position, proper hand placement on the wheel and the importance of keeping eyes on the road, Low explains the simple physics that form the basis of car control.
In his experience, Low says that "ladies seem to be more open to saying "teach me", where men suffer from false confidence."
Indeed, several of the women students arrive with pen and notebooks and in this comfortable, non-threatening environment, become steadily more confident in their questions.
Moving outside, each student is paired with an instructor who will guide them through such building block exercises as emergency braking, obstacle avoidance and a slalom course. All participants use their own vehicles, experiencing what it feels like to push them to the limit in a safe, controlled setting.
Negotiating a slalom successfully requires proper hand position and smooth inputs - which results in a balanced, happier car that's easier to control. It also teaches the driver to look far ahead - giving them a lot more time to react should a situation arise while on the road.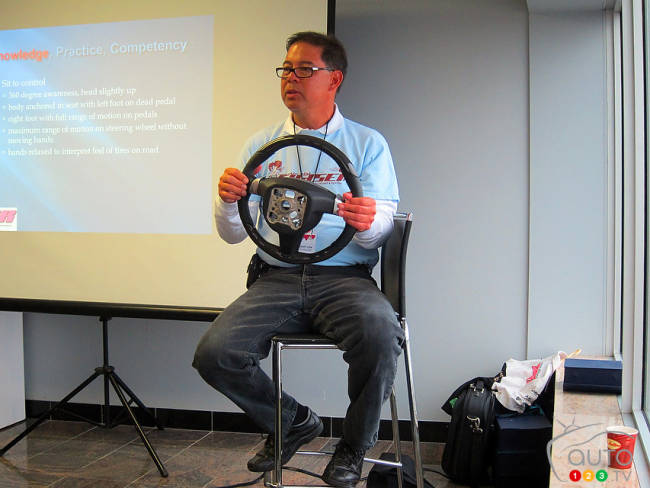 Many of the women have preconceived notions of what the track is about - that it's an unsafe, aggressive place best left to enthusiasts. Through the exercises, they learn that the skills they're acquiring have practical applications - making them far better drivers in everyday settings. They learn, through repetition, to override their reflex action to panic - steering safely around an object instead of slamming on the brakes.
Now it's time to put all of those skills together - on the racetrack. Although several of the participants profess to be a bit nervous, all are looking forward to experiencing a real racetrack. Starting out slowly behind a pace car, they learn the correct "line" around the track - the route that best enables the car to stay balanced and in control.
They learn to trust the instructor in the seat beside them, who coaches them when to brake and when to go full out. There's a vast wealth of experience and knowledge in SGR's teaching staff, all are veteran instructors, most have a strong racing background - and one is a qualified psychologist as well as race car driver.
Lap after lap, the students gain confidence and grow noticeably smoother. Hesitation is replaced with beaming smiles and, as they grow braver, some friendly competition.
Morag Malcolm, a young mother of two who was initially apprehensive, is surprised by how much fun she is having. One of the most improved drivers of the day, Morag is paired with Rick Morelli, whose outrageous sense of humour and relaxed competence soon put her at ease. She's also surprised by her own car: "I didn't realize it could do what it does!"
Some of her reasons for attending are commonplace - she'd had a few close calls , realized "how complacent" she'd become as a daily driver and wanted to improve for the safety of her children.
But more poignantly, as a cancer survivor, Morag "took a look at her life, realized how lucky she was and that this was something she'd always wanted to do". She's eager to pursue more on-track training as well as the "Girls' Night at the Garage" car care clinics that SGR holds at an auto repair shop in Markham.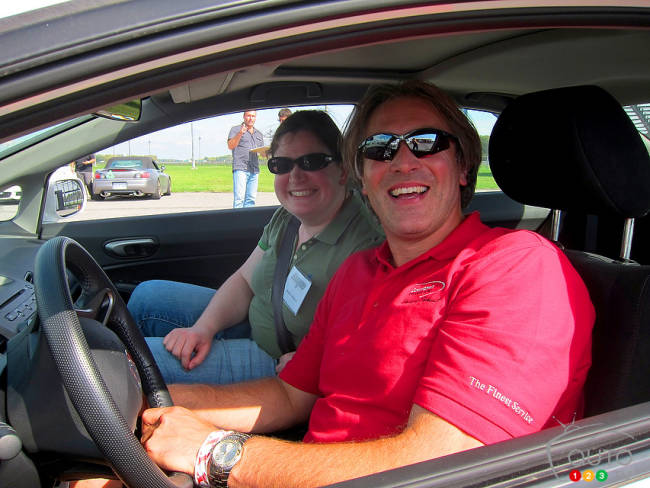 The father of a teenage student whose mother rode shotgun emailed his praise "Ana, they had such a wonderful time, great for you to target young teenagers before they develop bad habits".
Blessed with the nimble Mazda MX-5 for the day, I benefitted from some great tips on seating position and heel & toe footwork. It was deeply gratifying to chase down and pass a young fellow in a hot sports car who'd blasted by me at about 150 on the way to the track. Maybe, just maybe it would make him think twice about his own ability to judge where speed really belongs.
Judging by the smiles at the end of the day, it was easy to see why the school is quickly growing in popularity. Anna hopes to add more events to the calendar - from track days and car care clinics to winter driving schools. Brand-new drivers and veterans behind the wheel, all can benefit from more driver training.
For more information on SGR and their various programs, see http://www.sweetiegirlracing.com/
Racing