Shopping for a child safety seat
Not too long ago, kids were free to bounce from one end of the car to the other when they were out for a drive. Times have changed, and these days children must spend their car trips snug and secure in a safety seat.
In Canada, car crashes are the leading cause of accidental death for youth and children. Statistics tell us that in the event of an accident, the risk of death drops by 75% when babies are secured in car seats, and booster seats reduce the risk of injury in older children by 60%.
All provinces in Canada require infants and small children to travel in car seats. In Newfoundland and Labrador, BC, Ontario, Quebec, New Brunswick, Nova Scotia and PEI booster seats are mandatory.
For anyone in the market for a child safety seat, the variety and number on the market can be intimidating. However, there are a just a few key things to keep in mind. First, all seats must carry the National Safety Mark label. It signifies the seat meets Canadian standards and is legal to use.
Types of seats
Rear-facing car seats are made for babies up to about 1 year of age or until they weigh 9-10 kg (20-22 lbs.). These seats allow babies to recline at a 45-degree angle, which provides the head support they need at that age.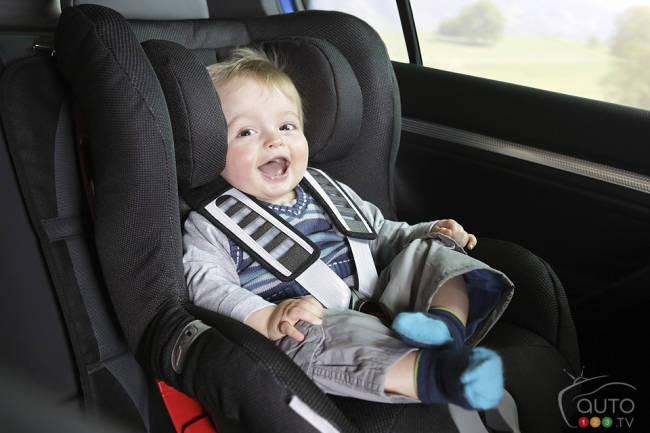 Front-facing car seats accommodate children up to the ages of 5 or 6, or up to or 18-23 kg (40-50 lbs.), depending on the model.
Booster seats are for children who weigh between18 and 36 kg. They prevent seat-belt injuries and allow children to sit up higher in the car. Provinces in which booster seats are mandatory recommend that children ride in them until they are at least 8 or 9 years old, or have reached a minimum height of 145 cm (4'9").
Regardless of the type of seat, it's important not to rush to put your child into the next size up, but rather wait until they've outgrown the height or weight limit for the seat they're in. In 2011 the American Academy of Pediatrics recommended that toddlers ride in rear-facing seats until they are 2 years old or reach the height and weight limit for the seat.
Choosing used
Buying a second-hand car seat can save money, but parents must make sure it's not passed its expiry date, that the padding is not damaged and that the seat has not been in an accident. The instruction manual should come with the seat, so that it can be installed according to directions and the child can be properly secured. Also, check the Transport Canada website (www.tc.gc.ca) which lists recalled models as well as the "useful life" of some of the common brand names.
Before you buy
- Check the Transport Canada website for up-to-date information about car-seat regulations and recall notices.
- Record your child's height and weight and take the information shopping with you so you purchase a seat that fits him/her.
- Check to make sure that the car seat you choose is compatible with the vehicle it will be travelling in.
- If you're hoping to travel outside of Canada to pick up a low-cost car seat, you may not be getting a bargain. It's illegal to use car seats that fail to meet Transport Canada's standards. The same applies to seats purchased online and shipped from out of the country. Seats that don't meet Canadian standards may be confiscated, and if there is an accident you may not be covered by your insurance.
Parent responsibilities
In addition to ensuring their children travel in a seat that meets Canada's safety requirements, parents are also responsible for making sure the seat is installed according to the manufacturer's specifications, and that their kids are properly strapped in.
Follow the instructions that come with the car seat and contact the manufacturer if there are any questions about installation. Be sure to send in the warranty card so that you will receive any recalls or messages from the manufacturer.
The best way to make sure a seat is properly installed is to visit a Child Car Seat Clinic in your area. Transport Canada lists agencies across Canada that offer these clinics, or you can contact the Automobile Association in your province.
While times have changed in children's car safety, what hasn't changed is parents' desire to keep their children as safe as possible. Now it's just a matter of sorting through all the possible car seats and choosing the one that fits your child, your vehicle and your budget.
Safety
Family