Shea Holbrook: World Challenge Series' brightest new star
BOWMANVILLE, Ont. - Despite her outdoorsy good looks and dazzling smile, Shea Holbrook is not your typical girl next door.
After the scowling negativity of Danica Patrick, Holbrook is a publicist's dream; bright, well spoken, and radiating positive energy. She may very well be racing's next big female star.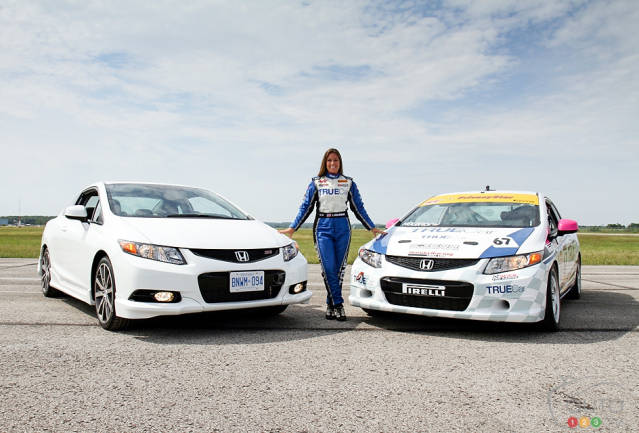 The Florida native seemed destined for a career as a pro water skier when a shotgun hot lap in the Richard Petty Driving School at age 16 turned her future on its axis.
"Even as a passenger, I fell in love with the sport and knew that was what I wanted to do for the rest of my life."
Although she "still loved skiing," when she traded in her skis to buy a set of tires, Holbrook knew that her fate was sealed: racing was her passion.
Now 22 years old, Holbrook has been racing professionally since 2010, and has since become the first woman ever to win a Pirelli World Challenge race. Sponsored by Truecar Racing, who promote top female race drivers in premiere racing series, Holbrook pilots a 2012 Honda Civic Si built by Toronto's Compass360 Racing.
I was lucky enough to ride along for some hot laps with Holbrook, and caught up with her after her successful weekend at Mosport* where she scored two podium finishes - putting her in 4th place in the championship.
Lesley Wimbush (LW): First off... It was your dad taking an advanced driving course that sparked your interest. Were you inspired by how much fun he was having and thought to yourself: "That looks cool, I'd like to try." Or did he suggest you take it?
Shea Holbrook (SH): Well, I always had a need for speed, I just didn't realize my passion would become motorsports. When my dad went to obtain his club racing license, I went with. I was immediately hooked. I remember leaning down into the window of the race car right before my dad went out, asking him: "Why are you doing this?" Remember, I didn't grow up with the traditional racing story most people have: grandfather, dad and son. Generational racing. My dad responded, "Well, what do you think?"
"If you're going to do it, I want to do it!" My dad and I do everything together. My first experience in a race car was that very day where my dad put me in the Daytona Richard Petty Experience.
LW: What were your initial thoughts? Were you immediately drawn to motorsports, or did it take a while to catch the bug?
SH: I wouldn't say I was a motorhead, but I definitely have always had a need for speed. When racing was introduced into my life I found my passion. It's the worst drug; you get hooked! (Metaphorically, obviously.)
LW: Other racers talk about how their experience in skiing, or how the sense of balance learned in dance and gymnastics helped them develop as drivers. You were already an accomplished athlete in the sport of waterskiing. What skills did that sport teach you that prepared you for racing? Is there anything in particular from that previous experience that you think made it easier for you to excel behind the wheel?
SH: Absolutely. Waterskiing, like racing, is extremely technical. I would study videos of myself and other skiers just like I study and analyze data in racing. Truly learning the meaning of perseverance at a young age [while] skiing has benefited me the most now in my racing career.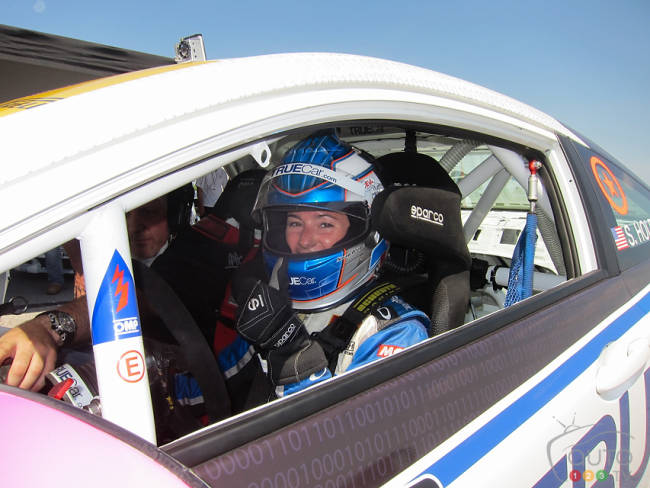 LW: You're doing fabulously well in the World Challenge Series. Where do you see your career going in future years? Do you have other racing goals? Indycar maybe?
SH: After Mosport, yes we're doing great! We had two podium finishes putting me 4th in the Championship! I have a passion for sports cars and would love to have a successful career in the American Le Mans Series. IndyCar: Don't tease me! IndyCar would be an amazing opportunity. At the end of the day, as long as I'm racing, I'm happy!
LW: Mosport's a track near and dear to our hearts here in Canada: What is your opinion of the track, and what was the biggest challenge last weekend?
SH: Mosport is the fastest track in North America, and it demands respect. You either hear of success stories or horror stories from there. I absolutely love Mosport. High speed radius corners with that mile-long top speed back straight... a racer's dream. Turn two seems to be the popular corner. In my 2012 Honda Civic Si, on exit it's a 105 mph corner. Turn four, which is a high-speed downhill that leads into a hard uphill braking zone, launches you into another planet (this is the slowest, and a low radius corner) leading onto the back straight. And turn eight is my final favourite. It's much faster than most people think. This 98 mph corner demands much technicality from the racer.
*Although Mosport is now known as "Canadian Tire Motorsports Park," it will probably be a while before it works its way into Canadian racing's collective lexicon.
Racing