Risk vs. reward on two wheels
When I was a little girl (a long time ago), I clearly remember riding my bicycle armed with nothing but two firm hands on the handlebars and two eyes on the road ahead. I had no helmet, no knee pads. After all, it was the early '80s!
My first few rides inevitably led to a number of scratches and bruises. I even tore my knee open by falling on a razor-sharp rock. Thirty years later, I still have the scar to show for it.
Now, everything is designed for us to ride our bicycles (or go rollerblading or do some other ''extreme'' sport) in safe, stress-free conditions. We have helmets, elbow pads, knee pads, specific clothing; just add bubble wrapping and we'd be indestructible! Most parents today would be horrified by the sight of their children riding a bicycle without a helmet. Back in my day, the kids who did were the laughingstock of the neighbourhood.
Yet when I think about the pain we endured from our injuries and the amount of antiseptic poured onto them by our parents, I simply can't understand why people still ride motorcycles wearing nothing but shorts, sandals and sleeveless shirts.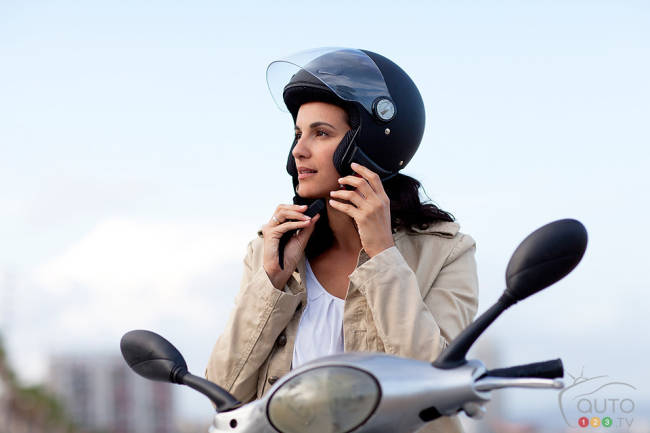 When I spot them on the highway, I can't help but wonder: What if they crashed? They would need a lot more than a bottle of antiseptic, that's for sure!
Governments, safety advocates and the media keep hammering us with all sorts of warnings and tips to prevent injuries, both for cyclists and car drivers. Somehow, it looks like they've forgotten about motorcyclists.
While Transport Canada warns riders against wearing inappropriate clothes, there are no laws to that effect - other than wearing a certified helmet, of course. It sure must be fun to feel so free and naked on the road, but for me the mere thought of crashing serves as a cold reality check.
Most riders I see are properly equipped, but others (mostly women who sit on the passenger seat, unfortunately) remain extremely vulnerable to debris and injuries from falls. Just look at the damage a small rock can cause to your windshield. Now, imagine it hitting your thigh!
Transport Canada advise motorcyclists to always wear clothing that will:
protect them from the weather; and
protect them in a fall (e.g. boots, gloves and suits designed to protect the shoulders, elbows, knees, hips and back).
Even if you have to spend a few extra bucks, it will still prove cheaper than multiple surgeries to repair your body after a high-speed crash.
On that note, have a great summer and be safe on the road, everybody!
Sources: Transport Canada: www.tc.gc.ca
Safety