Piloti Driving Shoes
Putting the right foot down…
06/27/2014
Driving is serious business; at least it is for me. From proper seating position to holding the steering wheel just right, whether I'm on a track or driving my son to day care, I like to drive my car properly, and that means having the right attire on my feet. At least when I'm not going out for a night on the town...
Your feet are the gateway to your vehicle's get-up-and-go and stopping power. Brake and throttle are mere centimetres below your tootsies, and if those tootsies are housed incorrectly, it could mean the difference between clipping that apex properly and careening into the gravel.
Of course, driving my son to day care requires few (if any) apex clips (sadly), but I still ensure my feet are in the correct get-up and I try my best to avoid flip-flops and other hazardous footwear that could impede or even endanger my drive.
That's where Pilotis come in. In the hustle and bustle of Grand Prix weekend in Montreal, Canada, Piloti decided to reintroduce their brand to the car-loving public. Why reintroduce? Well, because they disappeared for a few years from 2012 till now. With a solid history in racing shoes (and a history of famous buyers such as Leno and Seinfeld), Piloti was confident they could make a comeback, and I'd have to agree.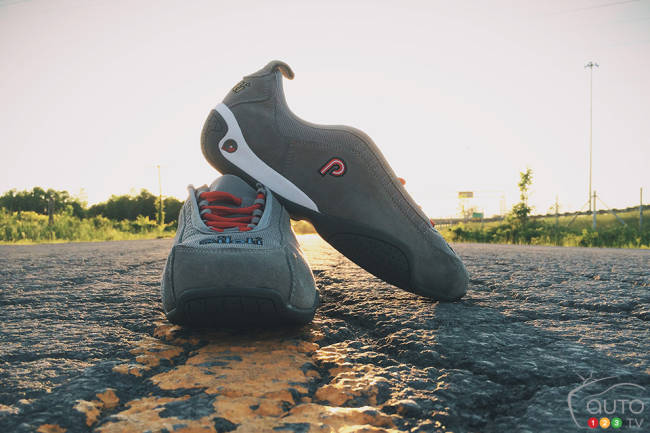 Not just for drivers
The sweet thing about Piloti (which means driver in Italian, by the way) shoes is that you don't have to be Villeneuve (or aspire to be him) to buy a pair. They've got everything from racing shoes to luxurious Italian leather casual shoes now.
If you are a driver, however, you'll appreciate the Piloti Roll Control Heel that provides cushioning behind the heel bone, ideal for perfect heel-toe maneuvres and pedal play in general. Vibrations are lessened and the driver has more control over her/his feet.
Women drivers take note
Currently, Piloti only offers a line for men. However, we'll be checking back very, very shortly as they are releasing a line of women's shoes soon to coincide with their re-launch into stores this summer. In the meantime, if you can't wait, you'll just need to order your men's version 1.5 sizes smaller than you'd normally take. So, if you're a size 7 you'd be a 5.5 in Piloti men's.
As for pricing, that can range anywhere from $150 up to $450 for a pair of the full Italian leather and suede from the Luxury collection.
An everyday shoe?
After sporting a pair of the Prototipo Pilotis from the men's Performance collection, I'd say they can most definitely be worn on a daily basis. While the sole and heel are stiff, they offer a rigid support some might really appreciate. They are also made wide, which is good for someone like me.
While the look (currently of the men's line) may not be for everyone, its clean and performance-driven aesthetics are appealing for those who want a solid, comfortable driving shoe.
Lifestyle