Is the Porsche Panamera S Hybrid family-friendly?
I was lucky enough to have the brand new Porsche Panamera S Hybrid for a week in preparation for the Rallye Vert de Montréal. ''Yay! A Porsche! And not just any Porsche: one the entire family will enjoy,'' I said to myself.
It turned out to be true -- mostly. I had no problem putting my 1-year-old boy in his child seat and, honestly, he seemed to get a real kick out of his first Porsche experience. He loved staring at the many different buttons on the centre stack (which he no doubt dreamed of playing with), as well as the navigation display. There was ample room between his feet and the driver's seat so daddy didn't get kicked in the back. My son looked totally at ease in the Porsche Panamera S Hybrid.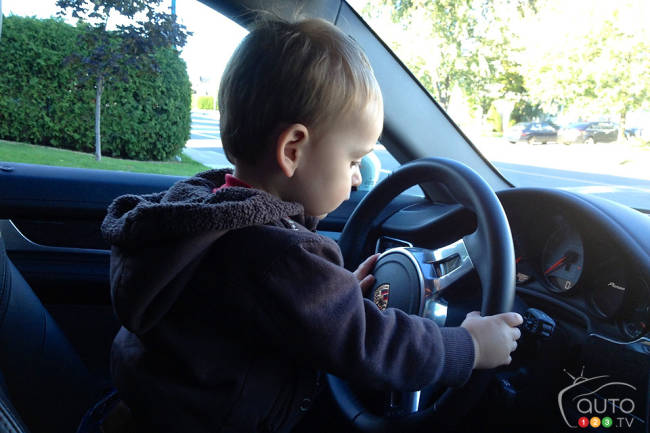 Photo: Émilie Asselin-Mercier
Up front, my husband and I were in heaven, too. The aforementioned buttons met all our needs, and the seats proved extremely comfortable. We put them to the test during the rally, and I never felt any pain in my back or legs even though I spent the entire first day sitting in the car. Add typical Porsche driving excitement, and you get one happy family.
Trips to work, the day care centre or the supermarket with the Panamera S Hybrid were a treat. However, when we headed to dinner at my friend's house, it was a different story. Cargo room is generous, but having a kid means a ton of room is needed. A stroller, playpen, booster seat, and diaper bag can fill a trunk in a hurry.
Due to its shape, the Panamera's couldn't swallow all of our stuff. We had to load the playpen onto the rear seat, even though the trunk had some room left for a few bags. By the way, forget about a standard stroller; only an umbrella-type stroller will fit back there.
So, from my experience, the Porsche Panamera S Hybrid works as a family car, but only for parents with a single child. Of course, it can make an awesome second family car, taking care of your daily commutes and chores while you use your minivan or SUV for long trips. Incidentally, don't even think about mounting a cargo box on top of the Panamera; it would be criminal.
How's that for a driveway: a Honda Odyssey and a Porsche Panamera S Hybrid!?