Iron Girl 2014 and the Subaru STI
By nature, the all-new 2015 Subaru STI is a performance machine.
I wouldn't necessarily say the same about myself.
The STI has the stamina to lap around the track for hours, whereas I would run out of gas much more quickly. The STI has its game face on all the time and is ready to accelerate at a moment's notice. I at least need a good meal before I can take off running!
However, when you fuse the mechanically competent STI with a wannabe triathlete, some of that vigor is bound to rub off.
And so it did.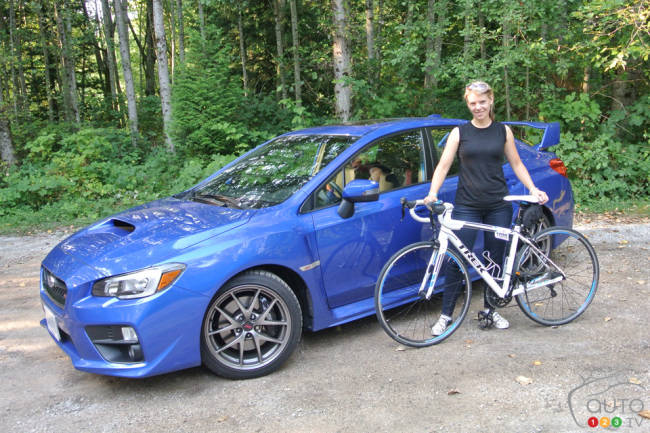 Photo: Alexandra Straub
On a whim, the crazy idea to do a sprint triathlon came across my mind. The one I found happened to be a few hour's drive from my residence (in Seattle, WA) and was part of the IronGirl series; one geared specifically toward women.
Note: Subaru is a major sponsor of the Canadian IronMan series, so it only seemed fitting to take the Japanese car with me to my first event, right?
It also meant quite a lot of quality time with the sedan that commands attention even at a standstill.
With less than three weeks to go before race time, I needed to get my butt in gear and make it happen. I trained in the pool, ran outside, and even had to rent a bicycle for the riding portion of the swim/bike/run event.
A sprint distance is much shorter than a full IronMan.
An IronMan triathlon starts with a 2.4-mile (3.86km) swim, and then goes into a 112-mile (180.25km) bicycle ride, all to be topped off with marathon (26.2-mile/42.2-km) run.
The sprint distance for the IronGirl came to a 1/3-mile swim (500m), a 12-mile (20km) bike ride and then a 3-mile (5km) run. I had to start somewhere!
With the bike loaded in the trunk of the STI -- I had to take the front wheel off so it could fit! -- my gear packed, and butterflies in my stomach, I headed for the border in my Rally Blue specimen.
The times when I pressed the accelerator a little quicker to the floor made me think about how I'd sprint my last few hundred metres across the finish line.
When coasting at highway speeds, I'd think of myself cruising on the bike portion, but not too hard so I wouldn't exhaust myself for the run.
When it started to rain, I'd think: "Water is my friend."
If the STI didn't waver in the face of adversity, neither would I.
On race morning, it was still dark when I got to the car (think 4:30 a.m. dark!) As I pushed the start button, the conviction and grumble from the STI's exhaust invigorated me.
I had everything I needed to get me through the next few hours. I just needed to go for it.
After crossing the finish line, I could barely walk -- but I had a smile on my face. Not only because I reached my goal, but because the STI was there to carry me home and share my joy with me.
Lifestyle