Interview with Karim Mokaddem, Hybrid Air Project Executive Manager at Citroën
Compressed air cars: In the blueprints since 1958
04/12/2013
Here's a scoop: French automaker Citroën is exploring the concept of compressed air vehicles -- 55 years after experimenting with a prototype of the iconic 2CV. Modern technological advancements, along with the expertise of Bosch, now allow Citroën to develop and realistically produce a Hybrid Air system that combines a gasoline internal combustion engine with a compressed air motor. The result? A fuel consumption of merely 2.9L/100km, and CO2 emissions of 69g/km.
Karim Mokaddem, Hybrid Air Project Executive Manager at Citroën, passionately details the unique initiative he's been so obsessed with these past two years.
AutoVenus.com (AV): Where does the Hybrid Air idea come from?
Karim Mokaddem (KM): We kind of went against the grain, here. Rather than developing an engine that doesn't run on fossil energy, we looked for the best possible complement to the combustion engine. Truth be told, we're not competitive without petrol yet. Compressed air is an old project that Citroën holds dear and has already worked on in the past.
AV: How does it work?
KM: Compressed air is stored as nitrogen inside a tank (like a scuba diver's oxygen tank) by using the force of braking. Basically, we use a hydraulic system (with a syringe and piston) to compress air. There's no need for an extra battery that we have to charge, since the vehicle automatically replenishes itself. It all works smoothly and efficiently, at little cost, with nothing but mechanical components.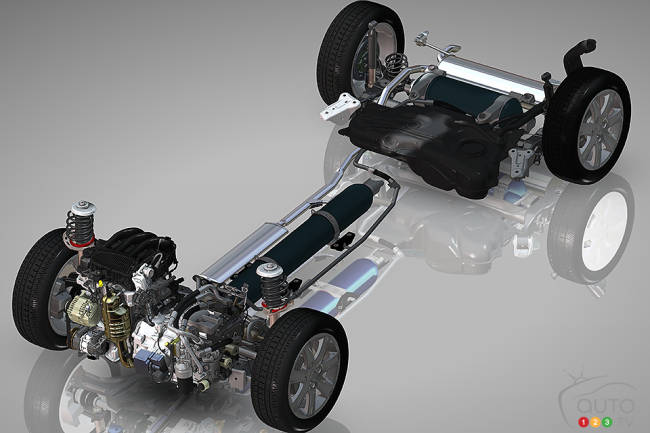 AV: What application do you currently have for Hybrid Air?
KM: We first designed Hybrid Air for the Citroën C3 VTi, which pairs an 82-horsepower, 1.2L 3-cylinder engine with a compressed air generator that provides an additional 40 horsepower or so. Performance-wise, this makes the C3 Hybrid Air equivalent to a 1.6L turbodiesel rated at 110-120 horsepower. The Peugeot 2008 benefits from the same technology. Ultimately, we want to get to 2.0L/100km.
AV: Is the system heavy?
KM: The entire package adds 100 kg; it consists of a pump, hydraulic piston, oil, and steel. The components are mounted close to the ground (with the compressed air tank acting as a tunnel down the middle of the car) and underneath the trunk so as not to sacrifice passenger and cargo room.
AV: It looks so simple!
KM: Compared with a combustion engine, Hybrid Air reduces CO2 emissions by 45% in the city. It also carries half the markup of a battery-powered hybrid vehicle! Typically, our C3 Hybrid Air runs in pure air mode for about 60-80% of city driving; the gas engine mainly takes over beyond city limits. There's also a combined mode that kicks in under hard acceleration and anytime a greater power output is required.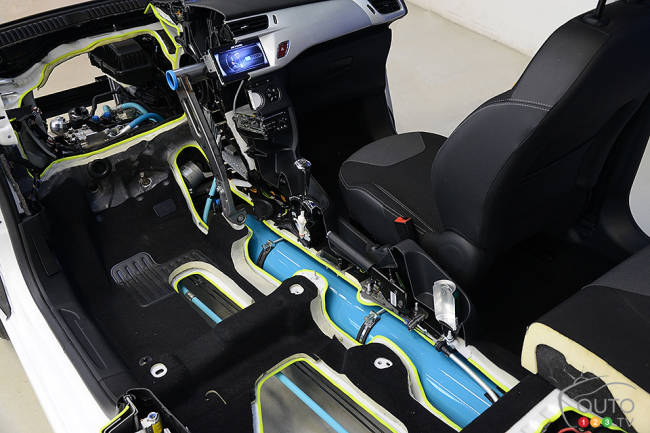 AV: What do you hope to achieve with compressed air?
KM: With this technology, our primary goal is to offer the perfect alternative to conventional engines by 2016, and later completely get rid of fossil fuels. We'll initially focus on the European B-segment (subcompact cars) before moving on to larger cars -- first in markets with a strong Citroën presence, and then in emerging markets.
AV: Don't you think 2016 is a bit too optimistic?
KM: We've kept a very tight lid on the project for the past two years, but we have around 150 people within PSA Group working on it every day. Having nearly completed the development in just 24 months is nothing short of exceptional when you consider all the complexities of a large company. Our multidisciplinary team managed to find all the right answers quickly, and the fact that they worked in secrecy now gives us a clear competitive edge in a fast-changing market.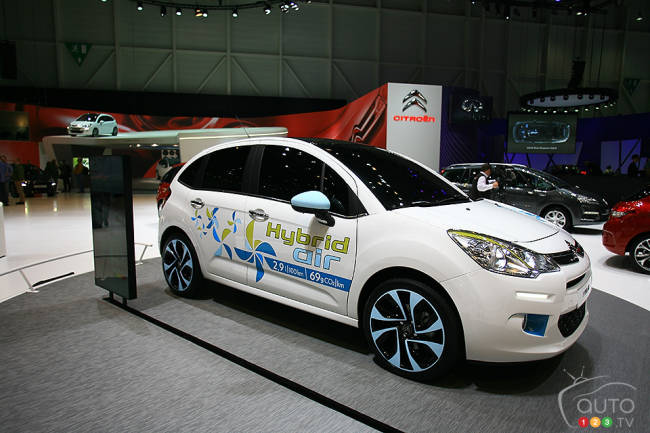 Green Car