How To: Find The Right Tires for Your Car
Jamie McNutt has been working with Bridgestone for over 20 years, so it's safe to say she knows a thing or two about tire selection!
With a degree in chemistry, McNutt spent a large portion of her career in the compounding division, which she described as (in layman's terms): working on nano technology for improved heat resistance, improved traction and more.
Gosh, I wish I was better in chemistry!
In February of last year, McNutt moved into a new role as manager of the consumer tire development at Bridgestone.
As the sun beats down on the Las Vegas Motor Speedway -- where a group of journalists are testing out the latest and greatest in rubber technology -- I steal her away to ask her about how she goes about helping customers select the best tire for their vehicle.
"The first thing I typically do is ask them how they drive and what's important to them. For some people it's fuel efficiency; for some people it's keeping the tires for a long time so they want really good wear life. And for some people, it's really high performance," McNutt says.
"Then the next question I ask is: What's the weather like? Do you get a lot of snow? And that can really change what I recommend people to buy."
For parts of the country where snow is plentiful, McNutt always recommends a designated snow tire, whether it's the Blizzak or their Winterforce (which is studdable).
Depending on what kind of driver you are, she considers that, too.
"It's also about driving style. Are you an aggressive driver? Do you have a lot of load? Do you drive a minivan? Those are the type of questions I ask, and then I get their feedback."
McNutt continues, "Depending on what's important to you, it's really nice to have an understanding of the product lineup available from a tire standpoint so you can really help fit the right tire to the right consumer. That's really one of the things we try to do, from Bridgestone's perspective, is have a lot of different products that are geared toward certain types of drivers and certain situations."
For most driving situations and styles, chances are Bridgestone has you covered. From an ultra high-performance tire to a high-performance all-season tire to a fuel saving tire, there are some choices.
When you've invested in a quality product, what's the best way to extend their longevity?
McNutt answers: "By rotating and maintaining the correct tire pressure. If you have a tire that loses air and runs with less air than it should, basically, what you're doing is reducing its life because it will run much hotter. Any time you have heat, things degrade at a much faster rate."
Being an integral part of the driving experience, McNutt mentions that, "tires can communicate a lot. You can look at your tire and understand if you have an alignment issue. You can look at your tire and understand if you are having other issues with the tire itself. Maybe you're seeing centre wear, maybe you inflate them too much. If you just pay attention to [your tires] you can really learn a lot."
McNutt brings up a very valid point when she explains that, "if you think about it, the tires are what keep you on the road and keep you in control of your vehicle. So, if you have a car that's a great all-wheel drive, it doesn't matter if you don't have good tires."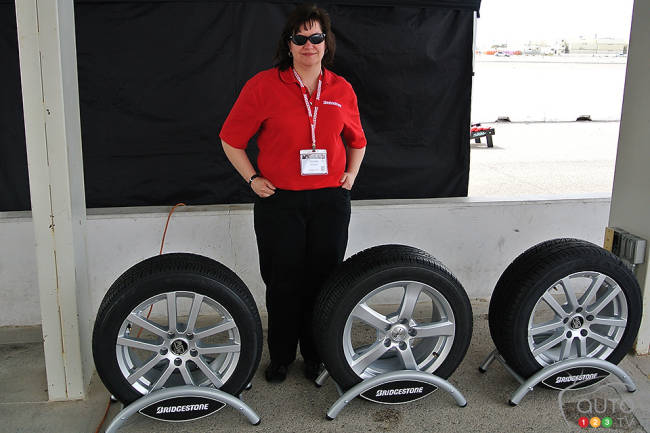 Tire