How To: Deal with Car Repairs
Fear of the fix
01/26/2012
Dealing with car repairs leaves some women feeling lost, confused and frustrated. Many feel like they've been taken advantage of because they don't know much about the inner workings of a car engine. In recent years, though, there's been a move in the auto repair business to make sure women feel comfortable when they bring their car in for service.
Marketing to women has become important in any business. Consumer research company, Neilson, reports that while women account for well over half of consumer spending, they still believe they are "undervalued in the marketplace." According to Womendrivers.com, female customers account for 65% of the auto service work done in the US.
Sandy Spicer, owner of Nic's Garage in North Vancouver, BC, has been in the auto repair business for over 13 years. Nic isn't the name of one of her mechanics. "Nic's" actually stands for Non-Intimidating Car Service.
As a single parent, Spicer was on her own when it came to car repairs. "Every time I went in to get serviced, I always felt intimidated. I just really felt uncomfortable," she remembers.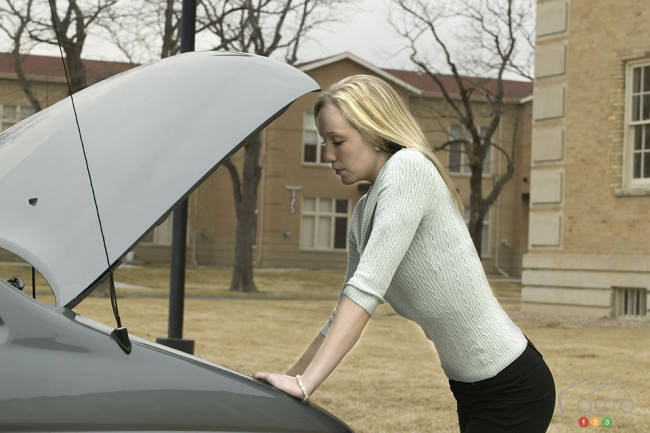 It wasn't until she finished her degree in commerce that she drew up a business plan and fulfilled her long-time dream of operating her own garage.
Spicer believes her women customers are looking for service professionals they can communicate with. "We try to explain things in terms that they would understand, like a CV joint being similar to your wrist joint. So when the covering on the CV joint goes, it can cause damage to the joint and once you get damage to the joint, it has to be replaced."
AskPatty is an American organization dedicated to improving the auto sales and repair experience for women and offers female-friendly certification for automotive businesses. Staff at AskPatty-certified locations receive training and ongoing updates on how best to provide service for women clients. The AskPatty curriculum covers topics such as how to make their business welcoming and how to educate women about their cars.
AskPatty certification is one way to tell whether an auto shop has thought about how to make their women clients welcome. However, there are other ways to find a female-friendly repair shop. Word of mouth is generally the best place to start.
Women can also check to see if their repair shop displays an Approved Automobile Repair Services sign. Issued by the Canadian Automobile Association (CAA), the sign indicates the business meets set standards. A list of approved garages can be found on the CAA website.
Also, an inquiry with the Better Business Bureau will reveal whether any complaints have been made against the garage. While these last two sources don't list repair shops that are specifically welcoming to women, they can help identify the good and weed out the bad.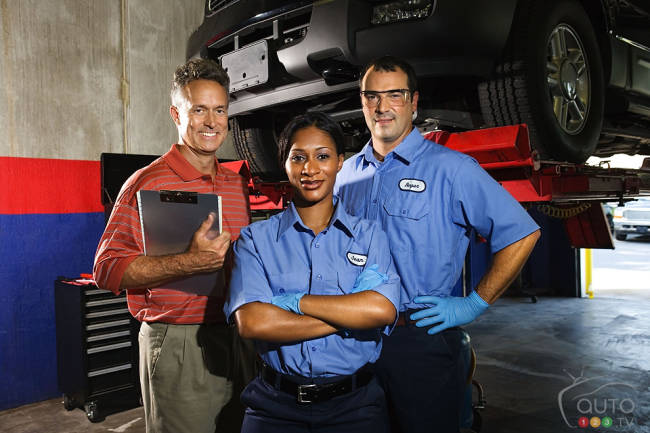 Sandy Spicer advises car owners to avoid surprises by getting to know their repair shop before anything major goes wrong with their car. "And trust your instincts," she says, "because if you feel comfortable with where you're going for a simple repair, then usually you can feel comfortable about a large repair."
Just like any relationship, success depends on the effort of everyone involved. Even at the most trusted repair shop, women can help make communication easier. They can help by requesting an estimate before any work is done, and asking to be contacted if it looks like the repair will be more than the estimated cost so there are no surprises. If there's an intermittent problem, noting when it happens, at what speed, and in what weather conditions will help the person doing the repairs know where to start.
Women can learn more about their cars simply by asking questions: requesting to see the broken part and taking a look under the hood once the job is finished. Over a lifetime of ownership, those learning opportunities will add up to knowledge and confidence around car repair.
When Nic's first opened, 80% of its customers were women. Spicer estimates it's now 50-50. She believes men also want to feel comfortable asking questions, and with today's sophisticated cars, fewer people know how to repair their own vehicle.
Just as we need to find a doctor, a dentist or a hairstylist that we're comfortable with, we also have to find an auto mechanic whom we trust. It's a matter of building a relationship - and, if you're lucky, it's one that you can maintain for a very long time.
Maintenance