Graco My Ride 65 LX Convertible Car Seat Review
Simply so much more
01/23/2013
As a proud Canadian, I was happy to install the Graco My Ride 65 LX Convertible car seat in my test vehicles over the weeks. As a homegrown company, Graco Canada is dedicated to protecting our little ones not just in the car but also in the home with highchairs, playpens, swings and stroller systems.
From its photos online, the Graco My Ride 65 LX Convertible car seat looks smaller than it actually is, and I was pleased with that. From comfortable siding to an easy-to-use harness system, this car seat (which can be had around the $200 mark) is fairly close to perfect as a rear-facing model.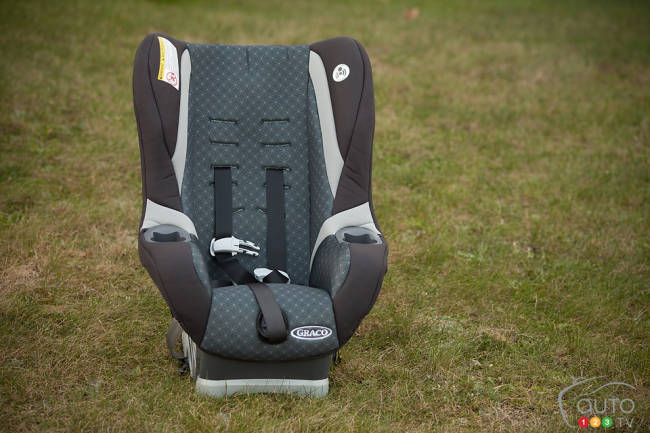 Straightforward design
One of the things I really like about the Graco My Ride 65 LX Convertible seat is the simple look and design. I pay attention to the lines and angles of most items (after looking at hundreds of cars and assessing their design prowess on such things), and the overall look of this Graco is fantastic. It manages to house the necessary safety equipment (Energy Absorbing Foam) in the bolsters, infant seat inserts, and even two cupholders without being uber bulky. Fabulous.
The base is small, which means the overhang of the seat itself is quite large. This means that installing the Graco My Ride 65 LX Convertible can be a bit tedious (read: it tips over a lot when you rear-face install), but I'll touch on that in a moment.
Simply safe
Unlike some companies, Graco Canada does not have a list of 50 million safety features associated with their car seat. But that's fine. It has the necessary side impact tested certification, EPS bolsters on the side and a 5-point harness. It's UAS (Universal Anchor System) equipped and can be held in place via child seat hooks or the seatbelt in your car.
It also boasts a New Car Assessment Program peak crash force rating two times higher than a standard car seat. So, however short its safety list may be, it's still as safe a seat as you can buy for your child -- otherwise it wouldn't be on the market, right?
The Graco My Ride 65 LX Convertible car seat is made to accommodate children between 5-40lbs rear-facing, and 22-65lbs front facing. As a rear-facing seat it fits very well in a variety of cars, from a 2013 Volkswagen CC to a 2013 Kia Sportage (where it was most at home).
My only qualm with the Graco My Ride in all cars was how high it sits on the seat. Perhaps it's because I'm a smaller driver, but I found I lost all visibility out of the rear passenger-side window with the car seat installed. It has a very high back that reaches level with the top of most front-seat headrests. And with the bolstering on the sides, it pretty much takes up the entire rear window. Checking my blind spot on that side became a moot point due to the seat.
Simple installation - almost
The Graco My Ride 65 LX Convertible seat is a breeze to install -- kind of. The base the seat is attached to is oddly rounded on one side (for front-facing installation) and because of that, constantly falls over as you try to install the UAS system. It seems like a silly thing, but is highly aggravating as it pulls on the straps you are trying to use each time it falls towards the front seats.
A towel was needed to achieve the right angle in each car I placed the Graco My Ride 65 LX Convertible car seat, which is fine.
Thumbs up from the offspring
Of course, the most important thing comes down to my son's comfort and safety. As he's still working on his first word, he's not about to give me his verdict on the seat, however, I assessed that he looks the most comfortable in the Graco My Ride. He's a big kid, and it's offered the most room for him -- especially in all his winter gear. He's not cramped and can easily move his arms around (plus the cupholders are great for storing snacks that he can pick at on longer drives!).
Adjusting the harness is super easy, but again requires a strong arm to tighten. I find myself opting for leverage on the doorsill so I can throw my entire body weight into the pull just to tighten the harness across his chest. Graco, apparently, wants their moms to be fit.
I'd not considered Graco when first shopping for a car seat, but after experiencing the My Ride 65 LX Convertible, I'd recommend moms put this seat at the top of their car seat list to test for themselves.
Safety