GoClean Waterless Car Wash
Perhaps you caught them on TV's Dragon's Den where they, like so many other entrepreneurial hopefuls before them, pitched their business concept to a panel of hard-nosed Canadian tycoons in the hopes of gaining their sponsorship.
By the end of the show, Sunny Yashpal of Mississauga, Ont. had won over the Dragons -- including exotic-car collector Robert Herjavec -- with his GoClean Waterless car care products.
Initially sceptical, Herjavec said, "You'll scratch the paint... one thing I was taught was never wash your car without water."
However, after trying the product himself on the hood of a car, Herjavec was impressed, and inked a $35,000 investment deal in exchange for 10% of the company. In a true show of confidence, he also loaned them his own Ferrari 599 GTO for their "Toronto GoClean Day" demonstration at Young and Dundas Square.
It was just the kickstart they needed: GoClean is now carried in Canadian Tire stores across the country.
But it's not just about the bottom line for this socially responsible upstart.
GoClean's products are made from natural and biodegradable ingredients. According to the company, each bottle of GoClean Car Wash is good for up to 10 washes - preventing more than 500 litres of soapy water from ending up in storage drains. Not only that, but with each $14.99 purchase, GoClean will donate to the AWF (African Well Fund) a non-profit organization that raises funds to build and maintain water wells in Africa.
The 946 ml spray bottle contains a pale orange liquid that is apparently a blend "made up of a special fluids, lubricants and high quality soaps" that can be used on any hard surface of the vehicle: paint, glass, chrome, plastic. It claims to leave behind a slick layer, "protecting it from further dirt and grime, water spots, and harmful rain and UV exposure."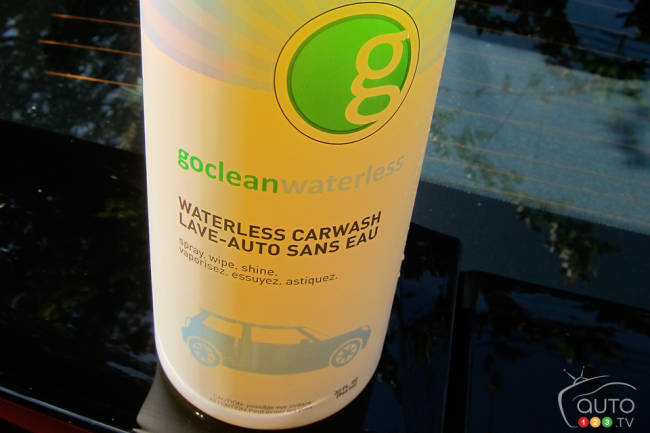 I must admit I was sceptical. However, armed with a bottle of GoClean and a handful of the recommended microfibre cloths, I decided to see for myself if it lived up to its claims.
Since my parking spot is accessed by an unpaved, narrow laneway between houses, whatever I'm driving inevitably has its flanks caked in dust.
Like Herjavec, I considered cleaning without water (which usually involved thoroughly banishing every granule of dirt with copious spray before even thinking of applying cloth to paint), anathema to everything I'd been taught.
I sprayed a liberal amount of GoClean on the front quarter panel and watched as it dissolved the thin layer of dirt, which began to trickle down the surface in rivulets. Using a microfibre towel, I dabbed at the dirty liquid, which came away easily. Within a few minutes, I had one side of the car clean, and ready to be buffed with a fresh towel.
I must say, I was impressed with how well it worked, however, I question its "10 washes" claim. After using it for a weekend photo shoot, I'm left with just over half a bottle. Still, it would be invaluable for condo dwellers and those who like to keep their vehicles spotless while on the go. And it earns big points for its environmental and social responsibility.
In addition to their Waterless Car Wash, GoClean also carries Multipurpose Spray Cleaner and Ecotire Spray.
Maintenance