Five Minutes in Heaven: Experiencing Le Mans
Attending the 24 Hours of Le Mans race in France was on my bucket list. I think it is for most motorsport enthusiasts. While I hoped that one day I would be standing in the world-renowned Circuit de la Sarthe cheering on the drivers, I didn't expect it to be so soon. Nor did I ever expect to experience, firsthand, the track drivers and engineers try to master for a gruelling 24 hours.
Two Bentley Continental GT Speed coupes and one Bentley Continental GT Speed Convertible are lined up at a gate. At this point, I am having a hard time figuring out which turn I am at because I still think I'm dreaming. Nope, I'm not.
Tucked into the rear seat of the GT Speed Convertible, I'm trying to soak in my surroundings.
Up front, Mike Sayer, the British Automaker's Product PR manager is in charge of the ride. Sue Callaway, a U.S.-based journalist (and my partner in crime for the event) is riding shotgun.

I load up my camera to capture the footage of the spectacle, which would only last a few short minutes. We're given the go-ahead, and the 616 horsepower, all-wheel drive machines enter the track.

We drive along the home stretch where hundreds of thousands of people are cheering. It's surreal.
I'm trying to make sure my hat doesn't fall off, that my camera is pointed in the proper direction, and that I can live in the moment. I know, it's a lot for one moment, but that's life in the fast lane.
One lap of the Le Mans track is 13.629 kilometres.
Our group of three Bentley cars has a finite time on the track. Either way, we're going quickly where we can. Inclement weather and a damp track forced the drivers to tone down the speeds. Course marshals don't want anyone going to parts of the track they're not supposed to be, despite the pleasant scenery.
At some parts, I glance towards the instrument cluster and see the speedometer creep over 160 kilometres an hour, then more, then even more.
The Mulsanne Straight is where we kick into high gear, but I'm too busy smiling and laughing to look at the speedo again.
Glorious.
Despite my hair being tied back in a ponytail (and tucked into a hat) it still whips across my face. The sharp stinging only sets in after the car comes to a stop. But I'm not overly concerned.
Like a lot of first-time adventures, it's over too soon. As we pull back into the gate from whence we came, I just want to go out and do it again. Even if I wasn't driving, I can technically say I've experienced the same track as many of the great motorsport athletes from the last 90 years of racing history.
Would I do it again? In a heartbeat. However, this time I'll add to the bucket list that I'd like to drive...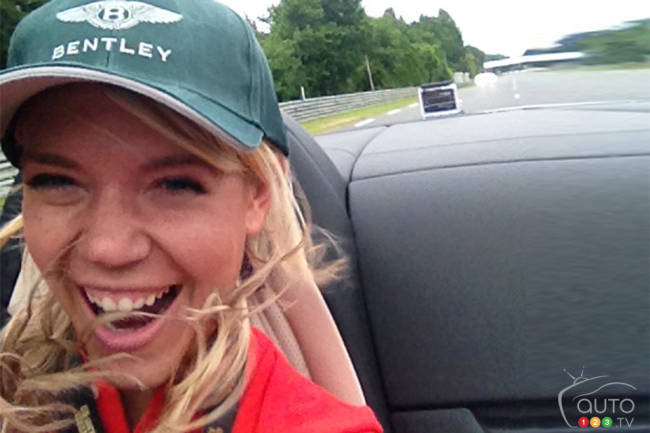 Racing