Everyone is going to want the D
Yup, I said it.
01/13/2015
Elon knew precisely what he was doing when he named the latest version of his Model S the D. From silly innuendos to smutty jokes, the D is on the tip of everyone's tongue (pause for a giggle) and for more than just its dirty name.
I was given the chance to ride shotgun the latest Model S P85D since no one is allowed to drive the models currently on the road. Only 50 have been made and they are all dealer-owned, save for one very lucky individual in California who took possession of the very first privately owned D on Friday December 5th. So, they're taking no chances with the cars currently available for drives.
OK, let's start with the facts: The Model S P85D is equipped with dual motors. That means that along with the 470-horsepower motor in the back, you've also got another 221 horsepower motor up front. Let's all do the math quickly now... Yup, that's 691 ponies of goodness headed to all for wheels.
All. Wheel. Drive.
Let that all sink in for a moment.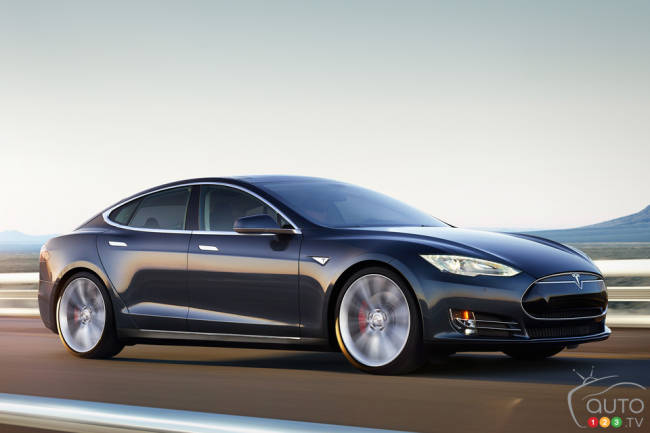 The Tesla Model S P85D will hit 100km/hr from a standstill in just 3.2 seconds. I'm here to attest to the fact that it really will do that. You'll leave naysayers (and possibly your lunch) in the silently billowing dust as you electrically whir your way to speeds most high-performance cars only dream of.
All while burning absolutely no fuel. No. Fuel.
I'm still wrapping my brain around it all. The Model S P85D is a feat in engineering and design, with an onboard computer system that had my head spinning (in a good way) and brand new safety features like Autopilot, which works a lot like Subaru's EyeSight system with a series of cameras that "see" for you while you're driving to prevent front collisions and unwanted lane changes, etc.
The firmness of the ride is to be expected from a performance vehicle, but can be made more agreeable simply by selecting a different set-up from the 17" display screen in the middle of the car. Everything is customizable. Your Tesla Model S P85D isn't just efficient, it's accommodating. You can't say that about many EVs on the road today, that's for sure.
The D is fantastic in so many ways (pause for another giggle), because while it already ticked so many of the necessary EV boxes, the one that was missing (AWD) is now made available along with a boost in power and performance. Granted, ticking that final box is going to raise the price well into the $100k range, but this is a luxury electric vehicle.
Alcantara lines the vehicle, along with leather and other soft-touch materials. That 17" screen alone (larger than the laptop I work on every day, might I add) is enough to make you want to sit in the Tesla Model S all day. And if there's something you don't like about your Model S (if you're already an owner), tell your local Tesla dealer. You won't just be telling a service monkey, you'll be telling an engineer, someone who can take that information and implement it into the next version of the Model S.
So, do I want the D? You bet I do. Laugh and giggle all you want, but where Tesla already had a winner in the Model S P85 and P85+, the D takes it to a whole new level of awesome and wow all at once.
Our Canadian winters influence a lot of what we do in our lives, including the cars we purchase. Tesla has proven, after two years in the Great White North, that their batteries can stand our frigid temperatures. Now, with AWD available, Tesla is also proving that they can keep us safe and secure while we putz around town burning no gas and lookin' fabulous.
Green Car