Euro automotive fashion must-haves
Cool items that captivated the shopper in me at the 2013 Geneva Motor Show
04/04/2013
While covering the 2013 Geneva Motor Show, I came across a number of wonderful cars, as well as accessories, clothing items, purses, and other trendy products that got me all excited and scrambling to find my credit card. Allow me to list some of them...
MINI must-haves
MINI Big Duffle Bag
This large, retro-styled travel bag is awesome, with contrasting piping and a MINI word-mark on both sides, plus an inner pocket with separate zip, red lining, and removable bottom panel for extra stability. Available in green, pink, red, black, white, chocolate, or grey. Price: €50.
"I Love MINI" Mug
A large mug with "I love MINI" printed on the outside, and "MINI. Exciting to the very last drop." printed on the inside. Available in black or white. Price: €10.
Bulldog Soft Toy
Much cooler than a teddy bear, this free-standing furry bulldog wears a "MINI" collar and black doggie T-shirt with the MINI wing logo printed on the back. Price: €25.
Ladies' Sound of MINI Jacket (Pink)
I'm a girl, and I'm a MINI lover. This jacket couldn't make it any clearer. I love it! Available in five different sizes. Price: €79.
Fiat must-haves
Fiat 500 canvas bag
This small, khaki-coloured canvas bag depicts the iconic microcar's front and rear fascias, along with a vintage "Nuova 500" logo. Price: €25.
Fiat 500 purse
A genuine leather purse with a checkered design and "500" logo is perfect for a night at the opera. Price: €75.
The cars
Peugeot 208 GTI
When I was 18, I used to drive a 205 GTI. Now, here comes the 208 GTI which, in all likelihood, you will never get in Canada. Too bad, because this cute little 3-door hatchback would be great to tackle Montreal traffic! With 200 horsepower on tap, a weight of only 1,160 kilos, and 0-100km/h acceleration in 6.8 seconds, the 208 GTI may be the perfect commuter's car.
Fiat 500L Lavazza
Your double daily dose of Italian refinement: The Fiat 500L is the first vehicle to offer a built-in espresso coffee machine. It's perfectly integrated in the car with a deck designed by Fiat.
Subaru Viziv Concept
Wow! If this thing has all the brand's DNA under its sleek sheetmetal, I would love to own one! The Subaru Viziv Concept combines a diesel-powered, 4-cylinder BOXER engine with a front electric motor that provides both vehicle drive and power generation, and two independent rear motors for drive only. AWD just got even cooler.
Volkswagen Polo WRC
From rally to the road: The spectacular feats of Sébastien Ogier will prompt a number of fans to buy a more civilized version of his WRC racer. This 220-horsepower Polo sprints from 0-100 km/h in 6.4 seconds. Helping sell the car is Volkswagen's "Rally The World" interactive program.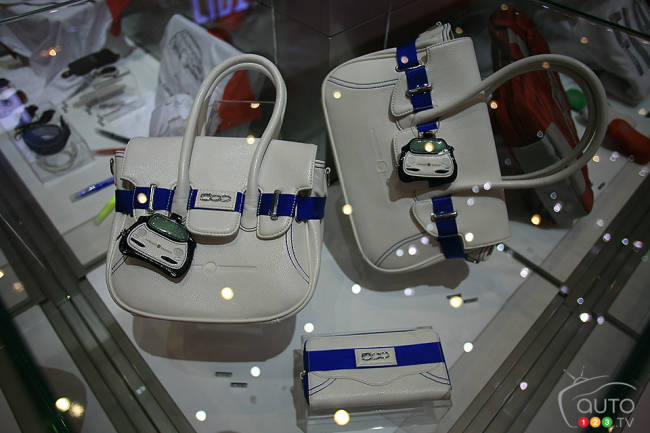 Gadget