EICMA 2012: The 70th International Motorcycle Exhibition in Milan
Motorcycles, motorcycles and more motorcycles.
01/22/2013
Then there are all the booths with gear for sale, aftermarket parts for your bikes, and almost anything else you could possibly imagine for your two-wheeled transportation.
I was on "system overload" while attempting to take in the vastness of the 70th International Motorcycle Exhibition in Milan.
As I looked through the floor plan, I was glad I'd brought a pair of flat shoes with me because, according to the map, I would be walking a lot.
I initially started the day in pumps, but shortly thereafter transitioned into a way more comfortable pair of footwear.
I think I walked close to 20 kilometres that day, venturing back and forth between the different pavilions.
According to a press release I received, there was roughly 1.4 million square feet of motorcycle real estate to cover. And that wasn't even utilizing the whole exhibition centre!
My game plan? Bite-size pieces. Walk around slowly. Try and drink it all in, and then attack it head-on.
With over 1,000 exhibitors on display, I did my best to cover all of them, but I just didn't have enough time to do everything.
However, in the process, I did see some really cool things.
Being a huge advocate of clean energy transportation, it was nice to see that the show had a dedicated section to "The Green Planet." I spent a fair bit of time there checking out all the EV scooters, bikes and other interesting concepts of emissions-free transportation.
There just happened to be a prototype of an all-electric sport bike that caught my attention. Energica is the first Italian prototype of electric streetbike and it will be available for purchase in 2014. Very cool.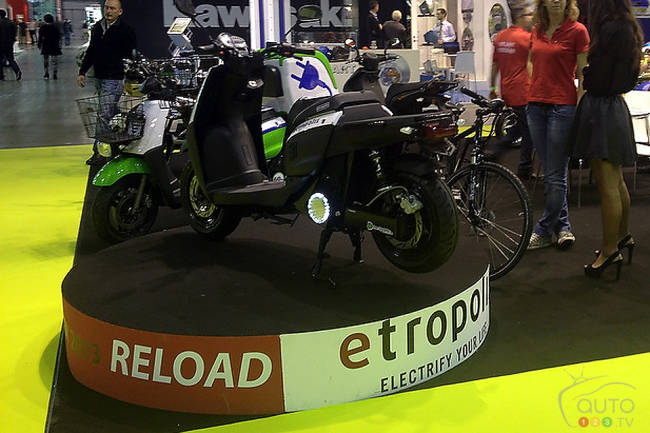 As I walked around, industry heavy-hitters like Honda, KTM, BMW, Kawasaki, Suzuki, Ducati and more all had elaborate displays with their product lineups.
I think the best part of the whole experience was seeing so much motorcycle eye candy in one place. Furthermore, a lot of the bikes on display weren't roped off so I could sit on them and see if my feet touched the ground! Luckily, I wore pants.
Another highlight included seeing a host of classic bikes. Classic; meaning the original inspiration to what we currently see on the road.
Then there were the custom motorcycles. Wow. One Harley-Davidson was modified to hold a surfboard! Amazing.
With all the personalized paint jobs, shiny chrome bits and master craftsmanship, I was sufficiently satiated when it came to my bike fix.
Since one day wasn't enough to soak it all in, I went again.
Yet, even on the press days, hoards of people flocked to the venue to see the latest and greatest in the industry.
While a lot of the coolest stuff there will never reach our shores, I'm still happy I had the opportunity to check it out.
Now I need a foot massage.
Motorcycle