Dressing for an Automotive Concours: Pebble Beach
On the fairway of the 18th hole at the Pebble Beach Golf Links is a collection of some of the rarest and most expensive vehicles on the road - and that's if you dare drive them (and that usually happens only for show-to-show transport).
However, the fashion sense of attendees -- or lack thereof -- can prove to be just as fascinating. Women with spiked heels, men with jeans and T-shirts on; something just doesn't fit.
While there is no strict dress code for an automotive concours, there are some ways in which dressing the part will help you fit in, but also keep you comfy for the hours of walking you'll inevitably do.
For an event that takes place where the weather can change rapidly and you're not on pavement, here are a few tips that will help make it a more enjoyable experience.
Ladies, leave the stilettos at home! I'm sure the maintenance staff at the golf course love that you're perforating the fairway but you could end up hurting yourself. If the heel gets caught in the grass, it's your ankle that might not make it out in one piece. Wedges or flats will do the trick. Besides, when you're strolling around on stable ground, you not only look good but are comfortable, too.
Colour = Awesome. At this year's concours, it was all about the red pants. And I'm not talking about women. Heck, even pink made its way into the lives of many men there. Not to mention a pair of purple velvet shoes I spotted on a gentleman. Say "yes" to bright hues.
And say "no" to denim or something you'd wear to the pub to grab a beer. Granted, you can wear what you please, but I'm sure the cars would want you to dress up. After all, they do.
Accessorize with class. Feather hats? Yes. Full-blown costumes? Maybe. Animals? Hmmm, that's tough one. Mind you, if you have a 13-week-old Scottish Terrier in your arms because it is so overwhelmed, maybe it's time they took a nap or went to doggy day care.
Layers even in the summer? Oh, yes. If the concours is in a place that has typically unpredictable weather, a cardigan or sport jacket is always a bonus. True, it can be sunny and hot one moment, but the next could be overcast and chilly.
Sunglasses are a must. Unless it's pouring outside, bring sunglasses to not only enhance your facial features, but to keep your eyes protected from the sun's harmful rays.
Speaking of the sun, wear an SPF. Gals, if you have a super cute dress on that doesn't cover you from head to toe, bring sunscreen.
Dresses? Oh, yes. Don't forget that if you're wearing something with less structure -- i.e., something that flows -- the wind might blow it in a direction you don't want it to go. Not fun.
That might not cover it all, but it gives a good base to work with and one that will have heads turning, and not just for the cars you're standing next to.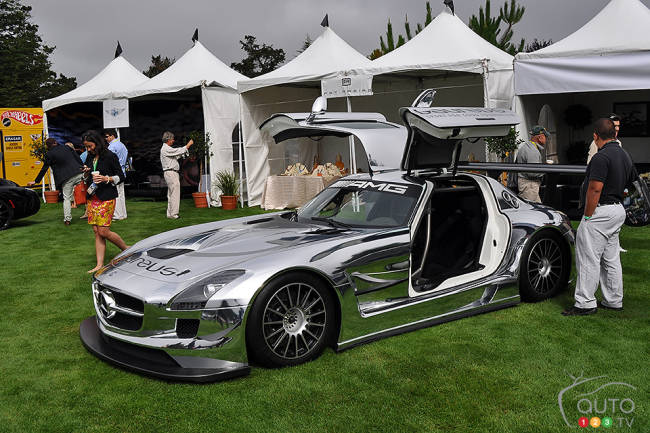 Photo: Mathieu St-Pierre