Bugs be gone - Goo Gone Automotive Spray
Caked on bugs high on "ew factor"
07/25/2012
We've all been there: Returning from a lovely summer's day cruise, we gaze in horror at the front of our vehicle now plastered with the carcasses of a thousand bugs.
Short of a hammer and chisel, there's not much we can do about removing the caked-on bug carnage easily. Have you ever wondered just what the heck makes bug guts so sticky? Maybe 3M should look into creating some kind of industrial-strength adhesive from their entrails.
Not much trumps the "ewww factor" of having a daily driver encrusted with smears of blood and suspicious booger-like green blobs (complete with legs and fluttering wings). It's doubly frustrating to spend good money at the car wash only to come out the other side sparkling clean, but for the still-present bug splotches.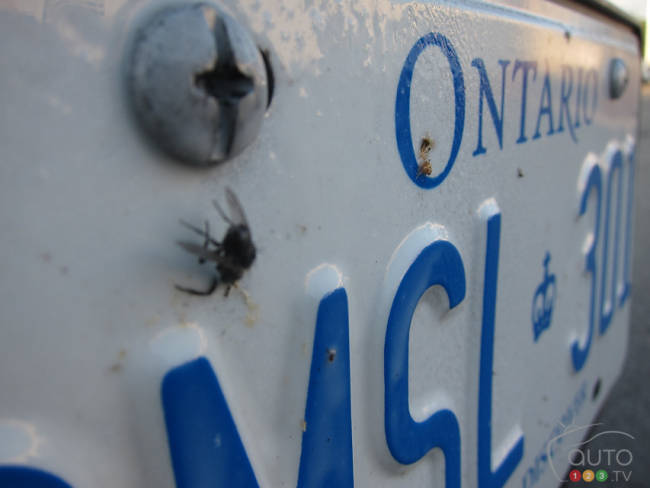 Gel remover now available in spray
A lot of us are already familiar with Goo Gone, that magic-gel-in-a-bottle that's famous for removing annoying price tag residue, mysterious sticky spots or the ghostly after traces of a Band-Aid.
The geniuses behind that wonderful goo have made it available in a spray that's formulated specifically for automotive use. That's right, there's something out there that actually claims to remove those nasty splats without involving hours of elbow grease.
And even better, there's a citrus-scented variety of Goo Gone Automotive Spray if you'd like visions of orange groves dancing in your head while detailing your car.
Just spray, wait... and wash
We've been blessed with glorious cruising weather lately -- as you'd know if you're lucky enough to have access to a convertible. There are few things more likely to delight the senses than a top-down cruise in the country just before dusk, the warm air rising off the earth filled with the scent of freshly mowed hay.
Unfortunately, such a drive (as I recently discovered) leaves your grille looking like the aftermath of a miniature Jurassic Park battle scene.
After gingerly plucking the carcass of a bird-sized dragonfly from the grille, I sprayed a liberal amount of Goo Gone Automotive Spray on the remaining mess and waited a few minutes for it to go to work (I couldn't help imagining a microscopic work gang lifting all that nasty crud with miniature picks and roofing shovels).
Being inherently lazy, I used the power-washer at my local coin wash to blast away the softened mess, rather than the sponge-and-bucket method.
Expecting a few stubborn traces, I also brought a couple of rags to finish it off. However, I'm happy to report that not a speck of desiccated insect remained after the Goo Gone Automotive Spray. Baked-on bug guts might require a bit of elbow grease to remove, but the product works exactly as promised.
It's also great for removing sticky tree sap. And if you happen to be an enthusiast who likes the clean look of a debadged vehicle, Goo Gone will remove the dried adhesive without harming your paint.
Goo Gone Automotive Spray is available at most automotive supply stores and some hardware stores for approximately $7.50 CDN.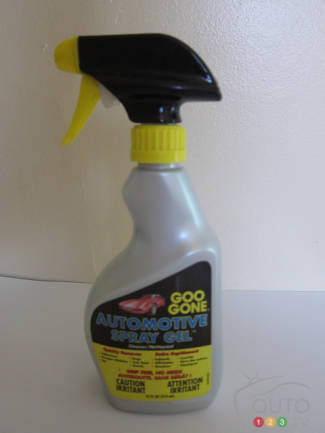 Maintenance