Backing up under high surveillance
Given that not all audio or navigation systems come equipped with a rearview camera, and because we all care about our bumpers, cameras that can be - easily - fitted to your car are now available.
There a three different ways to project the image in your car.
On the windshield
This screen, included with the camera, mounts on the windshield, just like a GPS would. This simple kit can be installed at home if you're a "do-it-yourselfer" person. You will need patience, though, to route the wires from the camera to the screen and the ones that go from the screen to the power outlet.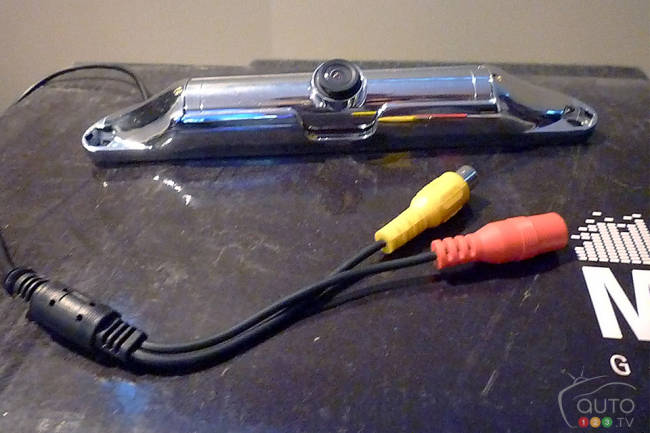 On the rearview mirror
It's huge, must be installed by a professional and costs about $700. Half the mirror stays un-changed; the other half becomes a 4-inch screen. I think the idea is particularly good - but pricey.
The radio-screen
This one is not for all radios. Your head-unit needs to feature a camera-compatible video option. They are fairly rare, and are not standard issue. If you do have that type of radio, then it becomes easy as the socket behind the radio powers the camera, so you only have one wire to take care of.
What does it look like?
Cameras come in different shapes. One type includes adhesive pads which stick on the license plate. You can also get strip-type cameras which mount up with the license-plate screws. In most cases, they come in black, but also exist with an elegant chrome finish.
The most important thing to remember, no matter what shape or form of camera you have, is that you must protect them from the rain. A small drop can have a huge impact on visibility. If the camera comes with a protective screen (a flat glass covering the lens), apply some Rain-X product, or the like on the screen to repel water.
What about the wallet?
Prices for the different types of cameras vary a lot. The deciding factor is options. A camera that depends solely on sunlight will be great in daylight, but mediocre in the dark. You can also get some infrared cameras, which allow you to see even at night.
There are cameras that include radar with sonar that warns you of surrounding obstacles. There are also those that include a grid on-screen, perfect when judging distances!
In the end, don't forget rearview cameras are only complimentary tools when backing up a vehicle. They don't replace checking around, in the mirrors, and scanning blind spots. Remember, the camera only sees what is directly behind the bumper!
Gadget