Auto mechanics: Why the bad rep?
My initial plan was to write this article following my latest visit to my local dealership; I thought better of it and refrained, afraid that I might blurt out something I would later regret. However, my colleague Mathieu St-Pierre's blog encouraged me to put in writing what I hope will be useful information to help readers avoid such mishaps.
I bought my minivan late last December; a neat Christmas present from me to me! Obviously, there were great year-end rebates, as dealers offer amazing deals this time of year and are ready to hand you the moon, if that's what it takes to close the sale. They practically lock the showroom doors if you dare mention that you'd like to shop the competition.
I left the dealership with a superbly equipped model, along with an extra set of tires and hundreds of dollars in gas coupons. I was very happy with my purchase! But...
Rule No. 1: The right tire for the right season
I was so enthralled with my new purchase (and happy to have dumped my previous lemon) that it never even crossed my mind to check which tires were installed on my new minivan. I assumed the winter tires had been installed as I witnessed the 20 centimeters of snow that covered the entire dealer lot. I, unfortunately, discovered my error on January 1st while heading to my sister's house 100 kilometres away, in an ice storm...
I called my salesman on January 3 and he asked me to check to see if I could find a little "snowflake" icon on the tire sidewall.
"Yep. Found it... On the tires in the rear cargo area."
He was appalled that the service department had dropped the ball, and asked me to go back, saying how sorry he was about the situation (certainly not as much as I was, thinking how I could have wiped out with my three kids on board!).
The service department tried to mitigate things by mentioning that the law states that a new vehicle may benefit from a 10-day grace period with all-season tires. Sure, but I still drove around without winter tires!
Rule No. 2: Remain vigilant at all times when visiting the service department
I need to be clear on this: Your mechanic may be very honest, but keep in mind that some of them are more than happy to fill their pockets, especially when you know diddly-squat about car repairs. There will always one who asks you to pay for this or bills you for that or claims you owe x-amount for a service that is not covered by your warranty...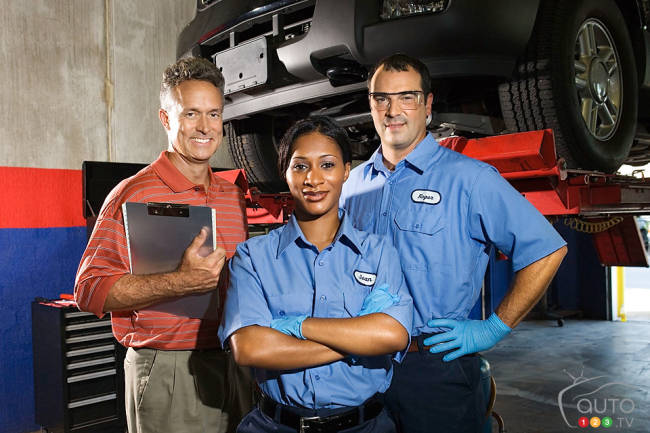 In short, here I am again at my dealership's service department for an oil change and a suspicious sounding noise coming from the brakes:
"So, the oil change amounts X dollars," says said mechanic."Um, not so. Your website says it costs Y..." says I, in disgust."Rats, you're right," says the disgruntled mechanic.
You don't say!

Reminder: Check your dealership's website for any specials. They sometimes forget to mention them.
They said that the technician would check the noise from the brakes.
"Free of charge?" I ask, innocently. "The vehicle is under a year-old and still under warranty!"
"Of course," says the garage worker.
The guy comes to see me about 15 minutes later to tell me that the calipers were seizing, and that it will cost me over $100 to grease them up.
"The vehicle is only 9-months-old and has less than 15,000 kilometers!" I say with shock.
"You don't have to perform the service today, however, if you wait too long we'll eventually have to replace the brakes. If you don't get it done today, we'll need to charge you for the inspection," the mechanic kindly reminds me.
"(Insert the first swearword that comes to mind here) You said that this was under warranty!" So much for keeping my cool.
Out of the corner of my eye, I can see my salesman returning to his desk as all of this is happening. I explain the situation to him, and he replies that this is a service issue and completely out of his hands.
(I'll spare you the details of the discussion from this point forward, but you can guess that it wasn't pretty...)
I don't know if the other customers could see the black cloud over my head, but I sure wish the manager was there so I could give him a piece (or two) of my mind.
After a 45-minute wait, the gentleman at the service desk told me that my vehicle was ready.
"I have good news for you," says he with mock glee. "I've managed to pass off the charges under the warranty, so you only have to pay for the oil change!"
I didn't know if I should thank 1) My salesman who, filled with remorse, might have put in a good word to his boss; 2) The service advisor who, filled with remorse, might have put in a good word to his boss or; 3) The boss who, filled with remorse at the idea that a customer needed to pay for an abnormal situation despite the the low mileage of the vehicle, and probably figured that the customer knew her rights and could ruin his good name.
The moral of this story: Be careful when you visit your mechanic. Even if most of them are honest, there are those (no matter what size business) who won't hesitate to make customers pay for services that are under warranty or unnecessary. What gets me in all this is that certain ill-informed customers pay, or eventually will pay, for these types of services.
Maintenance