2015 Subaru Impreza 2.0i Sport 4-Door Review
Highs and lows
Remarkable all-wheel drive system
Excellent handling
Safe and confidence-inspiring
Winter samurai
03/10/2015
I've always believed that SUVs were the ultimate winter warriors. With their commanding size, extra weight, and utility genes, they looked to me like perfect partners to take on snow- and ice-covered roads.
Then I got to spend time with the 2015 Subaru Impreza.
I didn't expect the elegant Japanese compact to be this good during winter; in fact, it left me quite flabbergasted. I'm not one to shy away from the slightest dump of snow, but I quickly realized that the Impreza can inspire confidence even in the most fearful drivers.
Did you know that the word "samurai" comes from saburau, which means "to serve"? Well, the 2015 Subaru Impreza is a wonderful expression of that verb, faithfully serving drivers in the worst conditions including snow, ice, slush, and more. I guarantee you will be looking forward to next winter!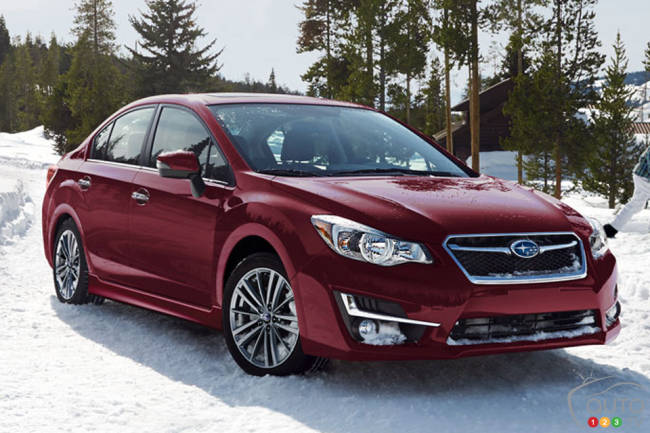 The samurai's weapons
Six different body colours are available with the 2015 Subaru Impreza (Crystal Black Silica, Dark Grey Metallic, Deep Sea Blue Pearl, Ice Silver Metallic, Crystal White Pearl, and Venetian Red Pearl), and under that sleek sheet metal is a proven 2.0L flat-4 BOXER engine producing 148 horsepower and 145 lb-ft of torque. Add Subaru's renowned all-wheel drive system, plus a good set of winter tires like the ones on my tester, and you too will get the impression of driving a tank -- a lovely, nimble, and comfortable tank to be exact.
I couldn't have dreamed of a better week to put the 2015 Subaru Impreza to the test. Temperatures hovered around -25°C, and Mother Nature threw in a mix of snow, ice, and wind that made most street corners a challenge. While I laughed at other cars squirming as they tried to take off from a stop, the Impreza made me feel like I was accelerating on dry pavement.
Overall, the drive proved reassuring and pleasantly uneventful. Yet, it was a whole lot of fun, too especially with the small, leather-wrapped steering wheel connected to a lively, direct steering.
Cozy armour
Making the experience even sweeter, my 2015 Subaru Impreza 2.0i Sport 4-door came with heated leather seats, an adjustable armrest, automatic climate control, a power sunroof, ample storage, and a tilt-adjustable/telescoping steering wheel.
Wait, there's more: This particular model also featured a 6-speaker stereo, a 6.2" high-resolution touchscreen, Bluetooth, a rearview camera, and Subaru's EyeSight system including:
Pre-collision braking, brake assist, and throttle management;
Adaptive cruise control;
Lane departure warning with lane sway warning;
Lead vehicle start alert.
Like I said, the 2015 Subaru Impreza is a tank. Want further proof? The U.S. Insurance Institute for Highway Safety (IIHS) named it a Top Safety Pick+ -- the highest possible distinction.
With a dozen trim levels available, from the base 2.0i 4-door at $19,995 all the way to the 2.0i Limited 5-door with Technology Option at $30,295, buyers have more than enough selection when it comes to finding the perfect winter samurai (my Sport tester carried a base MSRP of $23,895). Whichever you choose, expect nothing but fun and serenity in our rough Canadian climate.
Salute to a solid warrior
With a sharp and sober interior that offers generous room and comfort, pretty decent fuel economy (10L/100km), and accommodating trunk space (340 litres), the 2015 Subaru Impreza provides tremendous peace of mind while making zero sacrifices where driving excitement is concerned. Sure, there are many great alternatives out there, such as the Toyota Corolla, Mazda3, and Ford Focus, but the Impreza is the only one with standard all-wheel drive.
Would I buy one? You bet I would!