2015 Porsche Macan Turbo Review
Highs and lows
Look at it
Seats are so comfy
Great acceleration
Fabulous Bose sound system
Great small-family car
Easy to speed
Small-ish trunk space
Pricey at the pumps
It's grrrrreat
11/14/2014
For those who don't get the subheader reference, the name Macan is derived from the Indonesian word for "tiger." Got it now? Good. Because the latest vehicle to join Porsche's ranks really is great, and for a number of reasons.
While some may see Porsche as playing the MINI game (inundating the lineup and diluting the product to meet as many consumer needs as possible), the Macan is the perfect addition in my humble opinion and here's why.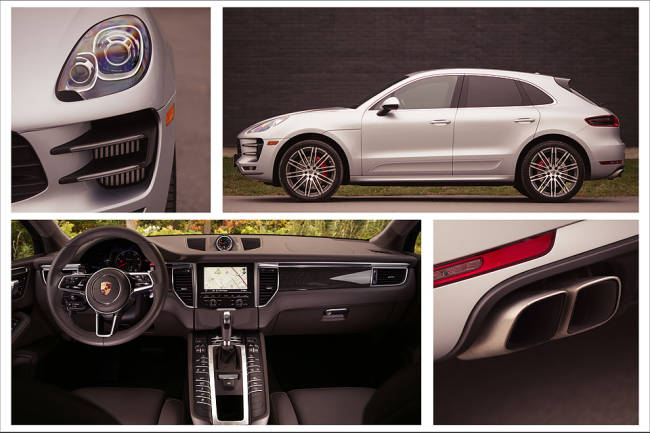 It's Miranda-sized
This is an extremely important aspect of the Porsche Macan Turbo. No, really. Hear me out. The Macan is a crossover (think fancy Audi Q5), so it's smaller than the Cayenne, but offers more room than the long-nosed Panamera. It can seat five, and has a decent enough trunk. And despite it having off-road abilities like its big brother the Cayenne, the ride height isn't so high as to make my life difficult when getting in or out, nor was it hard for my son to scramble into his seat by himself. Miranda-sized. Perfect.
Space up front is more than enough, and the driver and passenger seats are, perhaps, the most comfortable I've sat in as of late. They hug the body in all the right ways keeping your securely planted during spirited maneuvers, and yet are just as good for long-haul jaunts to wherever -- a great balance.
In the back, the roofline is a bit raked, however, that doesn't hinder space too much. Installing a baby seat is a breeze, and my son absolutely adored the breezy, open-air feel of the Macan Turbo thanks to additional rear side windows and the large panoramic sunroof. He did not, however, like the fact that the rear windows in the Macan do not go all the way down and are restricted by about 3.5" for safety reasons.
Yes, it's turbocharged
And you can hear it (if you listen ever so carefully), and feel it aplenty. To be more specific it has a 400-horsepower 3.6L twin-turbo V6 that will get you from 0-100km/h in just 4.8 seconds. Yes, that's faster than the Targa 4 I had the week before.
The surge of power is pleasantly brutish in a controlled German kind of way. The 406 torques help that surge a great deal and mean acceleration happens quickly and can get you in some serious trouble (trust me). Press the Sport or Sport+ buttons and throttle and steering response tightens and becomes even more responsive. Of course, power is sent to all four wheels and controlled via the ever-fantastic 7-speed PDK automatic transmission.
So smooth and flawless is this transmission that I rarely used the steering wheel mounted paddle shifters. It continues to be that good, and I am always impressed by it.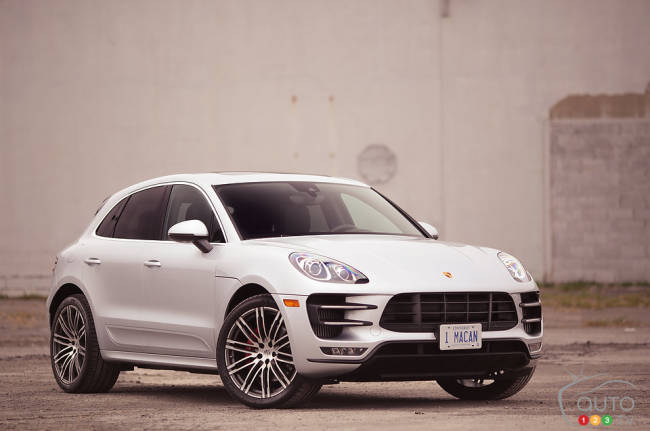 Does it still drive like a Porsche?
I think the real beauty of Porsche products is the fact that they really do all drive like they should (save for the Cayenne Hybrid and Panamera S e-Hybrid… unfortunately). The Macan Turbo is no exception, with PTM (Porsche Traction Management) working hard on every corner, it features an electronic and map-controlled multiplate clutch, anti-slip regulation and an automatic brake differential. The Macan Turbo is constantly paying attention to your driving conditions and habits and adjusting accordingly to keep things precisely where they need to be.
I absolutely adored driving the Porsche Macan Turbo. It has just the right amount of oomph and personality behind the wheel. It hauls ass when asked, yet can be civilized and well-behaved.
The quad-exhausts emit a fabulous gurgle as you bring the V6 to life, especially on cold fall mornings. And with Sport+ engaged the exhaust flaps open slightly more for even more auditory pleasure. All very much #MirandaApproved.
Why would I buy a Macan Turbo over an Audi SQ5?
I was plagued by this question often during my week behind the wheel of the Macan. If you stack up the numbers side-by-side, the Macan Turbo isn't just more expensive, it's also more powerful. However, it is smaller than the SQ5. Both offer all-wheel drive. Both offer German engineering and driving dynamics.
For me, the pros far outweigh the cons, and really the only massive con is the heightened price tag (the Macan Turbo starts at just a hair over $80k). It is a lofty price to pay for a crossover, but look at all you're getting, the least of which being a Stuttgart-engineered driving machine that'll suffice in all weather and doubles as a family hauler and weekend track-car (because, yes, it can most definitely handle the track).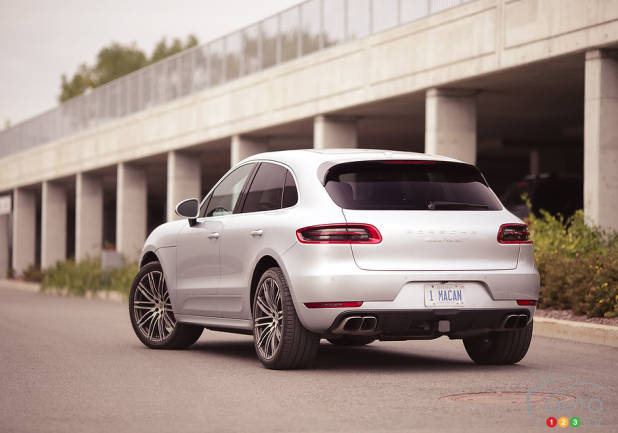 I feel like I've said this often lately, but I would have one in my driveway if I had the coin. I think I've got to work on getting a driveway big enough to accommodate all these fantastic vehicles…