2015 Nissan Micra S Review
Highs and lows
Under $10k
Great power-to-weight ratio
Roomy
Sizeable trunk
Feels light on highway
Have to remember to manually lock all doors
Back to basics
04/07/2015
Technology has taken over our lives. We let computers and gadgets do nearly everything for us. If I think about my day and how many things I actually do myself of my own volition and with my own input, that list is limited to: going to the washroom, lifting my coffee cup to my mouth and eating, and on rare occasions shifting my own gears (#savethemanuals).
Otherwise, technology does it all for me: from starting my press vehicle with a push-start button to typing out my reviews and even taking notes on my iPhone to researching online, watching NetFlix on my Apple TV and even setting the Roomba to vacuum my room while I eat dinner.
So, when I was presented with a stripped down, bare bones 2015 Nissan Micra I was thrilled. Everyone I told about the car thought I was completely insane, but I fell in love the moment I had to insert the key into the door in order to unlock it. Crank windows, lever-controlled side mirrors, no A/C, not even a USB port, and yes a 5-speed manual. It had everything, and nothing at all. Brilliant.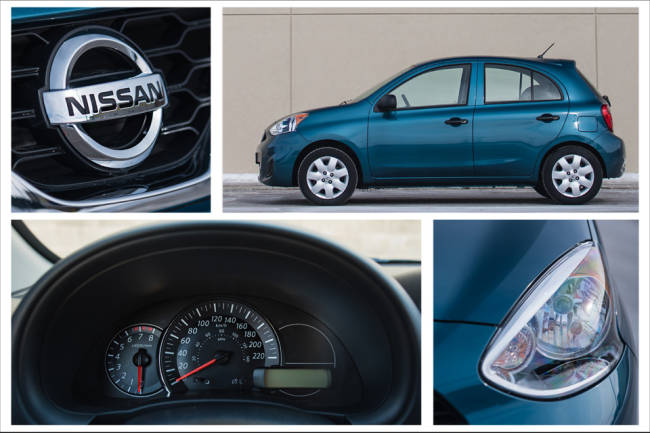 Why buy a car with nothing?
And there's the question on everyone's tongue the moment I bring up the brilliance of the 2015 Nissan Micra S: "Why would I pay for a car that's so bare?" Well, for starters, let me point out that you're paying under $10k for said car. That's right: $9,998 to start. That's insane. And that's what makes it so cool, and so good.
Nissan has done something few other OEMs have: they've targeted used-car buyers. By pricing the Micra the way they have, they are enticing used-car buyers with the potential of purchasing a brand new, never-before-driven, still under warranty, never been abused car instead of a used alternative. Again, brilliant.
Not only that, but they've opened up the market for first-time car owners. While my son is only 3 years old and far way from owning his first car (thank God), when the time comes, I know I'd be much more inclined to endorse him purchasing a brand new vehicle as opposed to a potentially problem-ridden used vehicle. His safety would be paramount, and the new 2015 Nissan Micra S checks all the safety boxes in this mother's mind.
If you really can't stand the thought of such an "old school" car, one trim level up will get you all the creature comforts you're used to (Bluetooth, power windows/locks, keyless entry, etc.) for just $4k more to start.
It's ours, eh
I've said it before (and you've likely all seen the commercial by now), but this is Canada's car. It's not just that it's for our market only but that it was made for our lifestyles and our roads. That was made abundantly clear during my week behind the wheel.
Firing up the 1.6L 4-cyl (by turning an actual key in the ignition), isn't earth shattering by any means, but this little engine is solid. Coupled with a 5-speed manual transmission (there is also a 4-speed auto available in the S trim), this mill produces 109 horsepower and 107 lb-ft of torque, which is a surprising amount for a vehicle that weighs so little. Power-to-weight ratio means this little hatch can boogie. It's not the quickest by any stretch of the imagination, but it's got guts and wants to please.
The manual gearbox is almost too easy, another sign that this is an ideal starter car. While the distance between gears is large, the cogs are forgiving, as is the clutch play. It's a breeze and joy to drive in all conditions.
However, I will say the Micra's light weight is made evident on the open highway at speeds. Crosswinds will cause the little hatch to wobble as will passing larger 18-wheelers, but both hands on the wheel will keep it in line. Also, cruising at speeds over 100km/hr will see the revs sitting between 3,500-4,000 which can seem a bit irritating in terms of engine "buzz," however, it's not an unpleasant or too-loud sound as has been the case in other econoboxes.
Small on the outside, not on the inside
Another pleasant surprise is the Micra's uber practicality. Sure, this thing is small, but get inside and it's rather like you've stepped inside a clown car. Up front, headroom is plenty and the seats are wide and comfortable. You won't find any bolsters or even heated seats, but it's comfortable.
In the back, my son's baby seat fit easily and was a breeze to install. One adult fit back there with him and had plenty of legroom (behind me, the vertically challenged driver). And in terms of trunk space, the 2015 Nissan Micra boasts 407.8L of cargo capacity back there -- with the seats up! That's more than enough for a small family to survive and use on a daily basis, even with a stroller and various other accessories for children.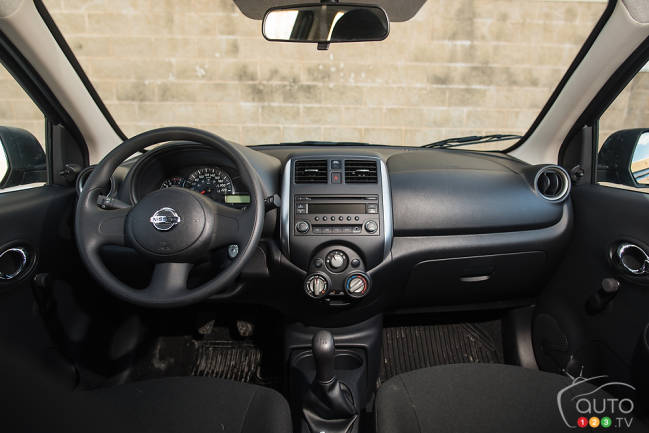 Back to basics
My favourite part about my week with the 2015 Nissan Micra S was the return to absolutely basics. I had to remember to lock my doors (front and back, and even the hatch with the key!), had to crank my own windows to order my coffee in the morning, and had to remember to charge my phone during the day because I sure wasn't doing it on the ride home. I listened to terrestrial radio, and used all mirrors and the standard arm-over-passenger-seat-to-look-back reverse method when parking. It was glorious.
I was actually driving the 2015 Nissan Micra S and that, by far, was the very best part about it.