2015 Chevrolet Impala LTZ Review
Highs and lows
Cargo capacity makes every competitor jealous
Rear door openings could be a bit larger
A decent, affordable sedan with room to spare
04/14/2015
The 2015 Chevrolet Impala is a full-size sedan that doesn't have nearly as many rivals as the smaller Malibu. It's kind of stuck in a segment between the more affordable midsize cars and entry-level luxury models. In other words, the Impala is too large and too "luxurious" to go head-to-head with the Camrys and Passats, yet not quite sophisticated and opulent enough to take on the Lexus ES and the like.
Having said that, this great big American sedan has a lot to offer and can leave a nice impression, even though it won't get you excited or make your neighbours jealous.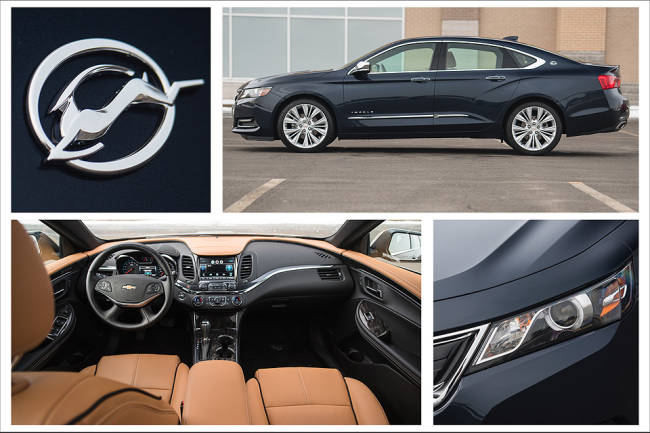 What is the Chevrolet Impala?
Squaring off against the Kia Cadenza, Chrysler 300, Nissan Maxima, and Ford Taurus, the 2015 Chevrolet Impala comes from a strong lineage that dates back to 1958. The nameplate enjoyed its heyday in the 1960s, selling a record 1 million units in America in 1965. Used by numerous police departments across the continent, the Impala has managed to scare drivers, too.
For 2015, there are five trim levels to choose from. MSRPs go as follows:
Impala LS 1LS at $28,645;
Impala LT 1LT at $31,845;
Impala LT 2LT at $33,345;
Impala LTZ 1LZ at $36,645;
Impala LTZ 2LZ at $29,845.
My LTZ 2LZ tester came with plenty of options and retailed for $44,635 before taxes and other fees.
Inside and Out of the 2015 Chevrolet Impala LTZ
Sporting a wide chrome grille, a bulging hood, and available high-intensity discharge (HID) headlights, the Chevrolet Impala LTZ I parked in my driveway looked like BumbleBee in a different colour -- at least to my 6-year-old son, who is a fan of Transformers. It also featured 19" machined aluminum wheels, a power sunroof, and power heated mirrors.
As a mother, I really appreciated the huge 532-litre trunk in the back, and I bet you will, too. There's more than enough space in there to put your grocery bags next to a set of golf clubs.
The interior of the 2015 Chevrolet Impala LTZ offers heated, power adjustable front seats wrapped in perforated leather, a heated steering wheel, a Bose audio system, and Chevrolet's MyLink infotainment system with navigation. With the push of a button, the 8" colour touchscreen goes up and down, revealing and concealing a lockable compartment with a USB port. There's plenty of room, as well, with the rear seat accommodating three normal-sized adults. Alas, the rear doors don't open wide enough, so my little boy had a bit of a tough time getting in and out.
Driving the 2015 Chevrolet Impala LTZ
I can't say the Impala wowed me at any point during the week, but I can't really complain about the drive either. This large sedan has decent road manners and amenities, and you can enjoy the experience in a spacious and ergonomically designed cabin. I also liked the ice-blue ambient lighting system that added a stylish and serene touch at night.
In terms of acceleration, the direct-injected 3.6L V6 engine didn't disappoint with 305 horsepower on tap. On the other hand, I recorded an average of 14L/100km, which is way more than the combined rating of 10.6L/100km Chevrolet advertises. To be fair, I made a lot of short trips with the Impala in relatively cold conditions.
Comparing the 2015 Chevrolet Impala LTZ
I quite enjoyed my time with the 2015 Chevy Impala LTZ, although I never felt the urge to steal the keys and make the car mine. It lacked a little je ne sais quoi that would have made it more attractive. For about the same price, you should take a look at the newly redesigned Nissan Maxima, Toyota Avalon, Chrysler 300 or Ford Taurus.