2015 Acura ILX Dynamic Review
Highs and lows
Outstanding manual gearbox
Impeccable fit and finish
Good visibility
Good fuel economy
Too many buttons on the steering wheel
One shouldn't judge a book by its cover
03/24/2015
Much like an innocent-looking grandma hiding tattooed arms under her wool cardigan, the 2015 Acura ILX Dynamic is a sleek and understated sedan that houses a brawny 2.4L 4-cylinder i-VTEC engine. It really catches you off guard... but plants a devilish grin on your face as you turn cocky drivers into clueless fools and leave them in a cloud of dust. Seriously.
The small-diameter steering wheel, ideal placement of the metallic, racing-inspired pedals, beautiful shifter connected to a close-ratio 6-speed manual transmission, and sporty driving position all felt like a treat every time I stepped inside the ILX. I got a real kick out of its delightful powertrain, even though I didn't exploit its full potential.
The 2015 Acura ILX Dynamic is a lovely compact luxury sedan, but only people in the know can tell you how good a drive this sleeper of a car is.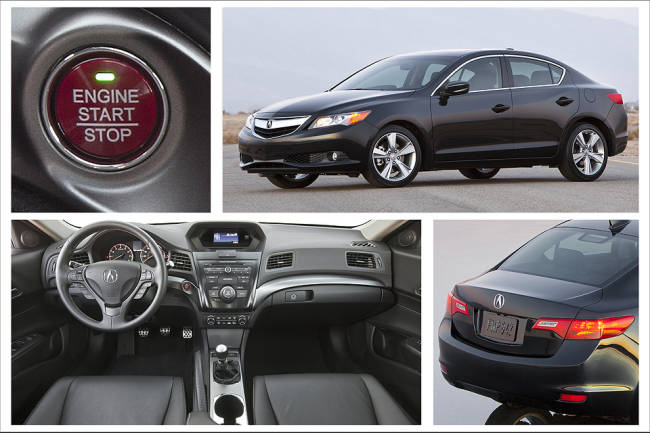 Civilized rebel
In the same way it can ridicule arrogant folks who dare to challenge you to a drag race, the top-of-the-line ILX can also provide a comfortable cruising experience for those sitting inside thanks to heated and perforated leather seats, a power sunroof, Acura navigation with voice command, a multi-angle rearview camera, a 5" colour display with HandsFreeLink connectivity, and a remarkable 10-speaker, 365W Acura/ELS surround sound system, among other luxurious amenities.
I really liked the sporty yet sophisticated nature of the 2015 Acura ILX Dynamic. You can attack a sharp corner with maximum confidence without necessarily being hard on the brakes. And despite its performance-infused exhaust note, ride quality makes a greater impression and definitely adds to the driving enjoyment.
The easy-to-reach controls, highly effective HVAC system, and crisp HID headlights are other strong attributes of the 2015 Acura ILX Dynamic. On the flip side, there are too many buttons on the steering wheel for my liking, although I would quickly get used to it if I ever owned an ILX. Six body colours are available including my tester's Fathom Blue Pearl, and the car rides on 17" alloy wheels.
I personally averaged 8.3L/100km; however, your fuel consumption numbers may vary depending on how heavy your right foot is. As for safety and security, Acura has you covered with a slew of features such as ABS, Vehicle Stability Assist, traction control, anti-theft alarm, and more.
In the end it's up to you to decide which ILX model suits you best:
2015 Acura ILX at $28,190
2015 Acura ILX Premium at $30,490
2015 Acura ILX Tech at $32,390
2015 Acura ILX Dynamic at $32,290
2015 Acura ILX Hybrid at $35,490
Wrapping up the ILX
The 2015 Acura ILX Dynamic is feisty, alert, straightforward, and a bit brazen, which makes for a fantastic driving experience. Alternatives include the Audi A3, Buick Verano Turbo, BMW 2 Series, and Mercedes-Benz CLA-Class.