2014 Volkswagen Beetle Convertible Turbo Review
Highs and lows
Fender audio system is great
Top goes down in just over 10 seconds
Very quiet with top up
Suspension can be abrasive
Cargo capacity is still small, but better than before
Summer love, one boost at a time
09/12/2014
There are convertible people. And then there are convertible people! The access to open-air driving is as important as the air they breathe. A coupe just won't suffice. It's too stifling.
So what happens when they are just so enamored with a drop-top, but they want a little bit more power? They generally wait.
And for those who fell in love with the third generation Beetle Convertible, but wanted to wait for a turbocharged version, that patience has paid off.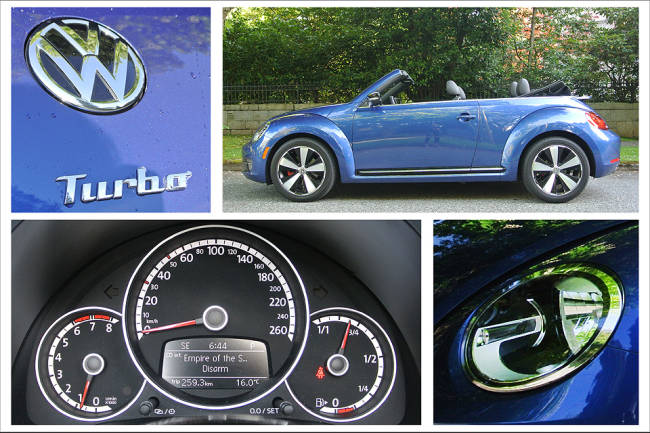 What is the 2014 VW Beetle Convertible Turbo?
It's fast -- but I'll get to that.
This Beetle is more practical than before, especially when addressing the issue of trunk space. For the current generation, its cargo capacity increases by 60 litres to a grand total of -- drum roll, please – 201 litres.
No, that's not a lot of space; but heck, if you really need to put golf clubs inside, make sure you don't have rear passengers or a sunny day. Then you'll be fine!
The good thing about the trunk is that space isn't compromised when the top is down. With room for four inside, it's not a bad place to be in. Mind you, if you're in the rear, legroom can be a little tight and it'll get windy. Bring a hat or hair elastic or both.
2014 Volkswagen Beetle Convertible Turbo Price & Specs
In 2012, VW introduced their new Beetle Convertible to the masses. At that point, the only engine Canada would be getting, initially, was the 2.5L 5-cylinder producing 170 horsepower and 177 lb-ft of torque, which was mated to 6-speed automatic transmission.
Now you have the choice of two engines: an updated 1.8L TSI with 170 horsepower and 184 lb-ft of torque or the more exciting, 2.0L turbocharged 4-cylinder generating 210 horsepower and 207 lb-ft of torque.
The latter is then wonderfully paired with a 6-speed manual or automatic DSG transmission.
Over the years, the DSG transmission has really grown on me. Though the one thing that still bothers me to this day is the amount of rollback I get when parked or stopped on a hill. It's not a deal breaker, but certainly not a product of the technology I'm excited about.
Aside from that, the transmission seamlessly transitions through the gears. Pop it in "S" mode and it'll hold your revs higher, giving you even snappier acceleration.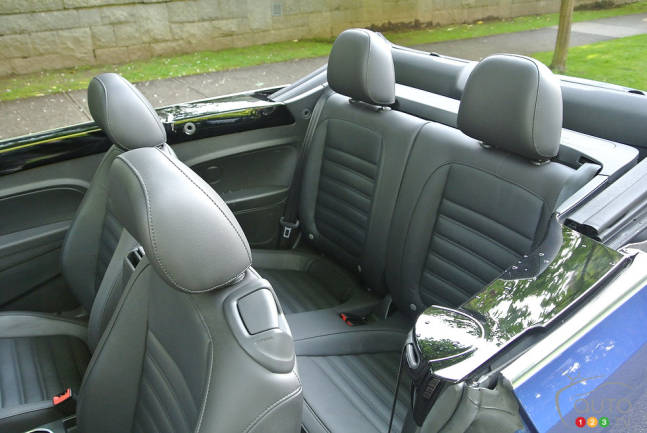 Inside and Out of the 2014 VW Beetle Convertible Turbo
Put the top down -- it only takes roughly 10 seconds and is fully electronic -- turn the volume up on the 400-watt Fender Premium Audio System with eight speakers plus a subwoofer, put the car into drive, and get ready to enjoy that open-air feeling.
The seats are comfortable, the general ergonomics are set up very well, and the easy-to-navigate VW infotainment system will have you set up in no time. The combination of a touchscreen as well as buttons is a win-win in my books.
Just in case you're wondering how much boost you're getting out of your engine, the dashboard has gauges that tell you engine oil temperature, as well as featuring an analog and digital stopwatch, and turbo boost pressure indicator.
Driving the 2014 Volkswagen Beetle Convertible Turbo
My least favourite part of the Turbo wasn't the ingress/egress to the rear seats. Even with the roof up, it's not bad. It wasn't even the wind noise, because VW uses a strong material for their top to block out unwanted sounds while you drive. It was actually the suspension. It can be jarring at times and can be quite uncomfortable.
I'll elaborate.
Flaws such as potholes or bumps in the road would conjure the evil spirits of the suspension to manifest. It seemed that the car approached and tackled them with a thud and a jostle. For passengers, it was not fun either.
On the flip side, when surfaces were smooth, and you had the ability to take corners with a little more gusto, it worked fabulously.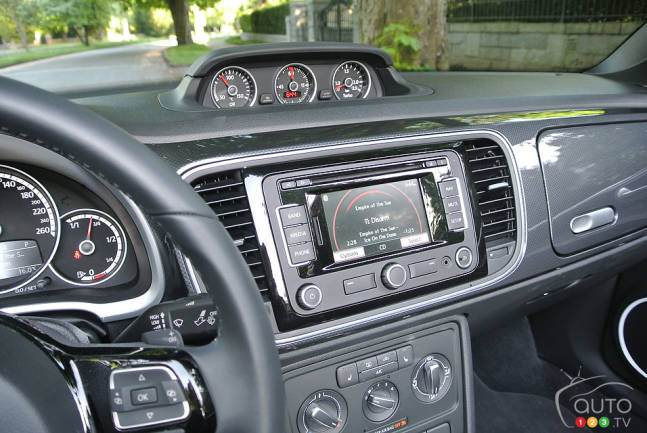 Comparing the 2014 VW Beetle Convertible Turbo
There are a few choices you can check out when it comes to competitors. There's the MINI Cooper S Convertible, the Mustang Convertible and Fiat 500C. Each have their own flair, but the Beetle convertible can hold its own in any crowd -- one turbo boost at a time.
The MSRP of the 2014 VW Beetle Convertible Turbo is $36,850, which excludes taxes and the freight charge of $1,395.