2014 Mercedes-Benz ML 350 BlueTEC Review
Highs and lows
Luxurious and quiet
Low emissions
Great range
The well-mannered SUV
08/08/2014
In an increasingly competitive segment that it helped to create, the Mercedes-Benz ML 350 BlueTEC manages to tick off all the right boxes.
Aside from featuring all the upscale amenities that a luxury midsize SUV buyer expects, the ML 350 also offers AWD, a smooth and quiet ride, and great fuel economy.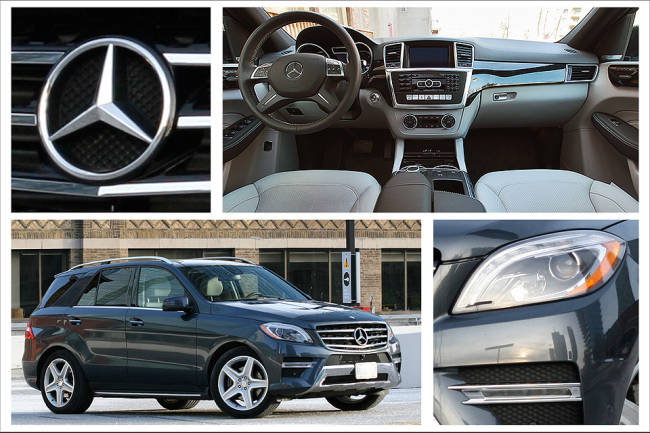 What is a Mercedes-Benz ML 350 BlueTEC?
Under the hood is a 3.0L turbodiesel V6 engine putting out 240 hp and 450 lb-ft of torque. It's mated to a 7-speed automatic transmission. The AIRMATIC air suspension system, which is available as part of the Sport package, gives the ML 60 millimetres of ride height adjustment.
The ML 350 BlueTEC starts at $61,400 with options such as the Advanced Driving Assistance Package ($2,700) Bi-Xenon headlamp package ($1,000) Sport package ($2,600) and Premium Package ($5,900). As expected from this premium marque, the cabin is well equipped with an excellent backup camera, navigation, Bluetooth, Sirius satellite radio, sunroof, adjustable seats, power adjustable headrests. There's a host of standard safety equipment too, such as the Pre-Safe braking system, electronic stability control, a battalion of airbags, Collision and Attention Assist, Hill Start Assist, TPS warning, four-wheel traction system, and acceleration control.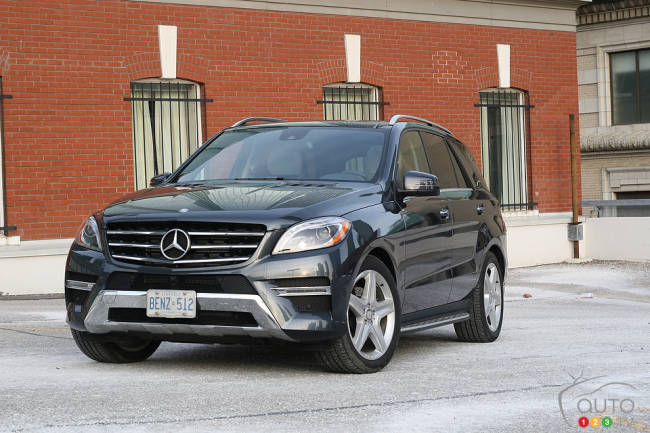 Driving the 2014 Mercedes-Benz ML 350 BlueTEC
Once upon a time, diesels were notable for their harsh, clattering performance, lack of refinement, and objectionable smell. Not any more. The ML 350 BlueTEC's engine is quiet and refined, with no harsh noises intruding into the cabin. As a clean diesel, the BlueTEC system injects a urea solution called AdBlue into the exhaust upstream of the catalytic converter. According to Mercedes, this reduces NOx emissions by 80% -- most of what's emitted from the tailpipe becomes harmless nitrogen and water vapours.
The thick, leather-wrapped wheel feels suitably solid for a truck, but steering is a bit on the light side. The ML 350's on-road manners, however, are impeccable. In a segment that's gradually introduced sports-car handling into the mix with contenders such as the Porsche Cayenne, BMW X5, and Range Rover Sport, the ML is decidedly on the side of luxurious cruising.
There are two driving modes: "Comfort" and "Sport." While flicking the switch to "Sport" supposedly firms up the suspension, the changes are hardly noticeable -- although it does rev a bit more in the powerband. Where the Mercedes-Benz ML really excels is in comfortable cruising -- mile after mile after mile. Potholes, rough roads and bumps are absorbed by the supple suspension with no harshness felt inside the cabin.
The ML 350 BlueTEC is rated at 10.4L/100km in the city and 7.1L/100km on the highway, and overall I averaged 11.1L/100km over a week's mixed driving.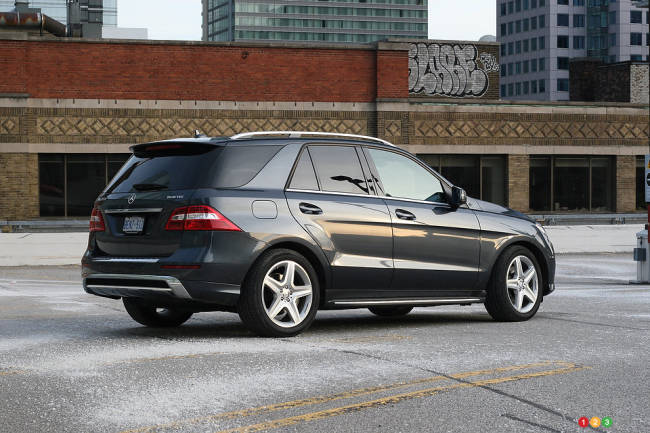 Inside and Out of the 2014 Mercedes-Benz ML 350 BlueTEC
With its crisp sheet metal, the ML 350 cuts a sharp figure while still representing Mercedes-Benz' tradition of refinement.
In deep charcoal grey or "Tenorite Grey Metallic," my ML tester is solid but chiseled, with a sense of understated elegance that carries over to the cabin. The ML's interior is quietly comfortable, yet nicely finished. Dark leather trim contrasts nicely with the light grey seats, and both are finished with white stitching.
The dash is a chunky, traditional Mercedes design, although the centre stack is rather busy with buttons. The gauges are typical Mercedes, too -- crisp and clean with the look of fine chronography. There's just enough matte trim to be tasteful, not flashy. The well-cushioned seats are a bit flat, but since this SUV is geared more for comfort than performance, they're perfect for cruising.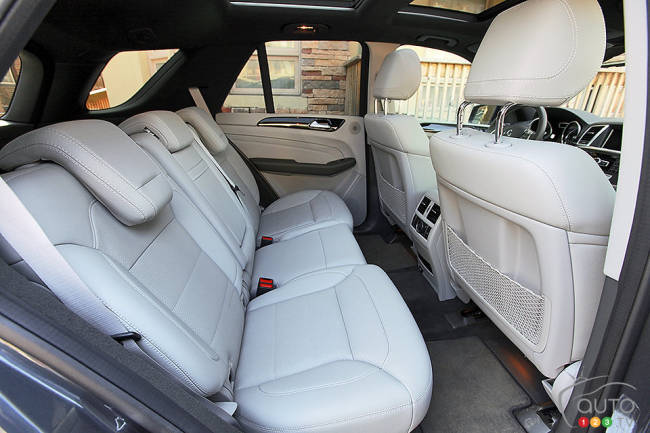 Comparing the 2014 Mercedes-Benz ML 350 BlueTEC
For those who crave an SUV with sportscar like handling, the Porsche Cayenne, BMW X5, and Audi Q7 -- all of which are also available in diesel -- are much firmer and sportier in character. On the other hand, more serious off-roaders would probably be better off with the Range Rover Sport.
However, for a luxury-car experience in an SUV, the beautifully engineered Mercedes-Benz ML 350 BlueTEC is hands-down the winner.