2014 Mercedes-Benz A 45 AMG 4MATIC First Impressions
Highs and lows
Potent pocket-rocket from across the pond
10/16/2013
HANOVER, Germany -- Add a pinch of unobtanium to something and it instantly becomes more desirable. As the sole Canadians at the international launch of the Mercedes Benz CLA 45 AMG, after hearing there was no point in us driving the two A 45 AMG models available (since they wouldn't be coming to Canada), of course, we couldn't wait to get our hands on it.
The A 45 AMG is such a blast that the car we were actually brought there to drive paled by comparison.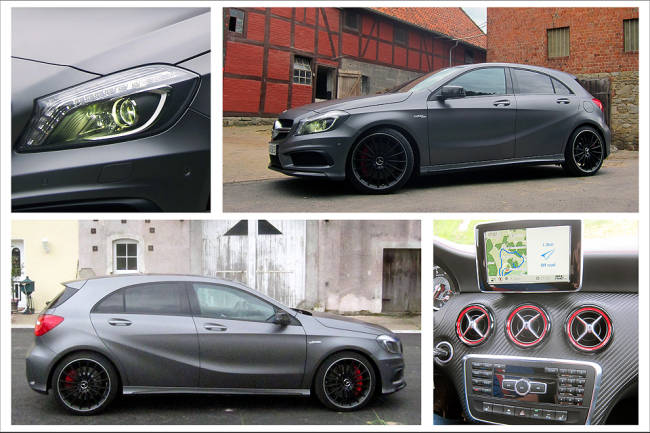 What is the 2014 Mercedes Benz A 45 AMG 4MATIC?
Quite simply, the Mercedes-Benz A 45 AMG is the most powerful 2.0L 4-cylinder production car in existence. It's a rather dramatic departure for AMG, the performance arm of Mercedes-Benz. Not only is it a four-pot produced by a company who built their reputation on powerful 8-cylinder coupes, but the A 45 AMG is also a compact, transverse-engine, all-wheel-drive hatchback with a front-wheel drive bias.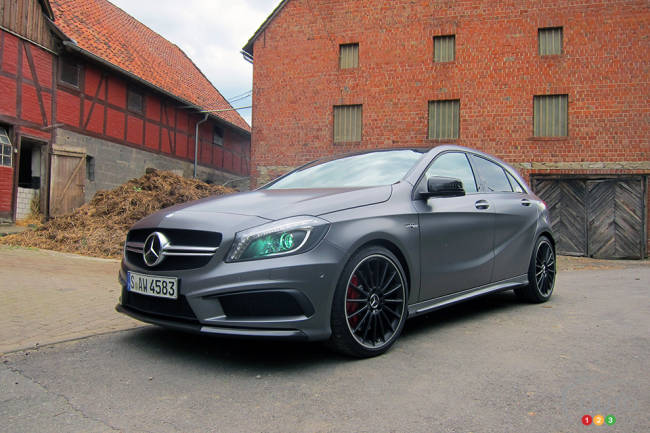 2014 Mercedes Benz A 45 AMG Price and Specs
Just like its 6.2L and 5.5L V8 counterparts, the A 45's 2.0L engine is hand-built from start to finish by one technician. The in-line four has a single twin-scroll turbocharger and producers 355 hp and 332 lb-ft of torque, which works out to 173 horsepower per litre, more than some supercars. With that much power channelled through the 7-speed dual-clutch automatic transmission, the all-wheel-drive configuration was a wise choice, as there's no hint of what could have been some pretty epically dramatic torque-steer. An electronically controlled multi-plate clutch manages the torque distribution between front and rear axles.
The 2014 Mercedes-Benz A 45 AMG 4MATIC would cost an estimated $45,000 (€57,000 with European taxes).
For our limited "Edition 1" tester, featuring matte paint, a trick roof spoiler, larger front splitter, carbon-fibre trim inside and out, privacy glass, AMG performance exhaust and suspension, AMG performance seats, red callipers, and 19" wheels factor in another probable $15,000.
Driving the 2014 Mercedes Benz A 45 AMG 4MATIC
This hot little 5-door hatch is one of the nimblest offerings ever to come out of Mercedes-Benz's Skunk Works division. Stiffer, firmer, and more communicative than its sibling the CLA 45, the A 45 is clearly meant to be thrown about in fun.
The engine in the 2014 Mercedes-Benz A 45 AMG fires up with a raucous blatt that's giggle-inducing and any disappointment we may have felt over the lack of a manual gearbox was quickly dispelled by the Gatling-gun downshifts of the DCT that offers three driving modes: Normal, Sport, and Sport Plus for re-mapping gear changes and throttle response. Sport Plus's rev-matching throttle blips and snort-y downshift blatts are pure sonic entertainment.
Steering is sharp and throughout the winding, cobblestone streets of Hanover's rural outskirts, the 2014 A 45 AMG displayed extremely firm handling and neutral balance. The car will reportedly sprint from 0-100 km/hr in 4.6 seconds.
We expressed our disappointment at the car's Canadian unavailability to AMG Chairman Ola Källenius, who hinted that the future lineup just might compensate for our loss.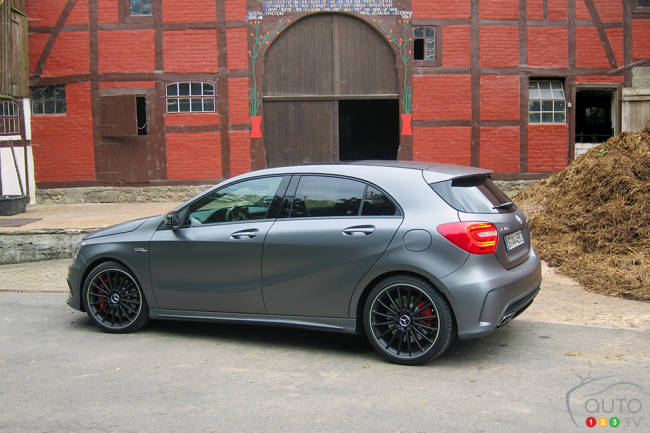 Inside and Out of the 2014 Mercedes Benz A 45 AMG
With its matte Mountain Grey Designo paint, snarling front splitter and red callipers peeping through gun-metal grey, multispoke 19" rims looks every inch the hot hatch it's purported to be.
Its snout wears the large, familial tri-star, framed by the AMG twin-blade grille. The blunt but tidy rear is topped with a neat spoiler, while quad tailpipes are embedded in a black trimmed rear diffuser. Sharp character lines break up the side flank sheet metal, adding visual drama and flair.
The cockpit features many signature AMG touches: sports bucket seats in Artico manmade leather, flat-bottom steering wheel with paddle shifters, carbon-fibre trimmed dash with black & red air vents, and AMG instrument cluster.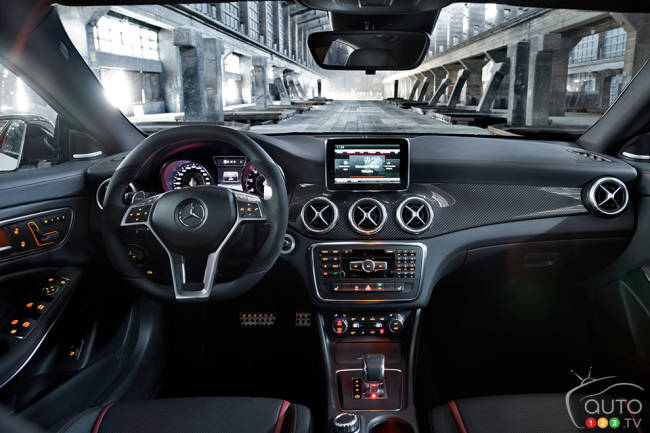 Comparing the 2014 Mercedes Benz A 45 AMG 4MATIC
The A 45 AMG's closest competitor is another Teutonic hot hatch, the Audi S3 that has less power at 296 hp/280 lb-ft of torque and does the 0-100 run in 5.2 seconds. However, the Audi will be coming to Canada in 2014.
BMW's M1 could also be considered in the same class as the A 45 AMG, with 316 horsepower and 332 lb-ft sans all-wheel drive option.
The very first compact car built by AMG and targeted towards the young performance buyer - the 45 AMG is one of the most exciting hot hatches on the market today. All of which intensifies the frustration that we won't be able to buy one.