2014 Ford C-MAX Energi Review
Highs and lows
Impressive fuel economy
Roomy interior
Green addiction
10/03/2014
Everyone tries to do their part to protect our dear Mother Earth, whether it's recycling, composting, saving water, or whatever. Every action counts, even those that go unnoticed.
Of course, you can't hide what you park in your driveway. Then again, you don't have to when you're the proud driver of a so-called "green" vehicle like the 2014 Ford C-MAX Energi plug-in hybrid, which has everything to make you look -- and feel -- good.
You may have heard about the virtual leaves that grow on the instrument cluster as you increase your driving efficiency. Well, I took up the challenge so seriously that, in a perfect showcase of hypermiling craziness, I went as far as slowing down to 80 km/h on the highway just to gain a few leaves on my display.
What are you willing to do to save gas?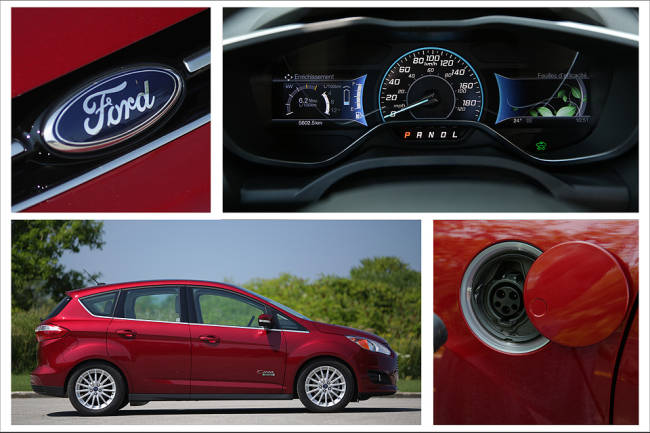 The Green Team
The 2014 Ford C-MAX Energi ($34,169, F&D included) is a member of the C-MAX family, which also includes the C-MAX Hybrid SE ($25,714) and Hybrid SEL ($28,117). Depending on where you live, buyers and lessees can get a $4,000 rebate from the government, plus $1,000 toward the installation of a 240V charging station at home.
Those are pretty nice incentives to choose a green vehicle, not to mention the outstanding fuel economy down the line. Ford announces a combined city/highway rating of 5.0L/100km along with the 2.2Le, with an all-electric range of 40km. The C-MAX Energi averaged just 4.6L/100km on my watch. Fantastic!
First impression
Enter the C-MAX and you'll be greeted with exceptional visibility and lots of room. In the case of my tester, Medium Light Stone leather, ample seats, and a flowing centre console design emphasized that impression. Modern and cozy, with a level of quietness that's hard to match, the cabin makes you feel like you're driving a stylish cocoon.
While comfortable, the seats have excessively short cushions and therefore lack thigh support. It's not a big deal, except maybe on long drives. Also, with a lithium-ion battery in the trunk, cargo capacity is naturally affected. The C-MAX Energi may offer plenty of rear-seat room, but don't plan weekly camping trips with your friends... unless you're visiting a nudist colony!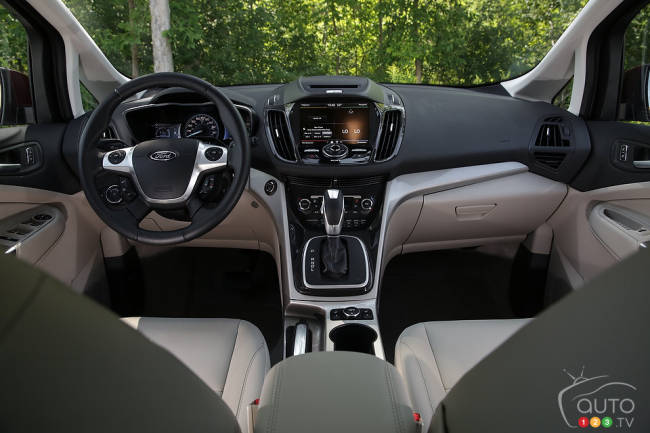 The drive
Driving the 2014 Ford C-MAX Energi proves to be a pleasant, albeit eerily quiet, experience. Of course, that's when you don't make an obsession of growing leaves on the dashboard. If you maintain your usual driving habits, you will barely notice a difference between your regular car and this hybrid.
A 141-horsepower, 2.0L, 4-cylinder gasoline engine teams up with an electric motor to generate 188 total horsepower along with 129 lb-ft of torque. You won't break any speed records, for sure, but that's not the point of buying this car anyway.
Fun, agile, and comfortable, the 2014 Ford C-MAX Energi is an efficient and enthusiastic performer that faces stiff competition from the Toyota Prius Plug-in, Chevrolet Volt, and others.