2014 BMW 435i xDrive Coupe Review
Highs and lows
Sexy coupe
Amazing handling
I6 turbo engine still tops
Fun manual box
Being the new kid in school is never easy. I know, I did it multiple times. Entering the cafeteria at lunch for the first time is, perhaps, the most stressful time of the new kid's introduction into his or her new surroundings. Judgements are inevitable, comments are made, first impressions are key.
Well, the BMW 4 Series entered the automotive cafeteria, leather jacket flapping, hair slicked back, a bright white smile for all, and a gleam in its mischievous eyes. This new model's meant business from the beginning and despite the naysayers, I think it's pretty fabulous.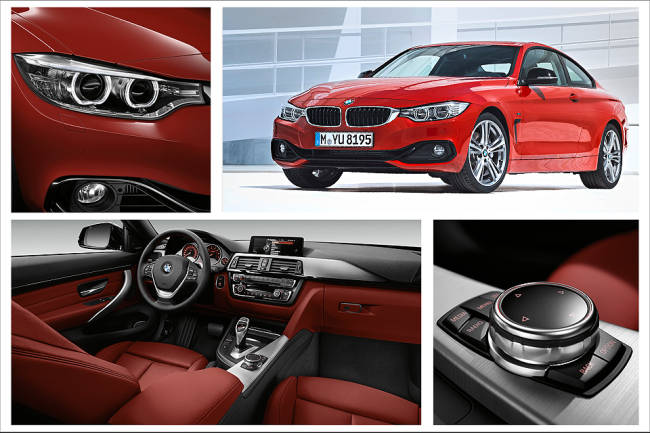 What is the BMW 4 Series?
This is the first generation of 4 Series vehicles from BMW. Introduced at the end of 2012, they were brought about to relieve the 3 Series of their coupe and convertible models. The 4 Series shares a great deal of technical specs with the 3 Series, but drops two doors.
For many enthusiasts, the removal of the coupe from the 3 Series line-up is a mistake but by the looks of the new 4 Series, all is and will be forgiven.
2014 BMW 435i xDrive Coupe Price and Specs
Perhaps its coincidence, but there are four 4 Series models available, starting with the 428i at $44,900 base. At the top of the pack sits my tester, the 435i xDrive Coupe. Starting at $55,600, my particular tester also tacked on a few extras in the Premium Package, Executive Package and Connected Drive Package to bring the total up to $64,650. A steep number for two doors, but this vehicle is about more than its interior space.
BMW's TwinPower Turbocharged engine is found across the line, as either an inline 4-cylinder (428i) or an inline 6 (435i). While the 428i offers up 241 horsepower and 258 lb-ft of torque, the 435i pushes out 300 for each. A pleasantly round number that does the job quite well. Models can be had with either an 8-speed automatic transmission or a 6-speed manual.
Combined fuel economy in the 2014 BMW 435i xDrive Coupe is rated at 8.9L/100km for the 6-speed manual transmission. I landed somewhere in that range (though higher) throughout my week, so was fairly impressed with the overall gas mileage.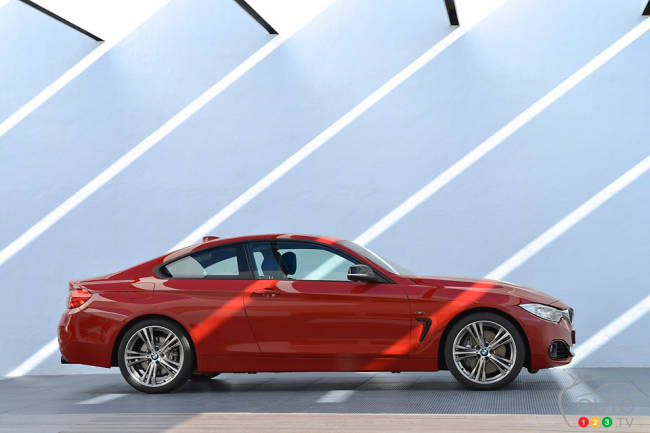 Driving the 2014 BMW 435i xDrive Coupe
First of all, this particular Bimmer came with three glorious pedals and six gears for me to shift through at my own leisure. Fabulous. Add to that BMW's xDrive all-wheel drive and the many inches of fresh snow that fell while I was behind the wheel, and I had quite a good time in the 2014 BMW 435i xDrive Coupe.
Rarely am I truly disappointed when I step behind the wheel of a BMW. Their cars are a pleasure to pilot and the new 2014 BMW 435i xDrive Coupe is no exception. I found the vehicle extremely well balanced, and very easy to manipulate even in the worst of driving conditions. The back end is happy to kick out if you desire such shenanigans, however; it can also be as planted and solid as you'd want a good winter driving car to be, as well.
Steering is sharp and precise, and heavy (just the way I like it). This is a solid-feeling vehicle overall. And should you find yourself in a situation you weren't quite prepared for, BMW's host of onboard safety features will put you back on the right path.
The 3.0L I6 is plenty powerful and emits just the right amount of sound. Turbo lag is non-existent and therefore acceleration is brisk. Shifting from one gear to another is plain fun and I could do all day, every day.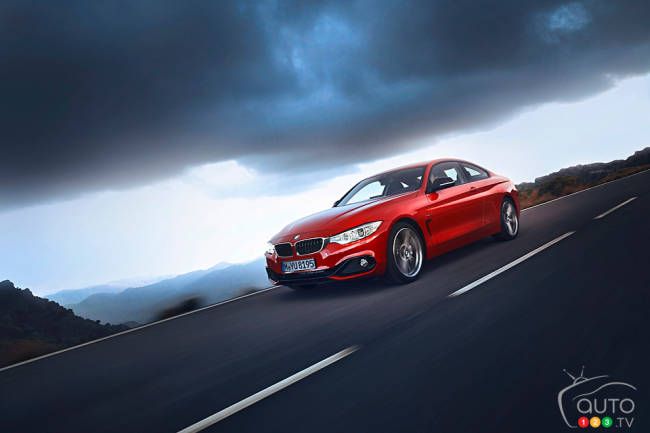 Inside and Out of the 2014 BMW 435i xDrive Coupe
This car is hot. There's no mincing words here; it looks damn good from any angle. The front end is ridiculously sexy (thanks to M Sport Package) and all kinds of aggressive in all the right ways. While it has the same face as the 3 Series, the coupe silhouette of the 4 Series definitely makes it look much more menacing and stanced. Fabulous.
Inside, my particular tester was decked out with a red leather interior which made it all the more appealing and attractive. Typical BMW fair is found throughout including iDrive and the controller knob that comes with it. Thanks to the M Sport package on my particular 2014 435i xDrive Coupe, the steering wheel was gloriously chubby and stitched, just the way I like them.
As this is a coupe model, the rear seats are a tad cramped, however, I fit my son's large child seat there without trouble thanks to BMW's fantastic LATCH system design in which the metal hooks are very easily accessible for installation.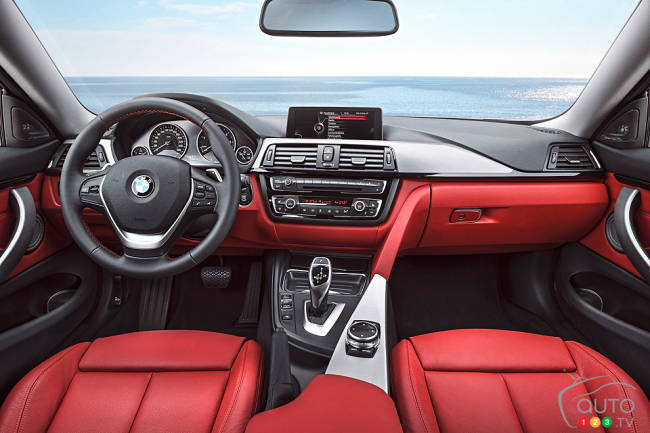 Comparing the 2014 BMW 435i xDrive Coupe
The 435i xDrive's main competition comes in the form of an Infiniti Q60 and an Audi A5. What the 4 Series has going for it is that it's a "brand new" model in BMW's lineup and so has that allure. However, in terms of pricing and performance, it might just come down to brand loyalty if you're in the market for such a vehicle.