2014 BMW 228i Review
Highs and lows
Great for urban driving
Fits in tight underground parking spaces
Manual gearbox and wonderful handling
Add ons add up really quickly
Back seats aren't particularly useful for adults!
Rhymes with Orange
10/21/2014
Knock-knock.
Who's there?
Orange.
Orange who?
Orange you glad I didn't say lemon?
Childish knock-knock jokes are a dime a dozen, but this one came to mind as I set my gaze upon the Valencia Orange Metallic 2014 BMW 228i. You don't see too many citrus-coloured cars out there so any excuse to dust off the ol' joke book and use it in a car review is good enough for me.
Which brings up another point: I think the 228i, even in its miniscule state, draws out childish feelings. Or should I say child-inspired emotions? It's playful, makes me smile when I see it and oh, it has that magical contraption known as a 6-speed manual, which I could play with for hours on end. (More on that later.)
No matter how you slice it -- pardon the pun -- this bite-size Bimmer has a lot to offer.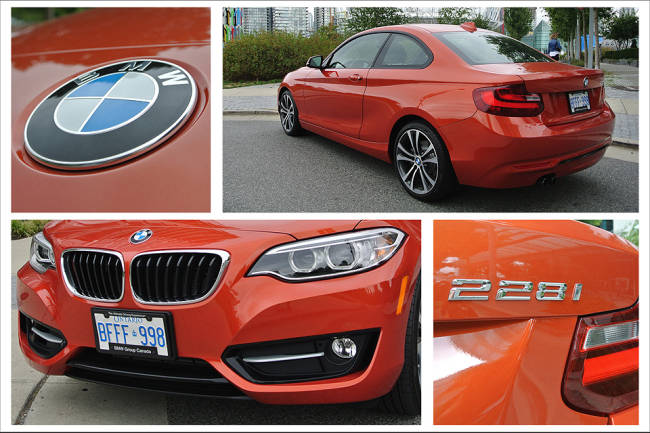 What is the 2014 BMW 228i Coupé?
It's small-ish. The 2 Series is the successor to the 1 Series so that's kind of part of the job description.
Released earlier this year, this two-door, four-seater coupé grows in comparison to its outgoing sibling: length is increased by 72mm to 4,432mm, width by 32mm to 1,774mm, wheelbase by 30mm to 2,690mm, front track width by 41mm to 1,521mm, and rear track width by 43mm to 1,556mm.
With those augmentations, interior space is also boosted and includes 19mm of extra front headroom and 21mm of additional rear legroom.
Around back, the trunk capacity is upped by 20 litres to a total of 390 litres.
It also has a starting MSRP of $36,000.
End spiel. Now, on to the good stuff.
2014 BMW 228i Specs
There's 241 horsepower being sent to the rear wheels along with 258 lb-ft of torque that's generated from its 2.0L, 4-cylinder, complete with at twin-scroll turbocharger. The aforementioned 6-speed manual gearbox is the way to put all that power to the pavement. Throws are relatively short, giving you that invigorating feeling of sports-car excellence. However, you really need to sink your teeth -- or in this case, foot -- into the throttle to really tap into all the ponies.
This is both good and bad. Good, because if you're stuck in traffic, you can gingerly move the car along without having unnecessary G forces working their magic on your body in first gear. And bad because the temptation to open it up all the time lurks around every corner, and every straightaway.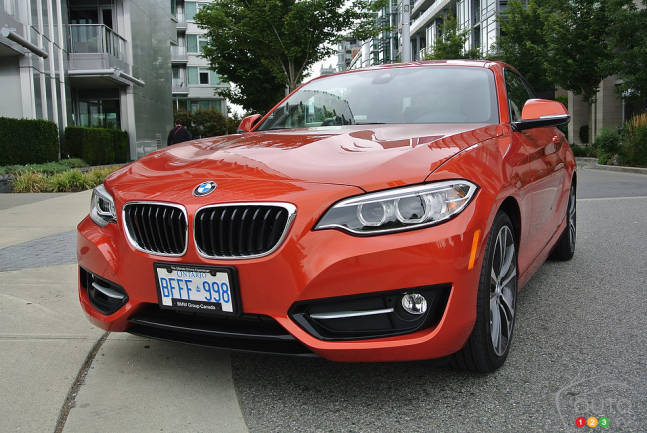 Inside and Out of the 2014 BMW 228i Coupé
Inside, you'll find an amalgamation of dark hues enveloping the cabin. The black Dakota leather seating surfaces, combined with the leather-wrapped steering wheel (accented with red stitching), black dash and various other tones of black might not seem too inviting; but, it keeps the interior uniform and clean. Though, it attracts dust bunnies like none other.
The outside, well, that makes up for the colourless interior.
Driving the 2014 BMW 228i Coupé
Visibility isn't amazing out of the rear corners of the 228i so I'm glad it came equipped with the optional Premium Enhanced Package ($3,650). In that package, you get such handy features as the rearview camera, rear park distance control (think: beeps and chimes when you're getting too close to another object). I also appreciated a heated steering wheel, BMW On-Board Navigation, a glass sunroof, and more.
These were all features that I had a good time working with. I even turned the heated steering wheel on when work beckoned before the sun was up.
And because of the early morning nature of journalism, it's also handy to have a boost of caffeine, which, appropriately can come directly from the 228i.
OK, it's not as peppy or as endowed as its M235i brother, but there is still a lot of invigoration to be had at 4:30 a.m.
That pep comes in the form of the "Sport" button, neatly placed beside the shifter. Though Sport+ is an option, Sport, for me, was much more appropriate around town, when I wasn't battling it out in the urban jungle with stop-and-go traffic.
On the open road, you have a tight little car that takes sharp turns without breaking a sweat. I think that's really where the 228i shines at its brightest; carving turns like you do a Thanksgiving turkey. Yum.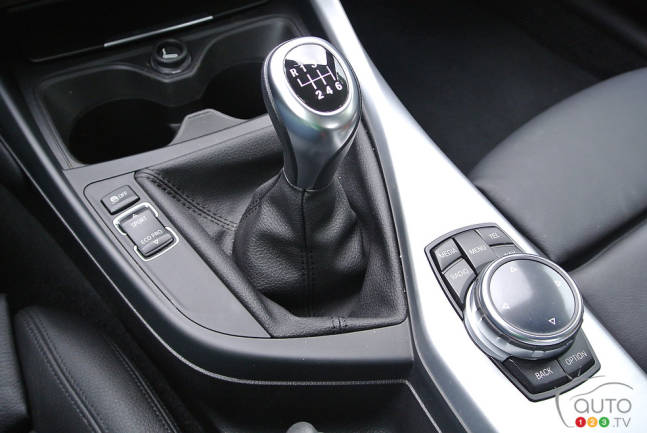 Comparing the 2014 BMW 228i Coupé
Within the category, you've got such competitors as the Audi A3 and the Mercedes-Benz CLA.