2013 Volkswagen Jetta GLI Review
Highs and lows
Performance that flies under the radar
10/07/2013
The 2013 Volkswagen Jetta GLI and the regular Jetta stand worlds apart. Unlike the latter, the much sportier GLI rides on an independent rear suspension and delivers typical German handling, with fit and finish to match. Cheap plastics are nowhere near as present as in some American and Japanese sedans, while steering impresses with its responsiveness and feedback.
The many little details make a big difference in the 2013 Volkswagen Jetta GLI; consider the aluminum pedals and sport seats with red stitching. Elsewhere, the unique honeycomb grille and red brake calipers add flair to the vehicle's clean exterior shell.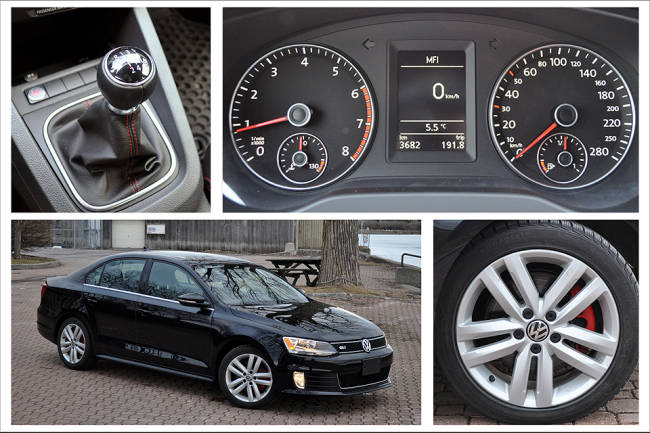 What is a Volkswagen Jetta GLI?
The Jetta needs no further introduction. Nearly 30 years after the original, it keeps going strong and remains instantly recognizable. However, while the GLI model looks provoking, I feel like the MKVI Jetta's design should have been edgier, and that Volkswagen should work harder to surprise us.
Still, there's no denying the car's fun driving dynamics. In addition to a capable engine -- shared with the GTI hatchback -- owners will definitely enjoy the available 6-speed Direct Shift Gearbox (DSG) with Tiptronic paddle shifters.
Simply put, the 2013 Volkswagen Jetta GLI may fly under the radar when it comes to styling, but it provides more than its fair share of thrills and treats on the road.
Technicalities
Buyers have just one trim level to choose from, so to speak: The 2013 Volkswagen Jetta GLI starts at $27,590 with the standard 6-speed manual transmission, or $28,990 with the aforementioned DSG. Options include 18" alloy wheels, navigation, bi-xenon headlights with adaptive lighting, Vienna leather, a power sunroof, and a Fender premium sound system. What this means is that a fully equipped Jetta GLI can cost nearly $35,000 before taxes and freight.
Volkswagen's signature 2.0L turbocharged 4-cylinder endows the car with 200 horsepower and 207 lb-ft of torque. Premium gas is recommended and, for your information, I averaged 7.5L/100km during my test week, which included 80% highway driving.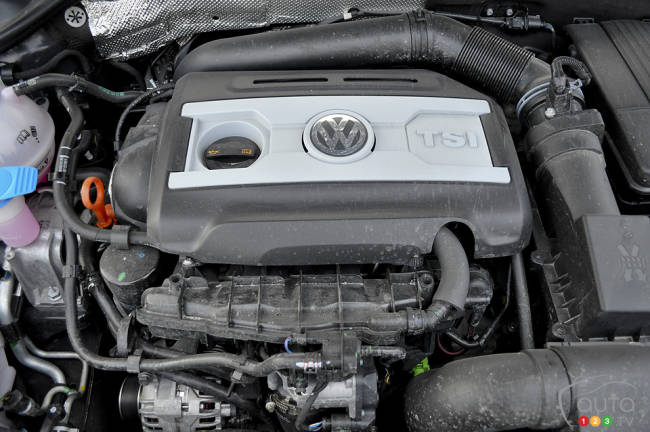 Driving the Volkswagen Jetta GLI
The 2013 Volkswagen Jetta GLI feels lively from the moment you push the start button. On the other hand, the sensitive brakes prove hard to modulate at low speeds and take some getting used to.
The sharp steering, sporty suspension, and paddle shifters on the steering wheel make driving the 2013 Volkswagen Jetta GLI a joy. The reasonably compact dimensions enhance the car's agility and manoeuvrability.
Making the experience even sweeter is the user-friendly multimedia interface. I also loved the keyless entry system given that I always seem to have my hands full when I get back to my car.
Now, let me fire a few gripes: The raised trunk and wide C-pillars significantly impede rearward visibility, cruise controls are somewhat difficult to access, there are no automatic headlights, and soundproofing is decent at best.
Inside and out of the Volkswagen Jetta GLI
None of the 2013 Volkswagen Jetta GLI's exterior design cues look questionable: dual-reflector halogen headlights, dual exhaust pipes, chrome window trim, 17" alloy wheels, side mirrors with turn signals, sharp lines, etc. It's the whole package that leaves me wanting more -- there's something plain and boxy about this sedan that fails to keep me interested.
That's a shame because of what lies inside. A distinct German flavour pleases the senses as soon as you open any door of the 2013 Volkswagen Jetta GLI. Comfortable seats and quality materials combine with a modern, ergonomic dashboard, and a steering wheel that felt great in my hands.
More generous storage, and a larger trunk opening would have been appreciated, mind you. The trunk itself is quite capacious, although it slightly penalizes rear-seat passengers in terms of legroom.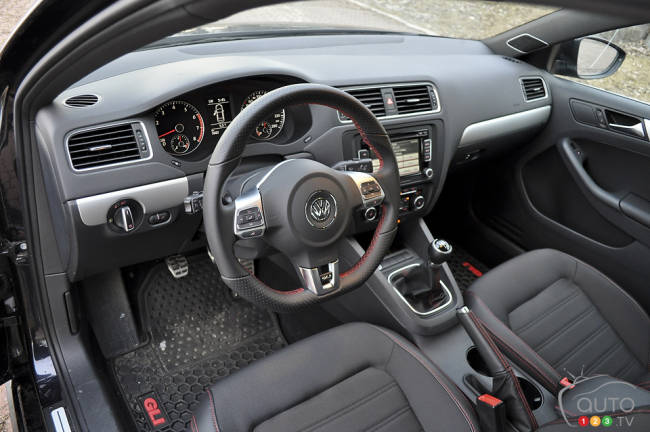 Comparing the Volkswagen Jetta GLI
Performance compact sedans like the 2013 Volkswagen Jetta GLI are an exciting, albeit small bunch. Shoppers ought to compare this German offering with Japan's best, including the Mazdaspeed3, Honda Civic Si, Subaru WRX and Mitsubishi Lancer Ralliart, as well as the Ford Focus ST.
A 2013 Volkswagen Jetta GLI is a smart choice; however, in the long haul, it's always tough to bank on Volkswagen's reliability.
This 2013 Volkswagen Jetta GLI review was originally published on Auto123.com.