2013 smart fortwo passion coupé Review
Highs and lows
Is it smart enough?
08/30/2012
Thought-changing city car was a true trailblazer
When the diminutive "smart car" finally arrived on our market, it made waves for its groundbreaking dimensions and fuel-sipping economy. It was a thought-provoking exercise that led us to take a hard look at our realistic transportation needs.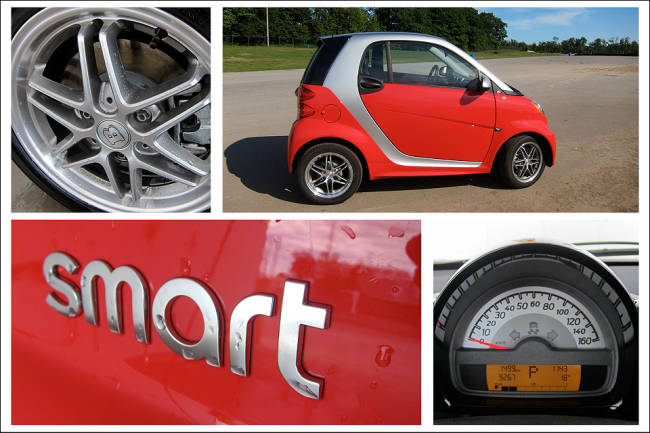 Available in Europe since the late '90s, the smart arrived here in 2004 to a very mixed reception. We, with our vast highway network and seemingly limitless resources, had a long-term love affair with gas-guzzling horsepower that was interwoven with our culture.
What a very different world it was just those scant few years ago. Hybrid technology still lived mainly in trade journals and auto shows; and rich, privileged countries like ours were only just developing an awareness of the effect that our voracious consumption was having on our environment.
As one of the very first "microcars" to appear on our roadways, the smart was a genuine novelty. Heads turned, jaws dropped -- it was hard not to feel conspicuous behind the wheel.
Some loved its quirky, cute appearance, others considered it ridiculous and a potential deathtrap on the highway. But it got people thinking.
No longer a rarity in a growing segment
Today, the smart is a fairly common sight in urban centres -- no longer the source of open-mouthed stares. It's helped pave the way for the current crop of "city cars" such as the Scion iQ, Fiat 500 and Chevy Spark.
I've driven the smart fortwo many times -- from that first diesel-powered model producing a paltry 40 hp, to the recent full-electric model.
As a groundbreaker, it was impressive -- weaving its way through congested traffic, parking easily in spots meant for the likes of a motorcycle... all while sipping rather daintily at the fuel pump. With its iMac-meets-Pokemon looks and soaring headroom, it was easy to overlook the smart's faults -- of which there were many.
Almost a decade later, the microcar segment has grown to include some decent little cars that offer seating for four, far better handling, and comparable fuel economy -- while the smart still consumes premium fuel.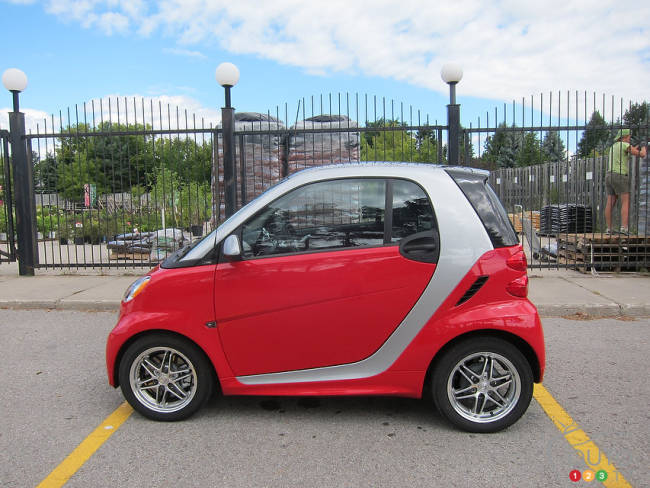 Lurching transmission still its biggest drawback
My tester, a loaded passion trim fortwo coupé comes with spiffy 12-spoke Brabus rims, LED running lights (like its premium Mercedes stablemates), navigation system and panoramic sunroof.
The interior hasn't changed much, it's still Apple-meets-the-Jetsons with the clock and tachometer gauge housed in swivelling, dash-mounted globes. Upholstery, door panels and foam-padded dash are covered with tough, stain-resistant cloth. Once futuristic and cute, the whole schtick is starting to look dated. However, it's surprisingly roomy -- that vast windshield, lofty headroom and large side windows combine to produce an environment that's airy and bright.
The smart is powered by a 1.0L 3-cylinder that chugs merrily away behind you while putting out an unimpressive-sounding 70 hp. Really though, for such a small car the power output is more than sufficient for brisk driving around town.
The smart's biggest drawback is still its much-maligned transmission. The gearbox has received reams of criticism from owners and press alike -- and my 2013 tester is no different. The pauses between gear shifts are so prolonged that without a careful feathering of the throttle, passengers are tossed forward and back as the car lurches its way through acceleration.
Many people have asked about the smart's safety on large highways. Aside from its much-tested "Tridion safety cell" steel frame, the smart features parent company Mercedes' stability and traction systems as well as side curtain airbags, hill-hold assist and antilock brakes. Honestly, despite its meagre power output, I had no trouble reaching ticket-worthy speeds.
Quick merging is out of the question, however, as there's too much time between throttle application and power delivery thanks to the lagging transmission. My tester's paddle shifters helped a lot, dropping down a couple of gears made it easier to access the powerband while changing lanes.
While I really like the smart's small wheelbase and manoeuvrability around town, at speed it becomes as unpredictable as a flat-bottomed boat. The tall profile and vague steering, coupled with driving dynamics that cause it to bob and weave like a cork on high seas, require all the driver's attention with both hands on the wheel.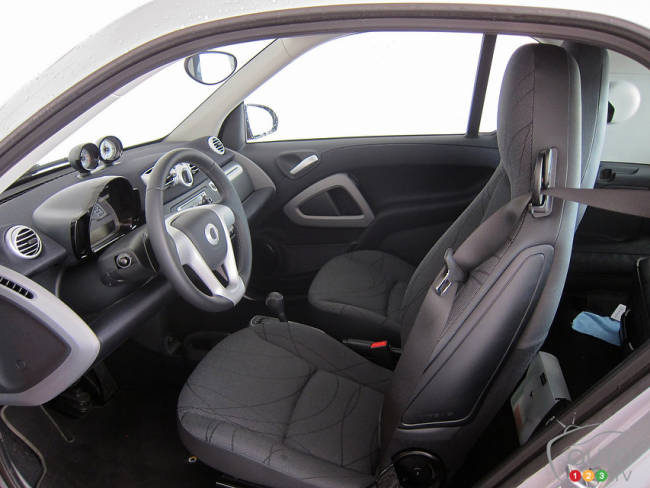 Segment-establishing microcar deserves an update
While the addition of premium-look LEDs lend a refined look to the smart's frog-like face, overall the car looks rather outdated.
The smart boasts an overall combined fuel economy of 5.3L/100 km -- numbers that may have really impressed a few years ago, but which have since become more commonplace. And it requires premium gas.
Realistically, I achieved around 6.6L/100 km and only spent about $50 in a full week of driving -- including the 200 km round trip to return it to Toronto. The Scion iQ, which has much friskier driving dynamics, achieves 5.1L/100 km combined. And the Chevy Spark with 5.1L/100 km is available with a base price of $13,495 -- compared to the smart's $14,400.
With so many competitors in the market it once dominated, the smart now lags far behind. An improved transmission would go a long way to reestablishing it as a player in the toughly contested microcar segment.