2013 Chrysler 300 SRT8 Review
Highs and lows
Lots of power
Great colour combination
Ergonomic cabin and functions
Fuel economy
It's a large sedan, don't forget that!
Bright white and just right
02/25/2013
Lots of power and a comfortable cabin? Sounds like a heavenly time.
When in Scottsdale
There is no shortage of sparkling and perfectly manicured vehicles in Scottsdale, Arizona. With the little amount of annual rainfall they receive, the word "rust" isn't necessarily a part of the local's vehicular vocabulary.
So, when in the United States Southwest, blending in isn't too hard, especially with an impeccably primped car such as the 2013 Chrysler 300 SRT8.
However, standing out isn't hard either -- and that's the best part.
Oh, Canada
The patriotic part of me loved the colour scheme of this 300 SRT8. Then again, so did the rest of my being. The Bright White clear coat exterior mated with red leather/perforated suede-trimmed cabin looked nothing short of awesome. Throw in the black accents, whether it was on the inside or out, and it just worked so well.
Including the Black Chrome Group ($795) into the mix added a more hardcore element to this rear-wheel drive sedan. The package included a set of 20" black chrome aluminum SRT wheels, body colour fascias with black chrome accents, and an eye-catching black chrome/gloss black grille.
All who had the privilege -- myself included -- to slip inside its cabin fell in love with its ostentatious and bold colouring. Not to mention the seats were very comfy on the tush. And for the cooler days/nights in the desert, the heated function left my buns burning like a hot summer's day. Then again, on a hot summer's day, they're also ventilated so you can cool yourself down when needed.
Speaking of heating and cooling; I can't forget to mention the heated/cooled cupholders. Very cool. Or should I say hot?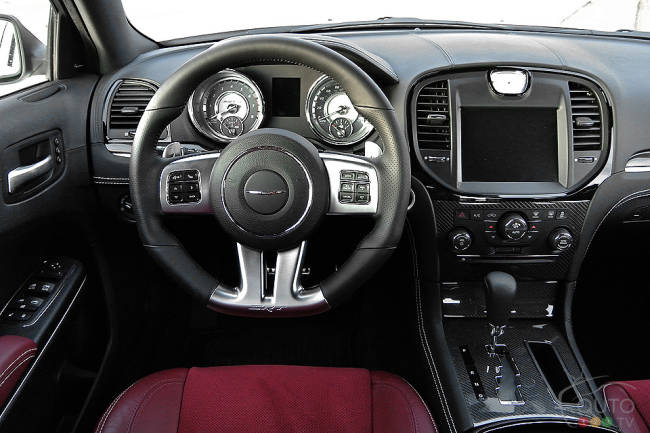 "I'd be more than happy to park your car!"
As I was pulling up to my hotel to check in, an enthusiastic valet attendant greeted me. I watched his face light up as I rolled under the canopy with a vehicle that seemed to resonate well with him.
"Good evening ma'am. It's quite the car you have."
In reply, I say: "Thanks. I enjoy it quite a bit."
That was an understatement.
After a few exchanges about the SRT8, I mention that I need to check in and then will most likely self-park my vehicle.
In response, he says: "I'd be more than happy to park your car!"
I'm sure he would.
Heck, I'm happy parking the car and walking back if it means more time together.
I don't completely deprive him of the opportunity to sit in a vehicle with more horsepower in a family sedan than one can legally use on the roads.
The lineup of cars starts to build behind me, so I head inside as he parks the car out front.
There's a look of disappointment a few minutes later when I come to take my baby away. Nevertheless, he wishes me a great evening and to have a lot of fun with the Chrysler.
Little does he know...
HEMI: the glorious
Packing 470 horsepower and 470 lb-ft of torque into a 6.4L V8 HEMI is just what Chrysler does best. Its delivery to the driver is through a 5-speed automatic transmission with the option to change gears via the steering-wheel mounted paddle shifters. While I would have loved a sixth gear, the five that I had to work with weren't bad at all.
Additionally, the real carbon fibre interior accents surrounding the gearshift offered a sporty touch to a vehicle that already oozes this trait from its sheet metal.
Sounds good
Firstly, there's the insatiable grunt of the V8 engine. I couldn't get enough of it. Roll the windows down and just enjoy. You'll thank me later.
Then there's the optional Harmon Kardon audio system ($1,995) which includes 19 premium speakers and a subwoofer. Mix those two attributes together and you're not only waking up your neighbours, you could wake up the whole state!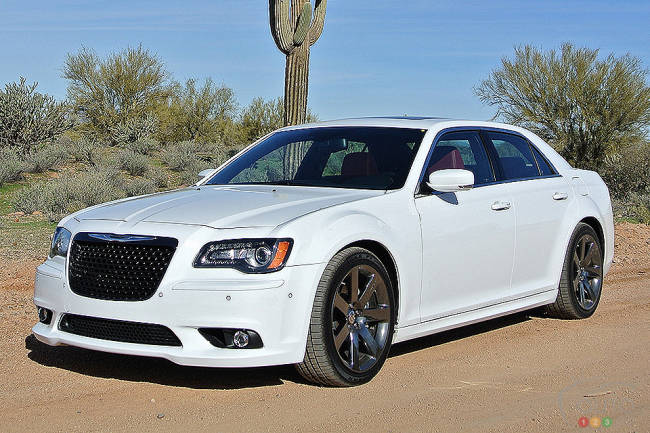 For a good time, call
Call upon the Chrysler 300 SRT8 if you're looking to lift your spirits. For a sedan with a monstrous engine, I found it easy to work with. Yes, if you floor it, the tail end will wag despite the traction control systems. However, the fluidity in the steering wheel and agreeable suspension on both city roads and highways will have you smiling. It'll even lift down-trodden spirits after a long and frustrating day. It did for me. And it did the whole time we were together.
Pricing
The American spec version of the Chrysler 300 SRT8 has a base MSRP of $47,820 (USD). With all the additional bells and whistles, it came out to be $57,750 (excluding destination and taxes).
The base MSRP in Canada of a similar SRT prices in at $46,845.