2012 Volkswagen Touareg TDI Execline Review
Highs and lows
My fondness for diesel continues to grow
07/02/2012
Not everyone is sold on the idea of a diesel engine but I'd opt for one in a heartbeat, especially if it comes wrapped in a Volkswagen Touareg shell.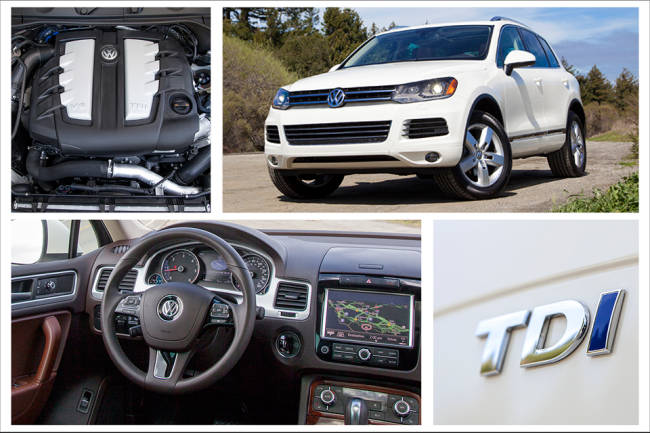 Whenever I have the opportunity to drive a diesel-powered vehicle, I jump on it. Why? Because I know my tank of fuel will last longer than that of a gasoline-powered engine. I also know that diesel technology is constantly being improved, yielding less carbon emissions through cleaner burning, ultra-low sulphur fuel.
Driving further and reducing emissions at the same time is a win-win scenario.
Furthermore, diesels aren't like they used to be. They're not loud, smelly or surrounded by a black cloud of smoke. Strict emissions standards in Canada wouldn't let that pass. In fact, diesel vehicles these days are so quiet and clean, it's hard to tell you're behind the wheel of one unless you're really trying to hear the difference. They're just that muted.
TDI
At the heart of the Touareg TDI, under its hood, is a 3.0L V6 turbocharged diesel engine, which produces 225 horsepower and 406 lb-ft of torque. The engine is then matched with an 8-speed automatic transmission for smooth delivery of power.

The teamwork of the engine and transmission, along with VW's 4MOTION all-wheel drive system give this five-passenger SUV an estimated fuel consumption rating of 11.9L/100km in the city and 8.0L/100km on the highway. And depending on how you operate this vehicle, fuel results can be more or less in your favour. When driving it on the conservative side, you can get a lot of mileage out of one tank. And for a vehicle of its size, that deserves praise.
Placing the diesel beside its gasoline sibling, the standard engine on the Touareg is a 3.6L V6, which comes with 280 horsepower and 265 lb-ft of torque. Furthermore, its estimated fuel consumption is 12.3L/100km in the city and 8.8L/100km on the highway, which is slightly higher than the TDI. Keep in mind that there is an additional 55 horsepower with the gasoline rendition, but an additional 141 lb-ft of torque with the diesel.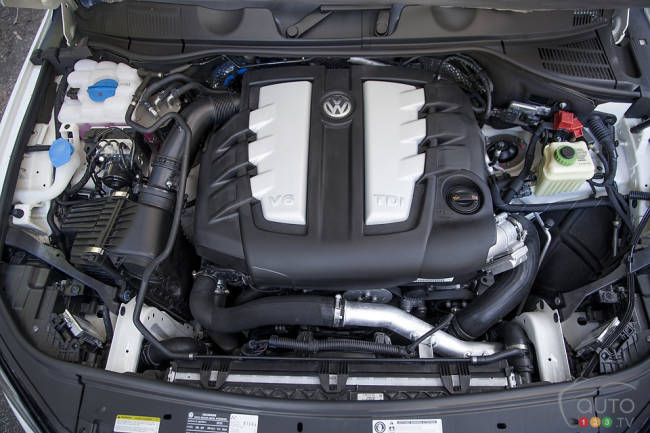 Frugal
Throughout my test period, I drove over 400 kilometres and used just over half a tank of fuel. This is particularly impressive since most of my driving was done throughout the city as opposed to the highway. I'm not one to complain when I can go the distance without having to feel the financial ramifications at the pump.
So if fuel results are better and you can travel further on a tank, why would you want the gasoline powered version? A lot of it comes down to price.
The base Touareg Comfortline trim has an MSRP of $48,875 whereas the base TDI Comfortline has an MSRP of $53,575, a $4,700 jump. The Execline trim that I spent time in prices in at $63,685. Additionally, not everyone is sold on the idea of a diesel. Nevertheless, I'd opt for one in a heartbeat, especially the Touareg.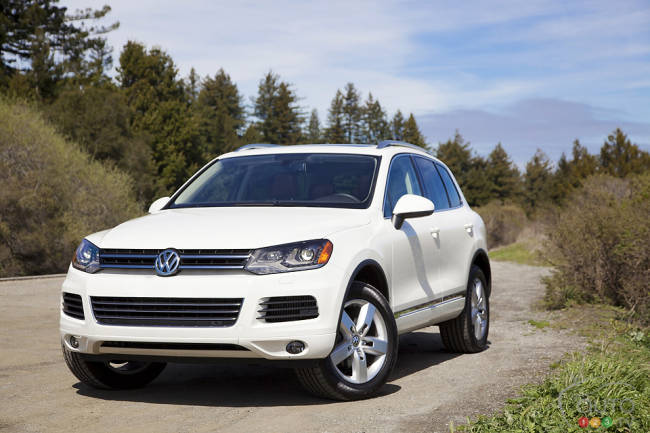 Diesel chic
My fondness for the German engineered SUV continues to grow each occasion we spend time together. For one, I love the simplicity of the cabin's configuration. VW has a way of creating a pleasant ambiance for the driver (and passengers) through its soft-touch materials, its comfy seating surfaces and its easy-to-use centre stack.
System controls are operated via the touch screen and climate controls have their own designated set of buttons. Even for those who aren't super tech savvy, the clearly labelled functions won't lead you astray. If all else fails, the user's guide is the next best thing.
Such creature comforts like heated seats and steering wheel, a panoramic sunroof, keyless entry, a 620-watt Dynaudio digital sound package with 12 speakers and Bluetooth connectivity also enhanced my drive time. Not to mention safety features like antilock brakes, power-assisted front vented disc brakes, rear vented disc brakes and Electronic Brake-pressure Distribution (EBD) that further add piece of mind.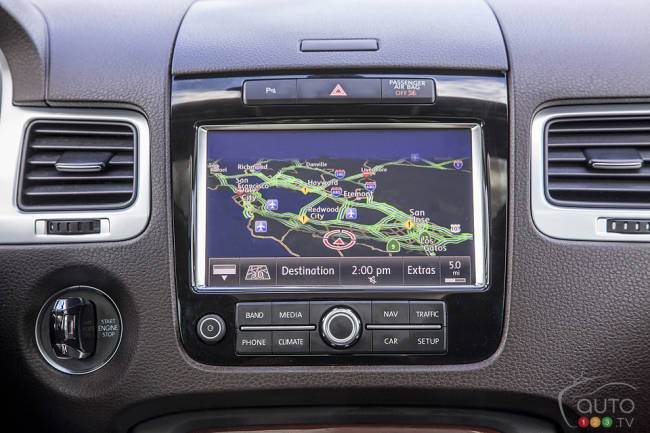 For the drive and styling
Technology aside, the Touareg TDI has a very solid feel when driving in both city situations or at highway speeds. The ride is then enhanced by a sport-tuned suspension and a set of 20" alloy wheels. Not only does this vehicle feel good to drive, it's agile and very manageable, and is quite attractive from the outside.
The combination of an attractive interior and exterior, favourable fuel results and a diesel that is neither loud nor smoky makes the 2012 VW Touareg TDI Execline a hit on the road and in my books.