2012 Toyota Highlander Hybrid 4WD-i Review
Highs and lows
Ideal family vehicle, outstanding fuel consumption
Limited luggage space in seven-passenger mode
Comfort for five, plus two
09/17/2012
Don't be fooled by this vehicle's large size, it's actually quite "green." The 2012 Toyota Highlander Hybrid offers a green lifestyle similar to that of many of its Toyota siblings. With its 8L/100km driving-while-in-heavy-traffic city performance, and its 10L/100km highway consumption, it has us rethinking our SUV city driving paradigms.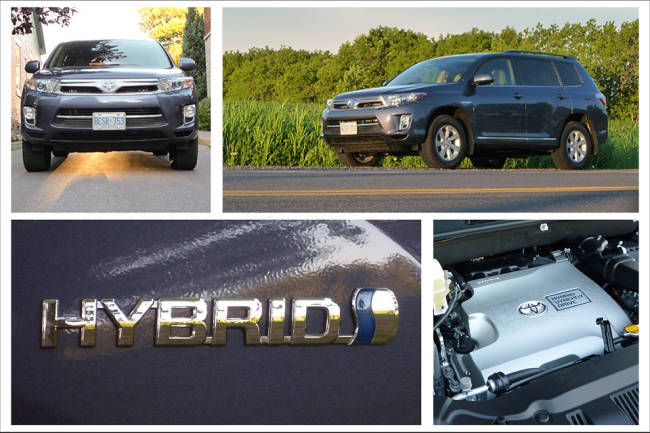 Power to the rescue
With its 3.5L engine mated to multiple electric motors, the Highlander Hybrid produces a healthy 280 hp which will never leave you wanting more power under any circumstances. It's a good feeling to know that you have all the necessary juice underfoot when performing highway passing or other maneuovres that require that little extra oomph!
The electric motor in the 2012 Toyota Highlander Hybrid provides plenty of low-end torque, while the battery pack's energy is regenerated while driving in order to maintain electrical power. Furthermore, it's possible to run solely on battery power at low speeds.
For once, a CVT gearbox doesn't leave me disappointed. It isn't that this version is any better than say, a Suzuki Kazashi or Subaru Impreza or even a multitude of other CVT-equipped vehicles. It is simply installed in the ideal situation: a family oriented, non-sporty, inertia-hugging-but-torque-filled vehicle. This CVT has it easy, never having to climb into a high-rev situation.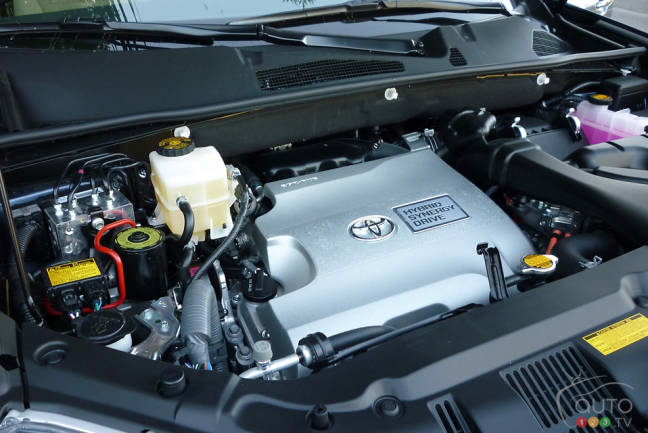 Like a bridge over troubled waters
Road tests of smaller crossovers such as the Nissan Rogue had me thinking that SUVs meant bumpy rides. The Toyota Highlander is graceful and agile on country roads. Forget leaf-spring suspensions and a bouncy school-bus type ride.
The Macpherson gas strut, stabilizer-bar equipped, coil spring suspension in the Toyota Highlander had us all but ignoring road defects. Combined with agile rack-and-pinion steering, this 2,000 kg behemoth will have your passengers sleeping in their seats, even while off-roading.
The amazing soundproofing adds to the sense of calm (unless your passengers aren't asleep yet). And the 2012 Toyota Highlander Hybrid is even quieter in full electric mode.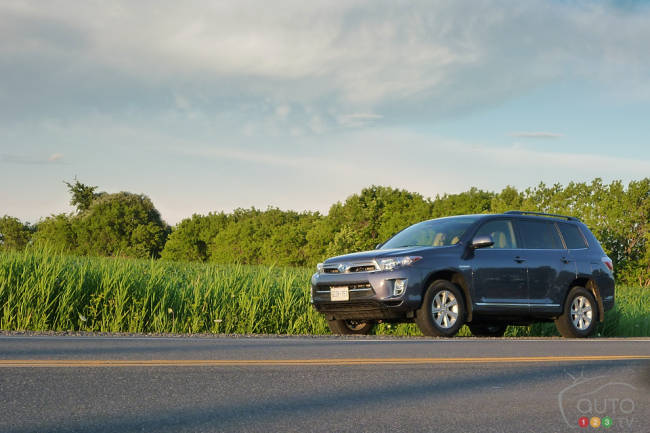 Do the math: 5p+2p = - 2,408 litres
Here is where the math gets the better of you. With five passengers in the 2012 Toyota Highlander Hybrid, the 1,200 litres of cargo room is more than enough. Raise the third seat to accommodate two (hopefully smaller) people, and you've just sacrificed almost all of the available cargo room. A roof luggage carrier is a good idea when travelling with seven occupants and their luggage, as you will never be able to squeeze their bags into the 292 litres of space that remains. It's actually less luggage space than in a smart fortwo!
Other than the seven-passenger lack of luggage room caveat, the 2012 Toyota Highlander is one handy vehicle. It was designed for family travel. The second row has a retractable center console which can be stored in the front armrest. The radio has the biggest knobs I've ever seen and you can easily use them by feel alone, never letting your eyes leave the road.

Whenever the kids get rowdy in the back, open the overhead sunglasses holder to get a panoramic view so you can give them the evil eye. For some reason, the 2012 Toyota Highlander doesn't offer headrest-mounted DVD screens, however, the audio system is outstanding, with a subwoofer to boot.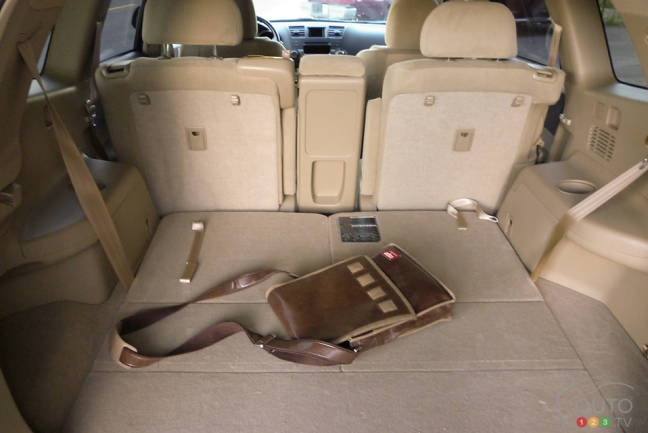 When the time comes to buy
At $42,990, the 2012 Toyota Highlander Hybrid 4WD-i is a bargain among full-size hybrid SUVs, as only high-end brands occupy this particular market segment since the departure of the Ford Escape Hybrid. At $53,575 the Volkswagen Touareg TDI can be considered a competitor. Both are capable of providing 8L/100km city-driving numbers, however, the Highlander does so for way less money, and with room for two extra passengers.