2012 Subaru Impreza Touring 4-door Review
Highs and lows
Large trunk space
Excellent visibility
Excellent AWD on snow
AWD pointlessly consumes energy in summer
Sacrificing overindulgence for fuel economy
07/30/2012
It seemed Subaru's redesign of the Impreza was for the better. With top-rated AWD fuel efficiency and a downsized engine (reduced from 2.5L to 2.0L), this compact puts an end to the criticism of underwhelming fuel economy from recent years.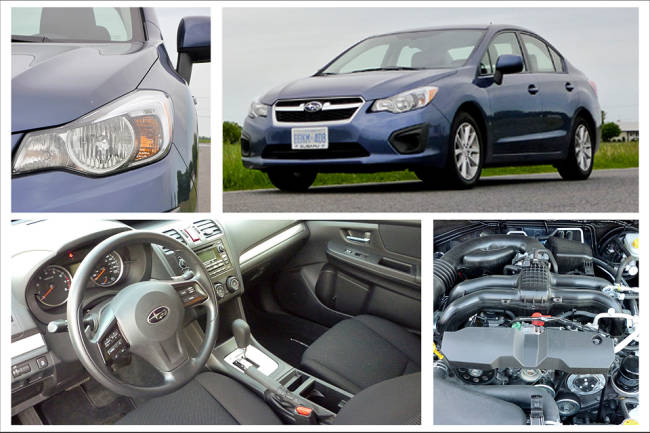 A winter wonder
With one of the best all-wheel drivetrains on the market, the Subaru Impreza is indeed impressive when it comes to driving on icy and snowy roads. Having tested the car only on perfectly paved roads and well above freezing point, I have to admit I wasn't wildly enthusiastic behind the wheel. Certainly, it behaved well, but it was a bit of a boring drive.
Fewer horses at the drinking trough
Featuring a 2.0L, 148 hp engine producing 145 lb-ft of torque, our svelte little Subie sent 22 horses back to the barn in 2012. To appease the brand's fans, Subaru's engineers trimmed the Impreza's appetite for fuel, so this reduction in engine capacity should keep everyone happy. I scored a fuel rating of 8.2L/100km. For a vehicle that used to hit 10.0L/100km, we have to give full marks to Subaru for its commendable efforts.
Forget about the all-too-generic drum brakes of the competition; the Impreza's disk brakes on all four wheels provide excellent braking. Combined with electronic stability and traction control, the ABS and emergency braking assistance give you everything you need for a safe, fast stop.
Without being overly extraordinary on the asphalt, the suspension (and especially Subaru's own AWD) indeed responded well. When cornering drier sections of the road, you feel the rigidity of the frame further emphasized by the addition of stabilizer bars as well as the powertrain. However, the feel seemed to be a one-off because under normal situations, the 2012 Subaru Impreza drives with understated, "no fuss" handling.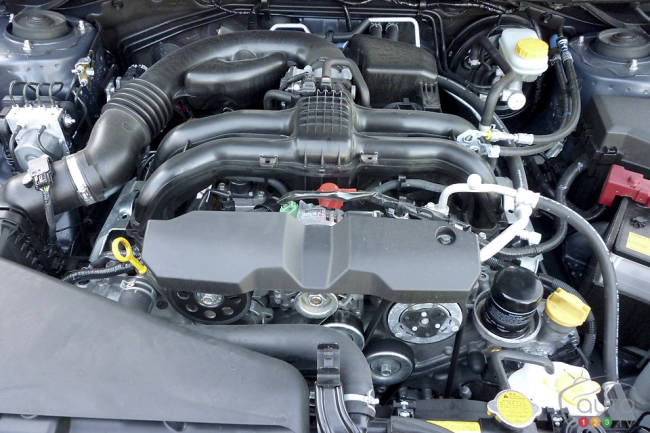 A bigger interior
The interior was also remodelled for the 2012 model. Here, we're talking about more room for backseat passengers in particular, with greater shoulder clearance space and indeed more space for all passengers. Of course, it's just a question of millimetres -- however, that means a welcomed 5 centimetres more legroom for rear passengers.
The Impreza's cargo space design wins brownie points this year! Seats that fold down flat save some how-do-I-fit-it-all-in headaches. Personally, I really appreciate it when automakers think this way. The sedan's trunk volume increases from 320 to 340 litres. As for the 5-door Impreza hatchback, storage capacity jumps another 100 litres to 638 litres -- exactly what you need for that camping trip on the long weekend.
The cabin of the 2012 Subaru Impreza is quite comfortable featuring heated front seats on a reinforced base with pleasing upholstery. A Touchscreen Pioneer stereo plus text display Bluetooth connectivity round out the new Impreza's modern interior look. The middle console is simple and elegant and the menu screen is not too complicated. The Impreza's interior doesn't try to impress, it just wants to be practical without all the flash and fanciness.
Visibility from behind the wheel is totally awesome. With ample-sized windows and a raised seat height, you get to see exactly what other motorists are up to -- another great improvement from Subaru.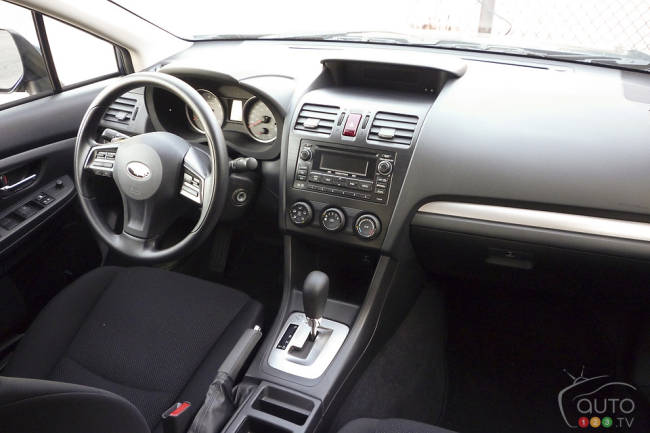 Small price for a big change
You can get your hands on the keys to a 4-door 2012 Subaru Impreza Touring for $22,995. This comes with standard features like the brand's celebrated all-wheel drive, automatic CVT, air conditioning, better-than-normal-for-Subaru sound system, heated seats, aluminum alloy wheels, and Bluetooth connectivity.
If you're searching for an AWD competitor, you'll have to take a look at the Toyota Matrix, at $28,070. And forget about a manual option: The Matrix is only available in automatic. Another surprising choice? Go see your Suzuki dealer about the SX4 Crossover JX iAWD with an automatic transmission, which can be had for $22,935.
If AWD is not on your "must have" list, check out the Volkswagen Golf 2.5 for its versatility, the Mazda3 GS-SKY for its fuel efficiency or even the Honda Civic for its legendary reliability!