2012 Scion tC Release Series 7.0 Review
Highs and lows
Best power for the price in its segment
The conservative sports car
07/23/2012
The 2012 Scion tC Release Series 7.0 definitely has flare and character. With some nice charcoal-finish 18'' alloy wheels, 180 horsepower under the hood and pleasant handling in most situations, this sporty compact delivers. Too bad the interior is so noisy.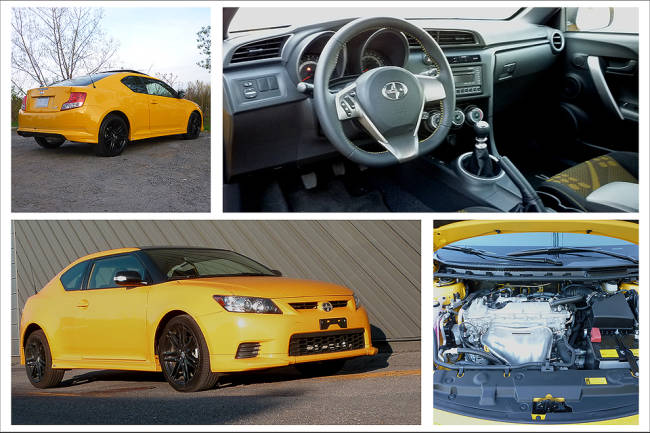 Powerful yet thrifty
A 2.5L four-cylinder engine provides the 2012 Scion tC with plenty of get up and go. Its 180 horsepower and 173 pounds-feet of torque trump the Honda Civic (1.8L) and Hyundai Veloster (1.6L), which produce 140 and 138 horsepower, respectively.
At the same time, my tester burned 8.5L/100km during a mix of city and highway driving, which I found very reasonable for this type of car.
Fun to drive
The steering is quite responsive, while the front suspension and double wishbone rear suspension ensure a comfortably firm ride. This may be a sporty coupe, but I didn't feel all the little imperfections on the road. Nice.
Buyers can upgrade their tC with a selection of TRD (Toyota Racing Development) accessories. Larger brakes, stabilizer bars and stiffer springs that lower the ride height are just a few examples.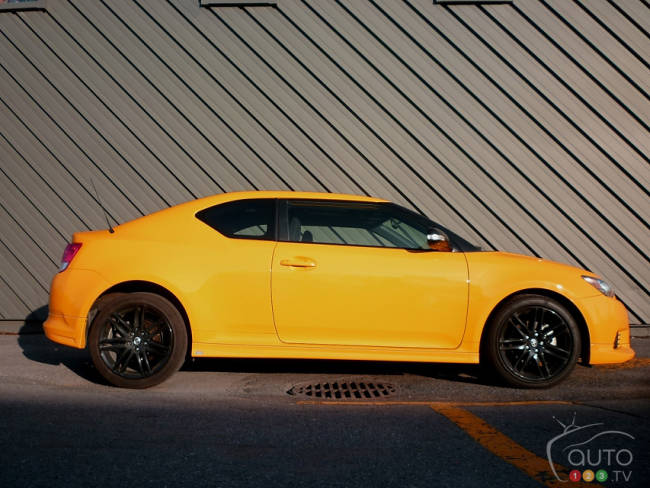 Relatively accommodating
I'm not very tall and this car loves tall people. I mean, I constantly had to re-adjust the seat belt that kept harassing my neck. Speaking of which, it was literally a pain in the neck each time I looked over my shoulders to check the blind spots.
The racy exterior significantly reduces visibility from the driver's seat. The rear pillars are huge, and I wonder why Scion didn't use wide-angle side mirrors like those on the new Ford Focus. They would have been greatly appreciated.
As for the rear passengers, they won't enjoy much legroom. However, their seats are fairly accommodating despite a sculpted design, and they recline up to 45 degrees for additional comfort.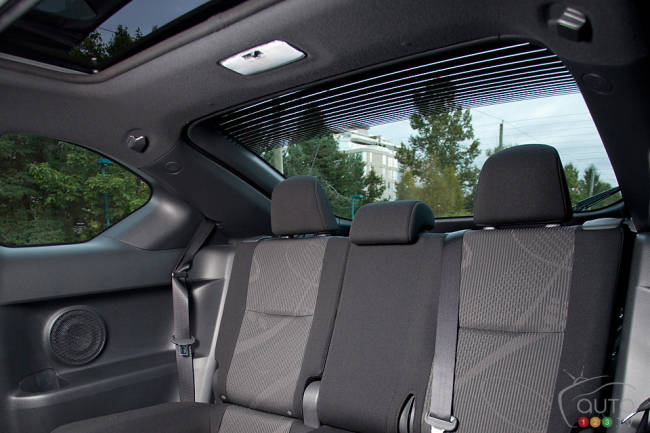 Noisy... and then some
I found the 2012 Scion tC incredibly noisy. It got even worse when I opened the sunroof, even partially: The wind rocked the house and made life almost unbearable.
Once the panel was closed, I heard a subtle yet high-pitched whistle coming from the differential. The noise grew louder at idle since the engine no longer muffled the sound. Also, on rainy days, I could hear the drops hitting the fenders.
Where's mineral wool when you need it?
Options and amenities
The company isn't exactly fond of electronics. Beyond the heated front seats, hands-free phone system and basic controls on the steering-wheel, you'll have to handle everything on your own. There are no automatic headlights, power adjustable seats or touch screen radio. The centre stack does include a tiny multifunction display, however.
The standard Pioneer audio system failed to impress me. The eight speakers (three in each door) didn't make up for the lack of a dedicated subwoofer. An optional 200-watt unit is available.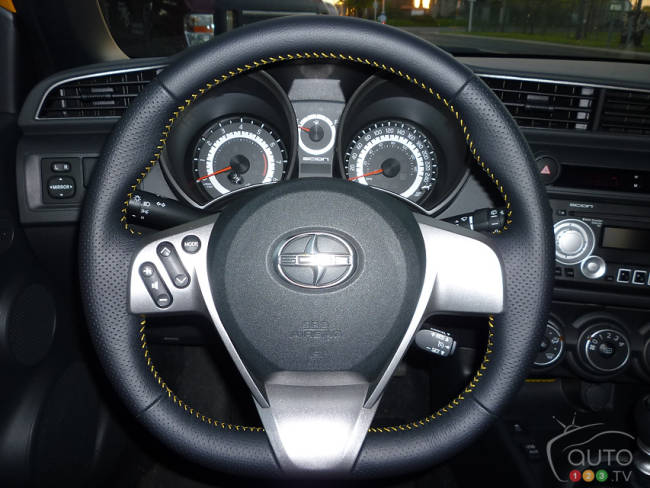 More power for your buck
The limited-edition 2012 Scion tC Release Series 7.0 (only 175 units in Canada) is priced at $23,425. And if you don't like its screaming yellow paint, you can buy a standard tC for $20,960 and choose among seven different colours including Alpine White, Sizzling Crimson, and Nautical Blue.
Similar competitors with a manual gearbox, sunroof, power accessories and air conditioning include the Honda Civic Coupe EX at $20,185 and the Hyundai Veloster Tech at $22,499.
But with nearly 30% more power than the hot Korean newcomer, the Scion tC RS 7.0 looks like a smart pick for an entry-level sports coupe.